In:
Social media has spotted that Royal Caribbean's first mega ship, Sovereign of the Seas, is about to be broken down and scrapped in Turkey.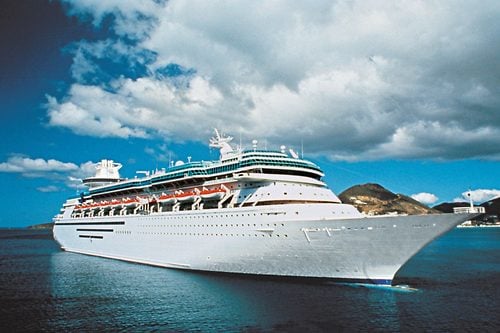 For some, saying goodbye to this ship (and her sister Monarch of the Seas, which is also facing the maritime guillotine) evoke a great deal of memories from past sailings.
Dreaming a giant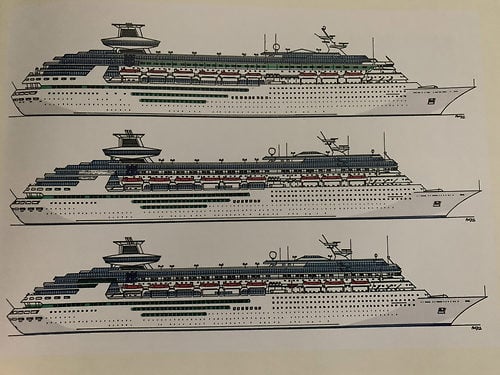 It is difficult to understand in today's terms how impactful Sovereign of the Seas was for her time. She revolutionized an industry, and her debut instantly made every other main stream cruise line ship obsolete.
In 1984, Royal Caribbean had 11% of the cruise market share, compared to NCL at 14% and Carnival at 15%. Royal Caribbean wanted to recapture the leadership edge it had achieved in the early 1970s.
Miami management felt that if anything, they should proceed cautiously, producing a slightly larger Song of America with a 1,600-passenger load. But the committee argued for even greater expansion, constructing a larger ship altogether.
Royal Caribbean had never built a cruise ship with either an indoor café, a casino, a champagne bar or a health club; and having made the decision to include those options inside a suitably large hull, the scale of an inevitable new prototype emerged. Thus, Sovereign of the Seas, the world's largest purpose-built cruise ship at the time, was conceived.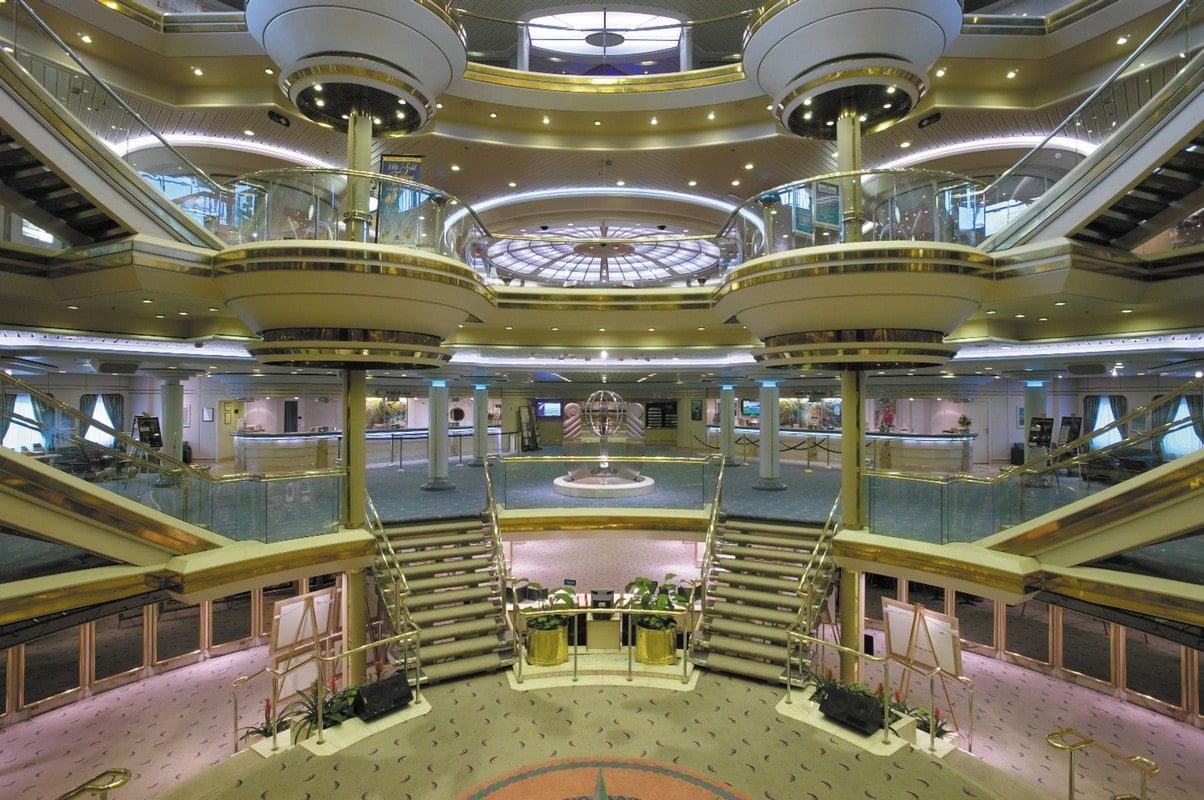 The theoretical phase began with three questions: how many passengers, how fast and how luxurious?
All had to be answered before the vessel's dimensions could be considered. The first answer was awesome: The passenger count, which started at about 1,800, would be 2,673 total occupancy, more than half again Song of America's capacity. Speed would remain at sixteen knots for cruising with a top speed of twenty-one. And, a decisive spatial augmentation, passengers would be accommodated in slightly larger (three percent was the exact increment) cabins than those on board existing Royal Caribbean tonnage.  
Building Sovereign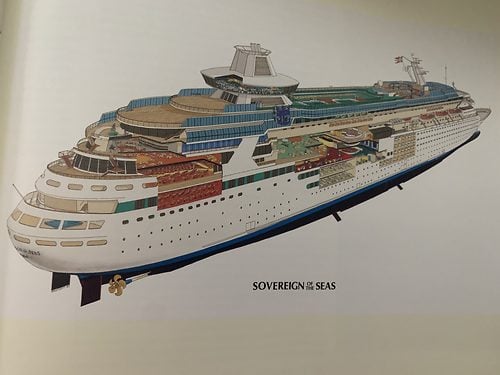 To build the world's largest cruise ship was not something any shipyard could handle. 
Until that point, all of Royal Caribbean's ships had been built at Wärtsilä in Finland, but Royal Caribbean found a better match with Chantiers de l'Atlantique in France with a $190,000,000 contract price and guaranteed delivery for December 1987, which beat the Finns.
Within weeks of the July 1985 contract signing, steel was ordered and subsequently cut at St.-Nazaire.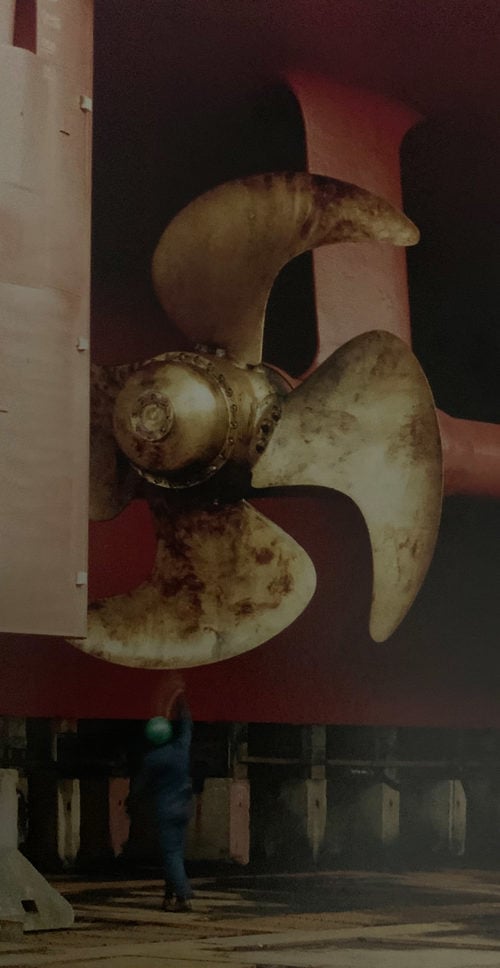 In the old days, in every shipyard, the first element of the hull, the keel, would be laid on keel blocks. But modern newbuilding involves the assembly of enormous chunks of ship (called sections) that have been prefabricated hundreds of yards from the ways.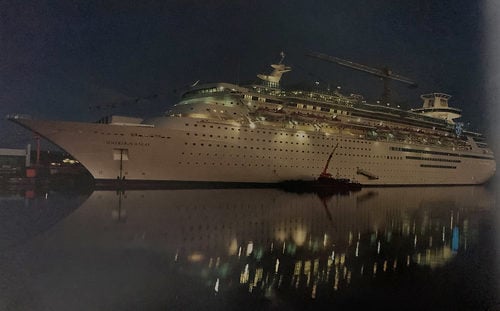 Sovereign's first two keel sections were put into place on June 10, 1986. It was at this time the ship's name was announced, which had been a guarded secret.  It was only referred to up until this point by its pedestrian yard number, A-29.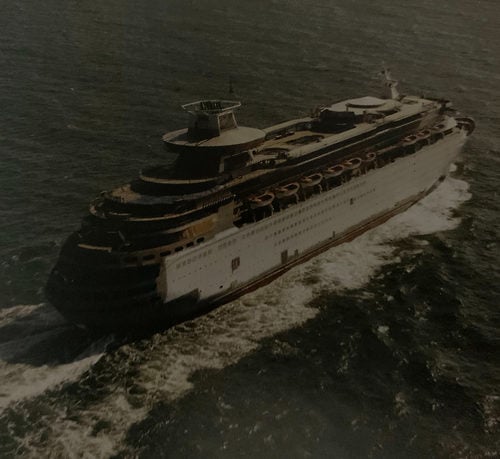 Sovereign also has the distinction of introducing the now well-known naming convention for every Royal Caribbean ship.
The name of the vessel was suggest and vehemently argued by Mortis Skaugen. "He literally shook the name into me," Richard Fain observes. There have been two prior ships called Sovereign of the Seas. The first, the price of King Charles I, was a towering, intricately carved Royal Navy warship of 1637. The second Sovereign was launched 200 years later from an American yard, a swift clipper ship built by Donald McKay. A handsome model of each vessel decorates the current ship's Schooner Bar.
Although on first hearing the name seemed overlong, it imparted exactly the right sense of royal occasion. Of course, the vessel's workaday generic would, predictably, be abbreviated to Sovereign; "___ of the Seas" would serve as an invaluable class-identifying suffix integrated into the names of both successors.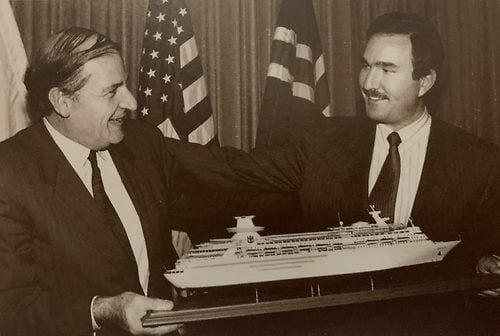 Sovereign of the Seas was handed over to Royal Caribbean four days earlier than scheduled on December 19, 1987. Richard Fain, Royal Caribbean's CEO accepted the handover from Alain Grill, managing director of Chantiers de l'Atlantique.  Mr. Fain then handed over the completed vessel to Captain Tor Stangeland.
Game changing debut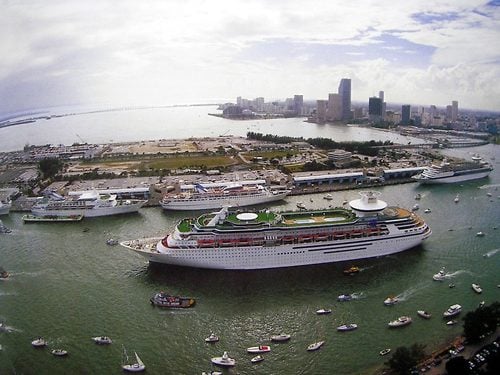 The first sea trials took place on September 5, 1987, which was a weekend.  
Sovereign of the Seas' naming ceremony was held in Miami on Friday, January 15. 
Taittinger had created a huge new champagne bottle - the largest ever blown - specifically called a sovereign in honor of the ship - the largest of its kind ever built.
President and Mrs. Carter were onboard the ship, as the crowd, serenaded by a large orchestra, took their seats on the pier. It was a festive throng, caparisoned with hats, flowers, company ties, and always, multitudes of cameras.
Led by Chairman Eigil Abrahmsen, Mrs. Carter and the President emerged from the crew gangway and trod a red-carpeted path to the dignitaries' platform. The former First Lady had chosen a yellow suit, prettily matched by a chrysanthemum alee lining her right of way.
Of the many Carters on hand, one of the youngest had shared with Chairman Abrahmsen the ultimate grandmother's accolade. "This young man told me that he knew wat RCCL stands for," the chairman informed his audience. "It stands for Rosalynn Carter's Cruise Line!"
After the speeches and a solemn blessing, Mrs. Carter and the chairman climbed atop the launch platform.  The music stopped. A hush fell over the spectators.  In a clear voice, Rosalynn Carter offered the traditional benison, named the vessel and cut the launch cord.
Sovereign of the Seas demonstrated that it is possible for a modern cruise ship to offer a balance of beauty and function and be something more than a container carrier or a ferry.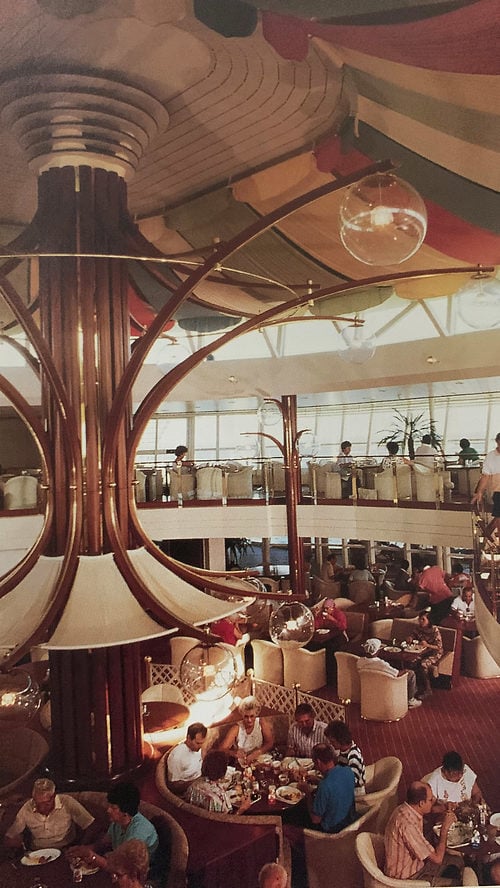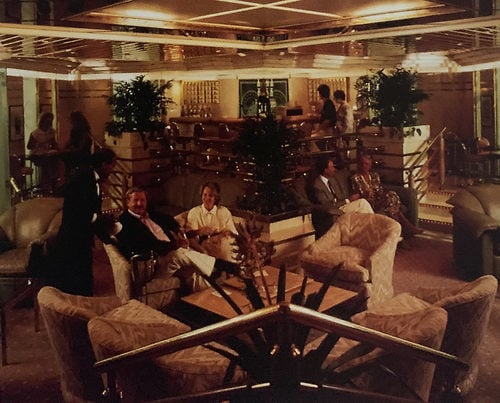 She sailed with paying customers for the first time on Saturday, January 16, 1988. 
Sovereign of the Seas sailed year-round and offered seven-day cruises from Miami to the Caribbean, proving the viability of a megaship. Her success launched two sister ships (Monarch and Majesty of the Seas), and forced the hand of other competitors to build their own megaships.
In 2008, Royal Caribbean transferred Sovereign to Pullmantur Cruises to help catapult that Spanish cruise line and grow her operations.
Share your fondest Sovereign of the Seas memories in our comments!