In:
Royal Caribbean launched RCL Cares to support the travel agent community, and the response so far has been excellent.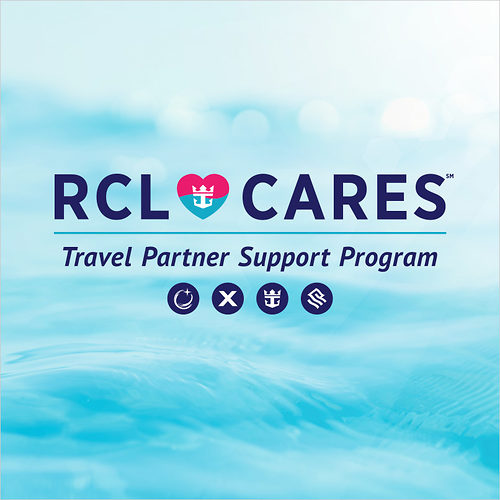 Royal Caribbean Cruises Chairman and CEO Richard Fain conceived the idea for Royal Caribbean to step up and provide resources for travel professionals who are trying to navigate the new CARES Act legislation that earmarks much needed financial assistance.
In the week or so since RCL Cares began, over 3,000 people have reached out to take advantage of the program.
RCL Cares follows in the footsteps of other initiatives that Royal Caribbean Cruises Group has launched over the years to make a difference, such as helping people affected by the devastation of a hurricane. Travel professionals can find the confidence and reassurance they need to take advantage of every option available to them.
Royal Caribbean International Senior Vice President Sales & Trade Support and Service Vicki Freed characterized RCL Cares as indicative of being part of their corporate DNA to "assist and help people."
The CARES Act bill was passed on a Friday, and by Monday, Royal Caribbean's sales team was on a conference call training and learning how they could assist the travel partners that Royal Caribbean so greatly depends on, in receiving maximum benefits.
"Why we take a keen interest in wanting to support our travel partners is because they heed the help right now. We want to be the corporation that truly steps up to the plate and helps them, not just in words, but in actions."
Celebrity Cruises Senior Vice President of Sales, Trade Support & Service, Dondra Ritzenthaler, characterizes the program as existing in three phases, with the first phase being the initial contact, followed phase two where travel professionals reached out for that support and were partnered with someone from the sales team. Phase three is escalation of solutions for travel advisors from a dedicated team.
"We're putting that human connection with our sales reps and their travel advisor."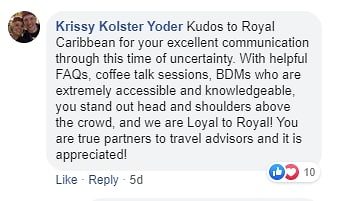 RCL Cares aims to support travel agents so they can stay afloat during this tumultuous time and be ready to book travel when the world is ready for it after the current crisis has passed.
"I can already tell you anecdotally that the day we launched this, " Ritzenthaler recalled, "we were overwhelmed and joyful of how many emails we got just saying 'thank you guys so much, you once again are putting your money where your mouth is, and you're walking the walk, and you're doing this to help us and we won't forget it'."
Vicki Freed believes an email from an independent contractor perfectly exemplifies the sentiment among travel agents that have been so hard hit, and appreciate what RCL Cares is all about, "As an independent contractor, my wages amount to pennies this month. Next month, I'll be walking backwards as not all companies or airlines have taken the RCCL stand. Thank you for all you're doing."
In short, Freed believes Royal Caribbean is offering a lifeline to travel professionals who are grasping for any and all assistance right now.
"We just want to stay in touch with them, because at the end of the day, people remember the people that were there for them."