In:
Guests sailing on Symphony of the Seas have the option to buy certain souvenirs, toiletries or sunscreens any time of day or night from a few self-service machines.
Located on deck 15, these machines are available 24 hours per day and come in three varieties. Royal Caribbean Blog reader Tony Law sent us photos of these machines. This is the first Royal Caribbean ship we can recall seeing this sort of offering.
The first machine is the Tech Shop, and offers various electronics to purchase that can be used during the cruise, Headphones, walkie talkies, Nintendo 3DS, batteries and more are available.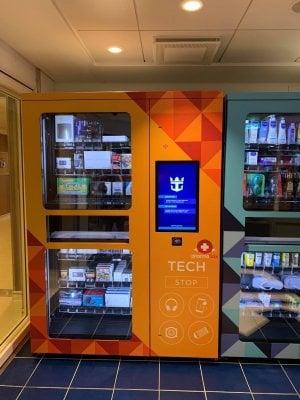 The Splash Store machine offers a variety of sunscreen, skin care and swim accessories that you might need for a day spent by the pool or on shore.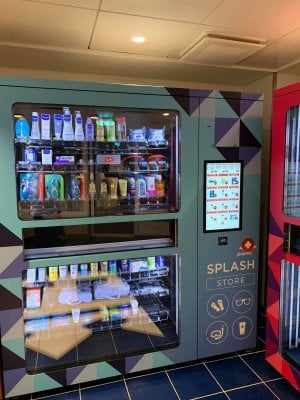 Health Essentials store offers medicine and other toiletries that guests may need at any point in the cruise.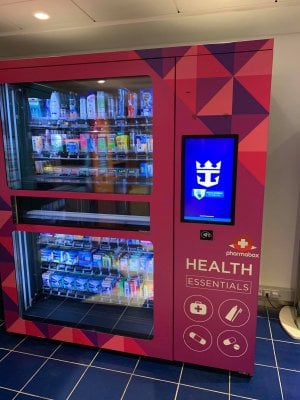 All three machines are provided by pharmabox, which provides these sort of automated machines in highly frequented areas that are underserved.
In addition to the automated retail offerings, there is also a complimentary phone charging station.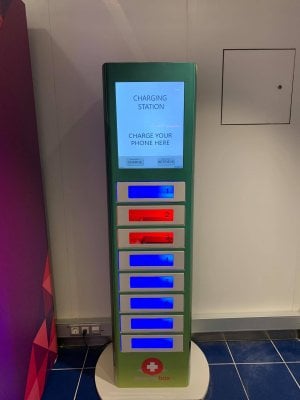 Do you think you will take advantage of having these machines on your upcoming Symphony of the Seas cruise? Do you want more of these machines on other ships? Let us know in the comments below!