In:
If you are looking for a fun and very different kind of stateroom, there is one on Liberty of the Seas that is a coveted choice among veteran cruisers (especially those that like ice cream).
On Liberty of the Seas, there is a specific Promenade stateroom known as the Ben & Jerry "Sweet".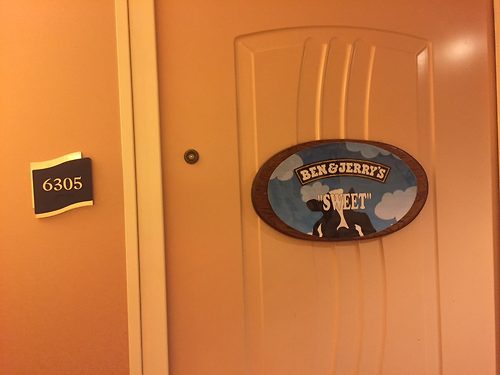 Photos by Jeanne Fulton
Stateroom 6305 is actually considered a suite by Royal Caribbean despite it being a Promenade room.  The reason is because this particular room is blocked by the signage for Ben & Jerry's ice cream directly below the room.
The stateroom sits directly above the Ben & Jerry's ice cream shop on the Royal Promenade and so, the room has a view of the two cows that are prominently displayed by the shop.  Thus, the view out the window is blocked.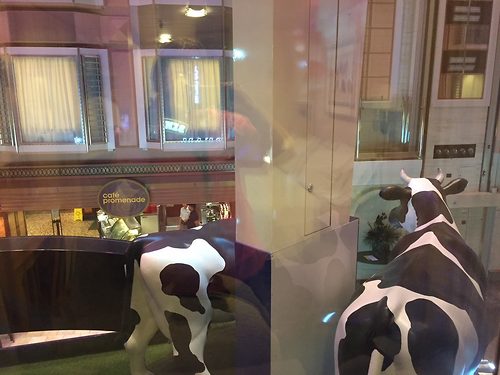 Royal Caribbean decided to embrace the Ben & Jerry's motif by transforming this room into  the "Ben & Jerry Sweet".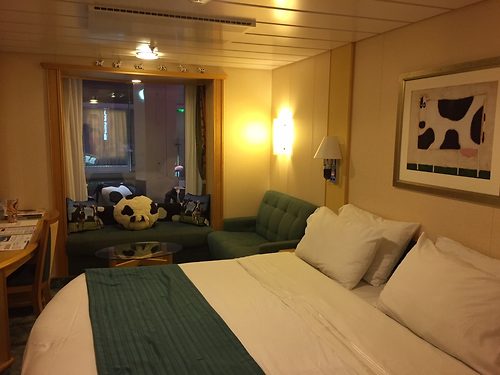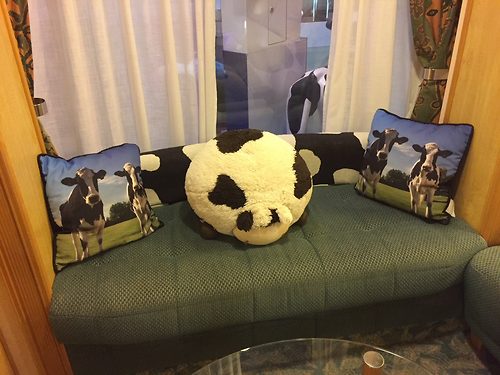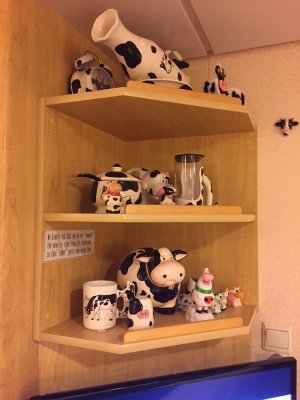 Throughout the entire room, there are cow sheets, pillows, pictures and other cow-related decorations.
Besides the cute design, the room also has its own list of special benefits, which make the room highly desirable.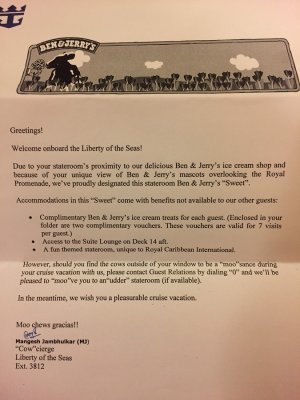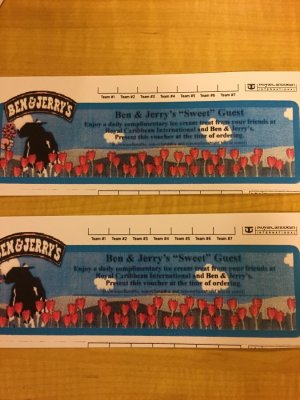 Guests staying in this particular cabin get:
Complimentary Ben & Jerry's ice cream for each guest (seven visits per guest)
Access to the Concierge Lounge
Without a doubt, the complimentary ice cream and concierge lounge access make this room a great deal.  Usually, concierge access is limited to guests staying in a suite (or high up Crown and Anchor members).
Sister ships Freedom of the Seas and Independence of the Seas also offer this special kind of room.
Would you want to book this stateroom? Tell us in the comments!