In:
Symphony of the Seas may be the fourth Oasis Class cruise ship, but she is not without her own innovations and first-of-a-kind experiences.  
In the past, subsequent sister cruise ships in a class were often very similar to the ships that came before, but Royal Caribbean added a lot of new activities and offerings on Symphony of the Seas to provide guests plenty of incentive to try her out.  Here is our list of the top seven ways Symphony of the Seas is different from Oasis, Harmony or Allure of the Seas.
1. Solarium Big Wonder (art installation)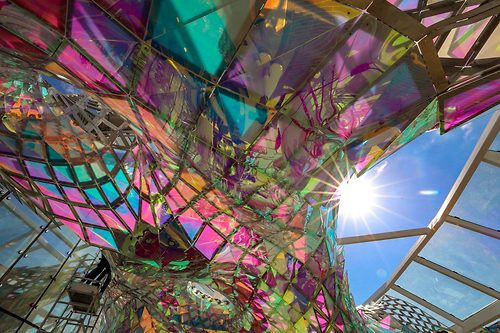 Photo by Cruise Life Rick
The artwork on any Royal Caribbean ship will be a major differentiator from other vessels, but we think the Solarium art installation was so significant, it merited mentioning on its own.
A one-of-a-kind work of art comprised of thousands of dichroic acrylic elements is the first to be featured in the Solarium, spanning an area of 2,594 square feet and flooding the pool beneath with natural light. The poolside palm trees bathed in this contrast of light and shadow make it a must-see (and Instagramed) site to see.
2. No Sabor on Boardwalk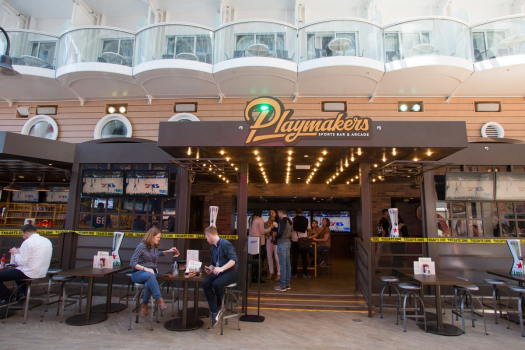 Symphony of the Seas is the first Oasis Class ship not to feature Sabor on the Boardwalk, or anywhere on the ship.
Royal Caribbean opted to rethink its Boardwalk neighborhood a bit and introduced the Playmakers Sports Bar & Arcade.  It spans the entire length of one side of the Boardwalk neighborhood, and is home to sports watching, arcade games and tasty food.
3. Sugar Beach Candy shop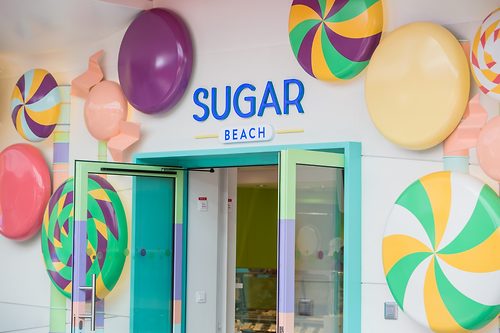 Much like Playmakers, Sugar Beach is a brand new candy and ice cream shop that is not on any other Royal Caribbean ship.  The concept was to offer sweet treats for adults and kids alike.  
Rather than just being "another candy shop", Sugar Beach features colorful candy-packed walls with ice cream and tons of toppings.  In addition, it is home to some baking events onboard.
4. Ultimate Family Suite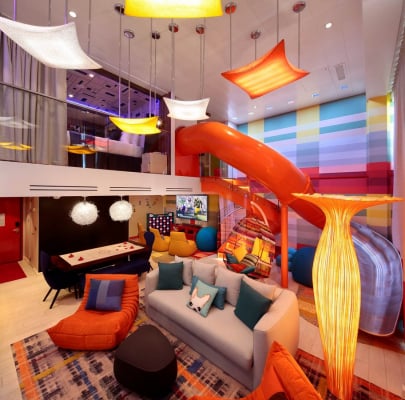 Symphony of the Seas introduced the Ultimate Family Suite stateroom, which is less of a stateroom and more of a family-inspired castle at sea.
The two-level room has some incredible features, such as an exclusive slide from the kid's only bedroom down to the living room below; a floor-to-ceiling LEGO wall, an air-hockey table and hidden nooks for chilling. There is also a separate 3D movie theater-style TV room, complete with popcorn machine and a library of video games across multiple gaming systems. If all that was not enough, there is also a 212 square foot wrap-around balcony and a full-size whirlpool for fantastic views.
5. New restaurants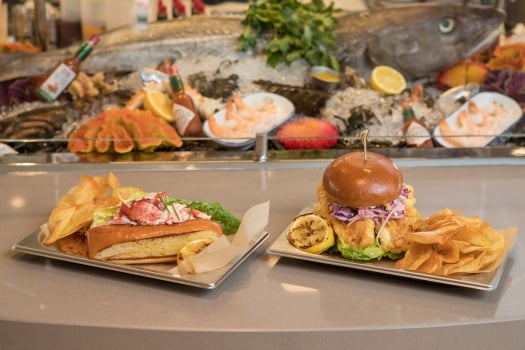 Dining is at the heart of what Royal Caribbean offers on its ships these days, and Symphony of the Seas ushered in a few new restaurant concepts for guests to enjoy.
While Sabor is not on Symphony of the Seas, Royal Caribbean does offer a new Mexican restaurant in El Loco Fresh that serves up fresh and fast Mexican favorites.
In the Solarium, guests can try fresh seafood and a robust raw bar at Hooked Seafood restaurant.
6. Laser tag at sea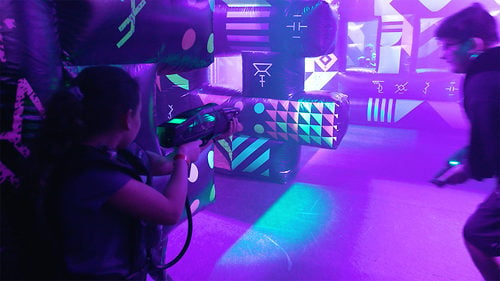 From the cruise line that brought you the FlowRider, rock climbing wall and Ripcord by iFly, comes glow-in-the-dark laser tag.
Located in Studio B, Battle for Planet Z offers friends and family the chance to battle for laser tag dominance in this new glow-in-the-dark laser tag experience, complete with state-of-the-art technology and special effects.
7. Lots of new entertainment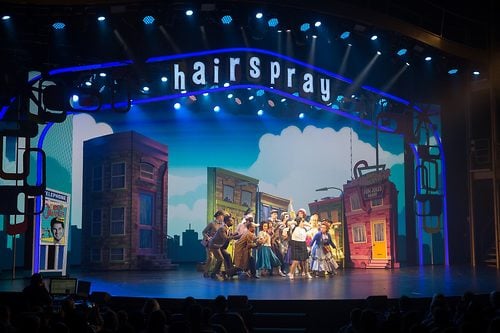 Royal Caribbean did not just "copy and paste" its entertainment line-up from other Oasis-class ships for Symphony of the Seas.  A number of brand new productions are available on Symphony of the Seas that are shown throughout the ship and a brand-new experience for all guests.
Hairspray: Big hair, big dreams and all the right moves — you can't stop the beat in this Tony Award-winning Broadway hit.
Flight: An uplifting historical satire on the evolution of air travel that ends with homage to the famed Wright Brothers.
1977: This spectacular adventure on ice follows a time traveling, dimension-jumping hero as he is called upon in London to recover Her Majesty's Crown Jewels in time for the famous Silver Jubilee.
HiRo: A mind-blowing show that combines cutting-edge technology, future-forward choreography, unexpected stunts and highly innovative, physically extraordinary acrobatics.