Royal Caribbean CEO apologizes for website upgrade issues
In:
Royal Caribbean CEO Michael Bayley issued an apology letter to its guests for the issues related to a recent website upgrade that has resulted in many guests unable to access their account at all.
Bayley posted the letter on the Royal Caribbean Crown & Anchor Society Facebook page.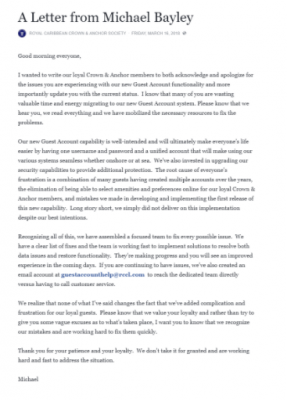 "I know that many of you are wasting valuable time and energy migrating to our new Guest Account system. Please know that we hear you, we read everything and we have mobilized the necessary resources to fix the problems."
Bayley went on to note the root cause of the problem is a combination, "many guests having created multiple accounts over the years, the elimination of being able to select amenities and preferences online for our loyal Crown & Anchor members, and mistakes we made in developing and implementing the first release of this new capability."
To remedy the issues, Royal Caribbean has assembled a team to fix the issues.
Bayley also noted if you are continuing to have issues, we've also created an email account at guestaccounthelp@rccl.com to reach the dedicated team.