In:
When Royal Caribbean built its first Oasis Class ship, Central Park was one of the most distinguishing features to hit the cruise industry.  To this day, Central Park remains an incredible space on any cruise ship.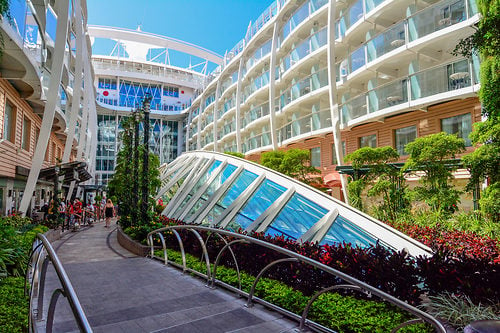 Stepping foot into Central Park, you will quickly come to see why so many others relish time spent in this Oasis Class neighborhood.  Central Park features a lush garden in an area about as long as the Royal Promenade and twice as wide. Here are five things that you will come to really enjoy about Central Park too.
The Flora
The most obvious thing about Central Park is that is literally covered in so many different kinds of vegetation.  Considering this is part of a cruise ship, and outdoors, finding a park in the middle of a cruise ship is pretty darn impressive.
From towering Cuban laurel and Black Olive to clusters of calla lilies and rabbit foot ferns, the park's collection of plants is a mix of coastal and highland sub-tropical species from around the world that is well suited to thrive on Oasis Class ships' Caribbean itineraries.
A series of columns interlaced with vines is just one of the welcoming entry points into Central Park, and is elegantly landscaped with tropical foliage and seasonal flowers, shrubs and trees. Drifts of calla lilies among giant elephant ears, red ginger, rabbit foot ferns, banana croton, gold dust dracaena, and butterfly lily are some of the plant life guests discover. Impressive 'green walls' spanning 25 feet and five decks high hosts fern and a variety of flowering vines such as red and white Mandevilla, Clerodendron thomsaonaie, and Thumbergia grandiflora. The park also has changing displays of accent plants, such as birds of paradise and Spathoglottis ground orchids. Trees, some eventually reaching more than two-anda-half decks high, include cherry of the rio grande, podocarpus nagi, and amstel king ficus. 
Book reading spot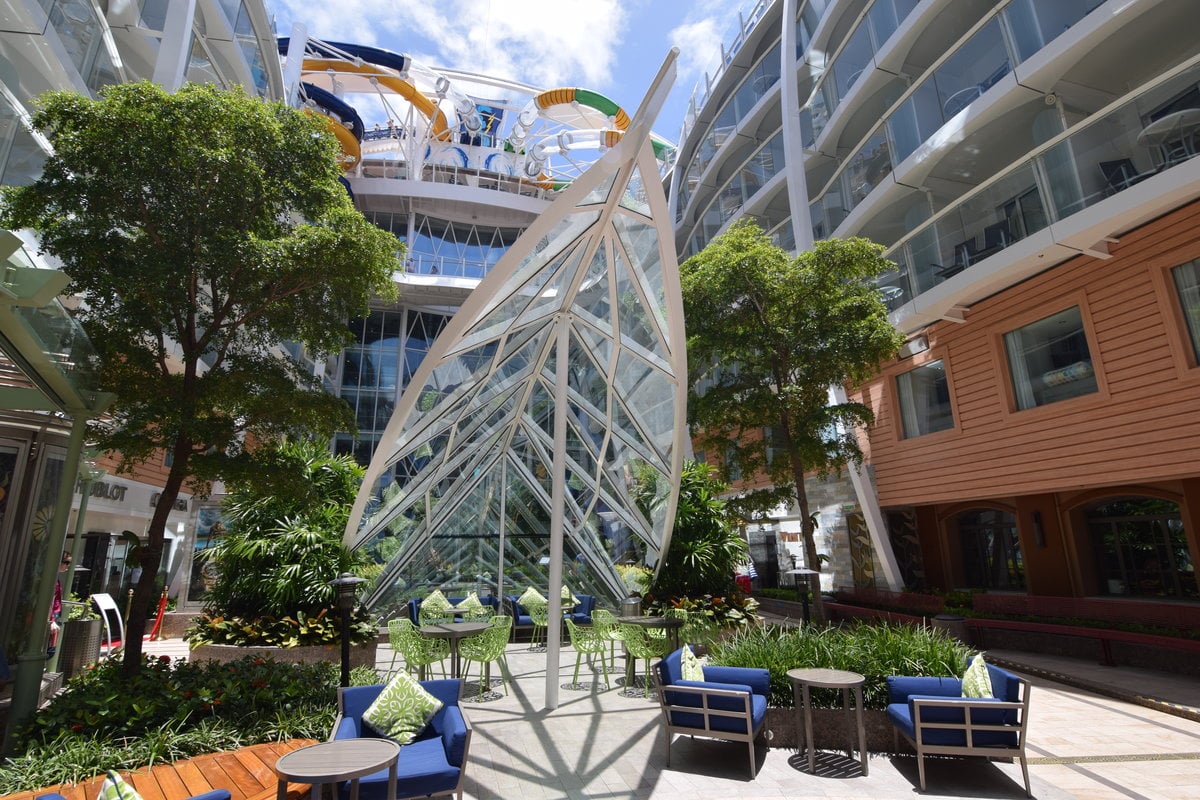 Are you looking for somewhere onboard to enjoy a good book?  Central Park is a vastly underrated spot for breezing through your chapters.
It is the perfect quiet place onboard to "get away" and just relax as the world goes by. You will find benches and chairs throughout Central Park that can be a great area for sitting.  With Park Cafe nearby, you can easily grab a cup of coffee or tea and bring it to one of these areas to enjoy with your book.
Be sure to look for some of the more hidden sitting areas in Central Park, which add to the aura of feeling like you are in a park somewhere on land.
Piped in sounds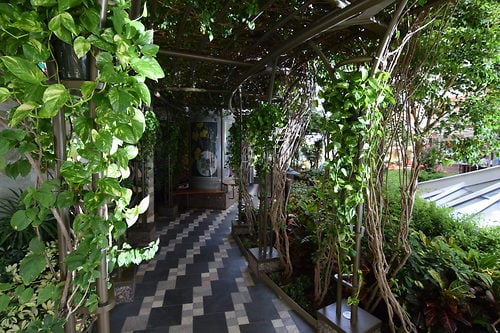 If you stop for a few minutes between checking out all the fun things to do on any Oasis Class ship, you might hear a subtle aspect of what makes Central Park such an impressive area.
Royal Caribbean actually pipes in sounds of crickets, birds and other animals to add to the feeling that you are in a park.  As the name implies, Central Park is named after the world-famous park in the middle of New York City.  Like any park, animals call parks home.  While Central Park on Oasis Class ships do not usually have animals living there (birds sometimes come and go from island to island), Royal Caribbean added their own sounds to the area.
If you happen to have a Central Park balcony room, they turn off the sounds at night to ensure a quiet evening of sleep.
Al fresco dining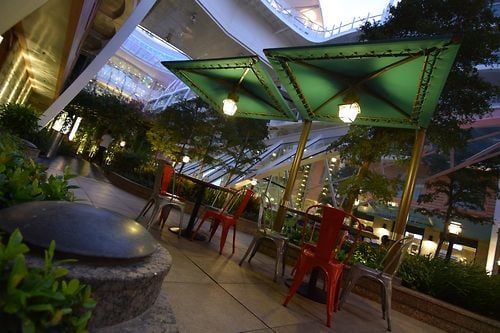 Royal Caribbean's Oasis Class ships offer a tremendous amount of dining options, and in Central Park, you can enjoy many of these restaurants outdoors.
With warm temperatures nearly year round, enjoying your meal outdoors can make a lot of sense.  Rather than taking your food and then going up a few flights of stairs to the pool deck, you can step outside and eat with the sun shining right outside.
Chops Grille and Jamie's Italian/Giovanni's Table offer their own outdoor seating areas, which means you have the choice of dining indoors or outdoors when eating at those restaurants.
Nighttime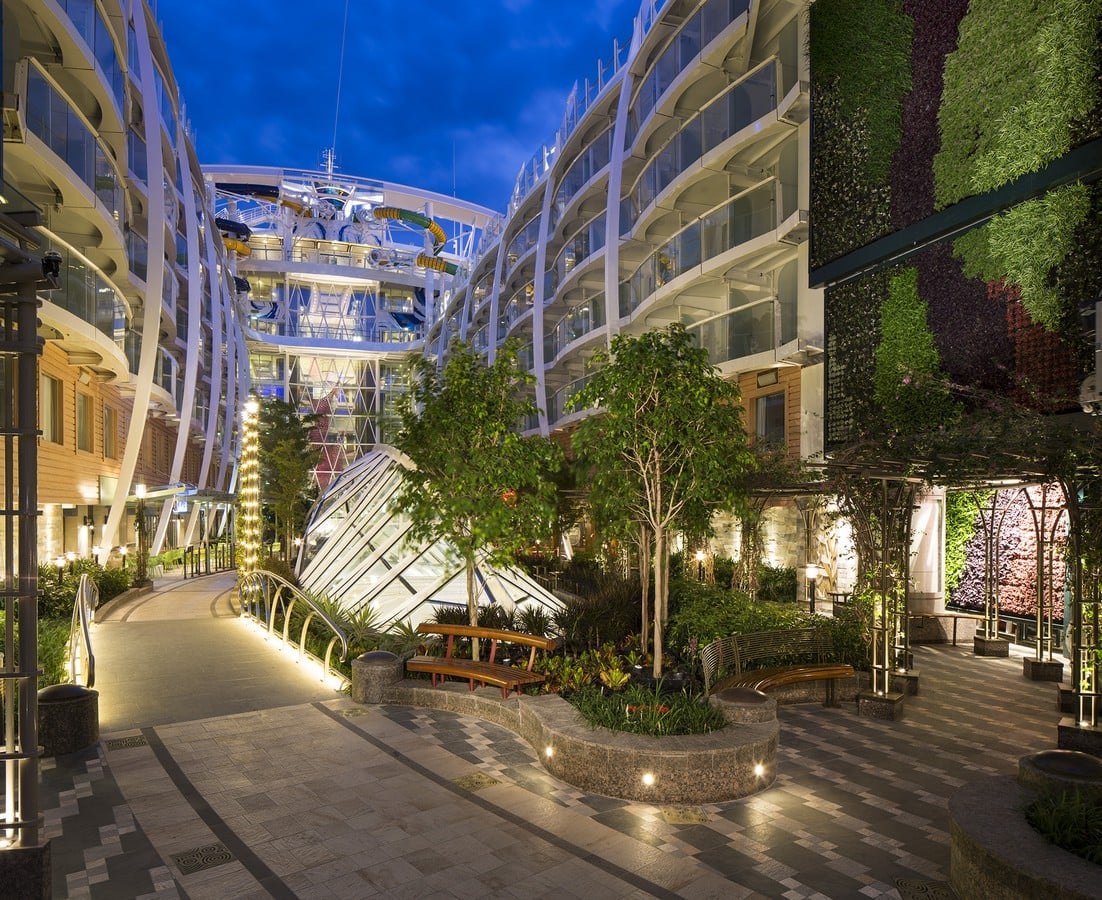 If picking which aspect of Central Park we love the most was a contest, nighttime in Central Park would win hands-down.
As beautiful as Central Park is during the day, at night it truly shines.  The area is lit up from all angles, which transforms Central Park into a nighttime conservatory.  The lighting accentuates the beauty of the area, so be sure to bring your camera to capture the stunning look.
Each evening, there is also live music performed in Central Park.  Whether it is piano or string music, listening to it while surrounded by a beautiful park is one of those "I can't believe I'm on a cruise ship" moments that can never be understood until you experience it yourself.
What do you love about Central Park?
Did we miss one of your favorite things about Royal Caribbean's Central Park? Or did our list remind you exactly of what you remember the most? Share your ideas, suggestions and thoughts in the comments below!