In:
Among the many impressive features on Royal Caribbean's Oasis class ships, are two neighborhoods that offer a lot to see and do, as well as incredible staterooms that look into these areas.
Central Park balcony and Boardwalk balcony staterooms are a compelling choice for anyone looking at stateroom choices on any Oasis class ship, and here is the important information to consider when booking these kinds of rooms.
What is a Central Park or Boardwalk balcony room?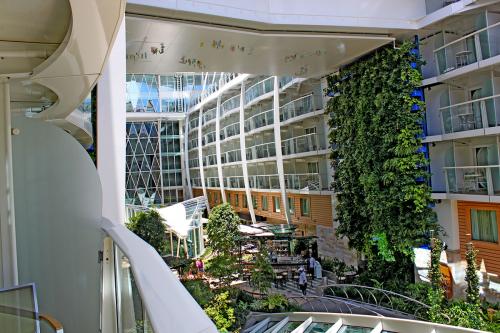 These neighborhood facing balconies are a balcony category stateroom that offer a balcony that looks towards either Central Park or Boardwalk, instead of a balcony that overlooks the ocean.
The idea was a first in the cruise industry because prior to Oasis of the Seas, balconies had never been internally facing. 
The neighborhood balconies offer the same fresh air and light that ocean view balconies do, but with the opportunity to enjoy the ambiance of the Boardwalk or Central Park neighborhoods.  In addition, neighborhood view balcony staterooms tend to be slightly cheaper than ocean view balconies.
The exact size of a neighborhood view stateroom with balcony is 182 square feet with a 52 square foot balcony. Both types of rooms include twin beds that convert to a queen, a desk, sitting area (some with sofa bed), TV and minibar and a balcony with two chairs and small table.
Central Park balcony rooms are on Decks 10 through 14, and Boardwalk balcony rooms are on Decks 8 through 14.
Why might you not want to book a Central Park or Boardwalk balcony stateroom?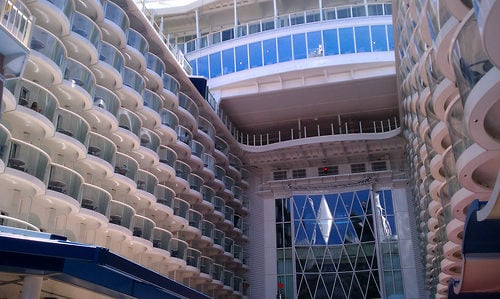 Other than what you can see from your balcony, the room experience between a neighborhood balcony and an ocean view balcony are pretty much the same. For some folks, a balcony without an ocean view is not desirable.
A common concern that we hear about is noise from the neighborhood impacting the guest experience. In our experiences, the ambient noise from Central Park or Boardwalk is negligible and does not bleed into the stateroom itself. Of course, if you desire the sound of the ocean with your balcony, that will be missing here. It is worth noting that Boardwalk balcony rooms can have more noise when there are shows occurring in the AquaTheater, but your stateroom location and noise tolerance will vary.
It is also worth noting in terms of privacy, there are neighborhood balcony rooms on the opposite side of the ship that will face your balcony.
What do neighborhood balcony rooms offer that ocean view rooms do not?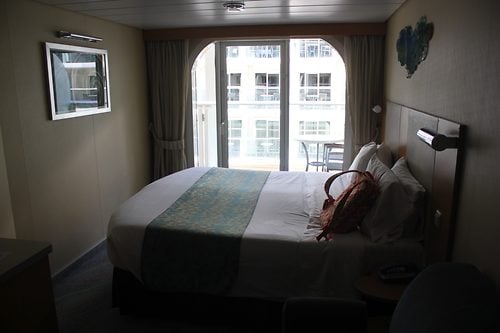 There are some inherent advantages to booking a neighborhood balcony room over an ocean view balcony room.  First and foremost, the price for neighborhood balcony rooms is often less expensive than ocean view balcony rooms.
In addition, Royal Caribbean is offering complimentary perks for neighborhood balcony staterooms on Oasis class ships. Beginning in November 2016, guests staying in Boardwalk or Central Park view balcony staterooms will be able to enjoy complimentary amenities such as free food, drinks and more.
Moreover, neighborhood balcony rooms allow guests staying in them to enjoy some great people watching opportunities and enjoy the general ambiance of the neighborhoods you can view.  Boardwalk view balcony rooms also have an added benefit of some offering full or partial views of the AquaTheater performances.
Differences between Central Park and Boardwalk rooms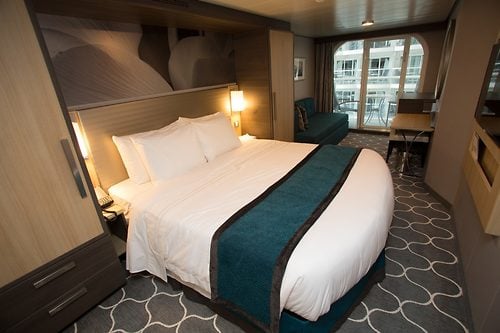 As the name implies, the primary and most noticeable difference between Central Park and Balcony rooms, are the view.
Central Park view balcony rooms offer a view of the Central Park neighborhood below.  Central Park is 
Central Park is one of seven distinct "neighborhoods" that help break up an Oasis class ship.  It is an immense area in the middle of the ship that offers a lush park for guests to enjoy with tropical plants, trees and walkways. Central Park features a lush garden in an area about as long as the Royal Promenade and twice as wide.  Central Park rooms tend to have a bit less noise from the neighborhood because there are no shows in this area (there is live music in the evenings), and there tends to be less guests hanging out in the area.
The Boardwalk neighborhood is reminiscent of the whimsical seaside resorts that dot the coast of England and the nostalgic boardwalks of yesteryear such as Coney Island. There is a carousel, restaurants and the AquaTheater stage. Unlike Central Park balcony rooms, there is a partial view of the ocean when facing aft, and some rooms even offer views of the AquaTheater (the more aft your room is, the better the chance). Because of the shows and the fact the Boardwalk tends to have higher foot traffic than Central Park, it can be a bit noisier than Central Park.  
Summary
In the end, Royal Caribbean's neighborhood balcony appeal will depend on how you cruise. Do you like quiet time watching the sea, or enjoy arriving into port? Do you find the Central Park or Boardwalk neighborhoods particularly intriguing? 
When you consider the usual less expensive cost for neighborhood balcony rooms and the new perks for neighborhood balcony rooms, it is a particularly compelling option. In addition, many Boardwalk balcony rooms still offer a view of the ocean when looking to the aft of the ship.
While neighborhood balcony staterooms do not offer a full view of the ocean, having a balcony, regardless of view, is still what makes a great cruise experience.