In:
Perhaps no Royal Caribbean add-on purchase has become as popular as the Deluxe Beverage Package has.
In just a few short years, many guests have become drink package fans and it seems like more and more guests are purchasing them every cruise.
Whether you count yourself as one of the many that enjoy indulging in the unlimited alcohol package time and time again, or perhaps you are, "on the fence" about purchasing one, here are eight good reasons the unlimited alcohol package is, well, awesome!
8. Refillable mug is included
A nice little extra with Royal Caribbean's unlimited alcohol package is each person that buys a Deluxe Beverage package receives a souvenir Coca-Cola refillable mug.
This mug works with the self-serve Coca-Cola machines, and can also be given to a waiter or bartender to be filled.  This means plenty of soft drinks wherever you are on the ship.
As an added bonus, you get to take it home with you after the cruise!
7. They work at Labadee and CocoCay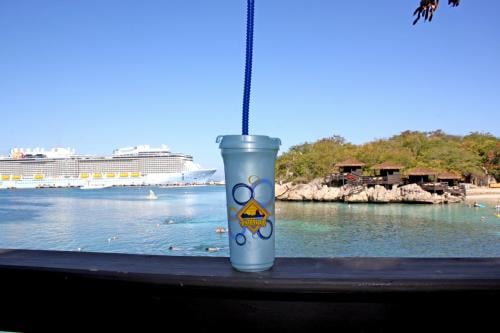 All of Royal Caribbean's unlimited alcohol packages can be used the cruise line's private destinations of CocoCay and Labadee.
Your drink package at these two spots can be used just like onboard the ship.  Present your SeaPass card to any crew member working on the island and they will fulfill your order.
The only caveat to keep in mind is many of the roving bar servers offering a Labadoozie or Coco Loco have souvenir cups with them, so you may have to walk to the bar to get your drinks with the package.
6. You will (likely) visit more bars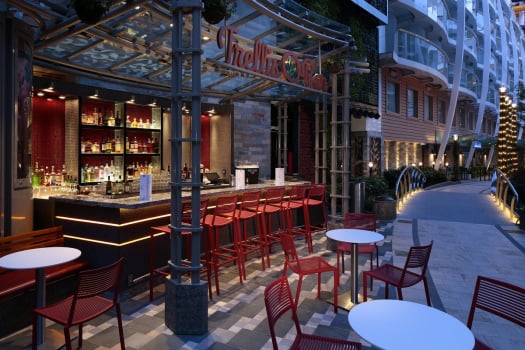 Royal Caribbean ships have many bars onboard, and in addition to different ambiance and decor, many bars have their own special drink menus.
If you have a drink package, a fun activity is to try out new bars and see what makes that bar or lounge special or different.  You may find Boleros serves up the best mojitos onboard, or see how good of a drink the Bionic Bar robots can create.
Bar hopping with the unlimited alcohol package is as fun as the drinking itself.
5. Perfect for use in specialty restaurants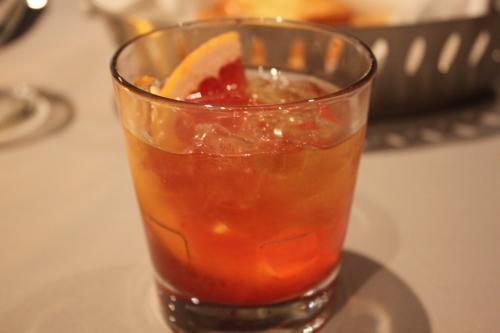 When you think of the unlimited alcohol package, most guests instantly envision drinks by the pool or at their favorite bar but a place where the unlimited alcohol packages truly shine are at the specialty restaurants.
Royal Caribbean specialty restaurants often offer a special menu of cocktails and beverages unique to those restaurants, that are not advertised anywhere else onboard.
Furthermore, the drinks at the specialty restaurants are rarely, if ever, discounted, so guests paying cash for these drinks will have to pay the full price.
With the unlimited alcohol package, guests can sample as many of these specialty cocktails as they like, because most are included in the Deluxe Beverage Package.
4. Less vacation stress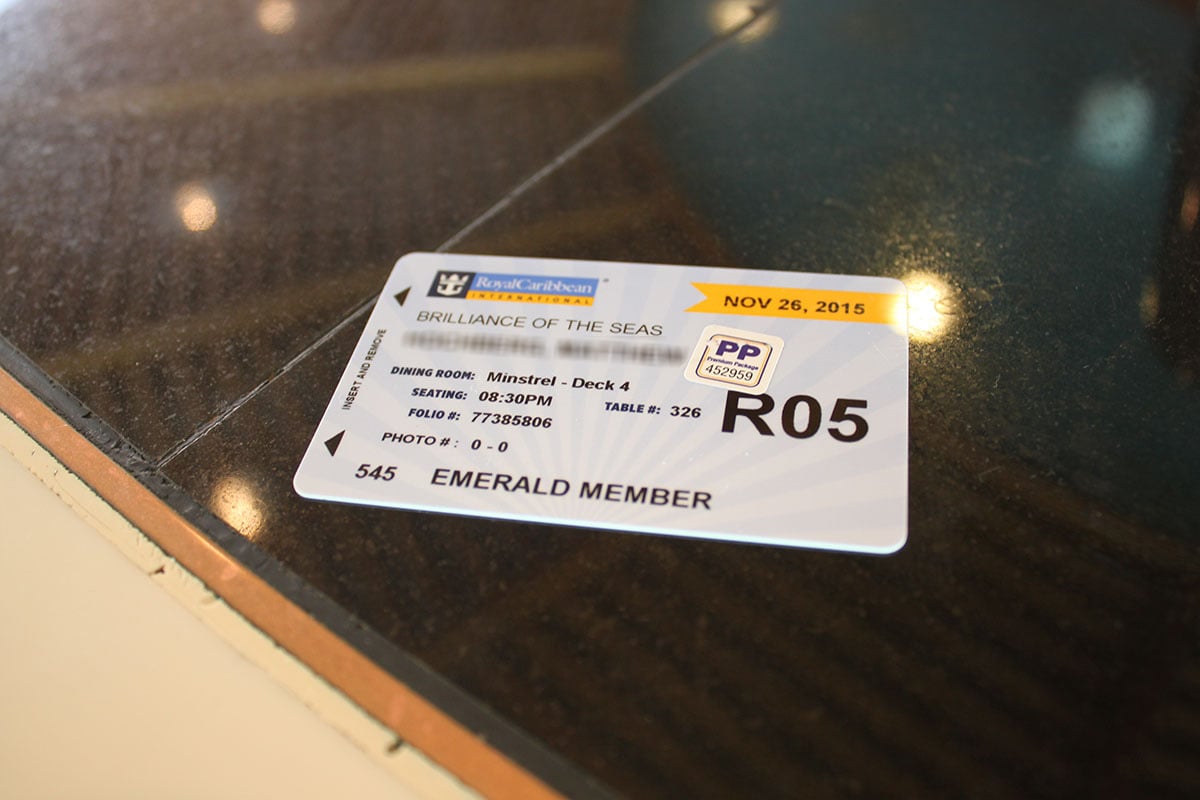 If you ask someone who got back from a Royal Caribbean cruise what they thought of the unlimited alcohol package, inevitably you will hear about how simple it was to order drinks and not worry about receipts.
When you take away all those bar tabs paying a la carte, the SeaPass account quickly gets shorter and easier to read.
In addition, gratuity is included with the unlimited alcohol packages (in North America), so there is no more figuring out how much to tip the bartender or waiter. 
The entire drink ordering process seems to fly by, without feeling you are doing a high school math problem at the end of your cruise.
3. One fixed cost for all drinks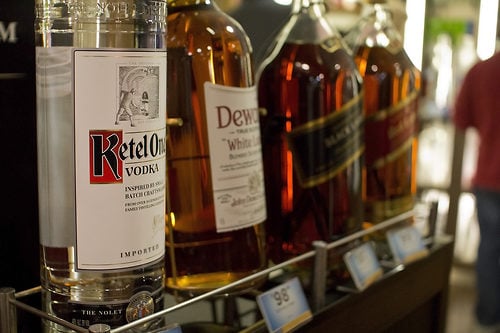 One of the chief benefits of the Deluxe Beverage Package is there is one fixed cost for all your drinking onboard.
Instead of worrying about if you really should order one more mojito, the cost is already set, so it is all about what you want, when you want it.
Guests that pre-purchase the unlimited alcohol packages can not only get a fixed cost for their drinks onboard, but can also break apart the total cost of the cruise.
2. Trying new drinks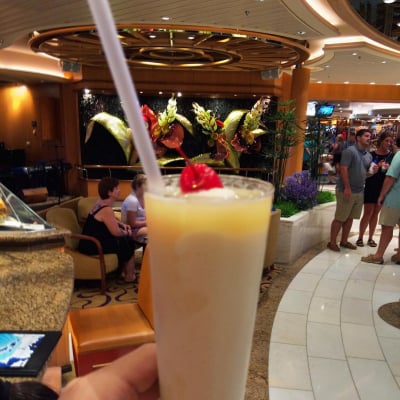 Since the cost of all your drinks is set with the unlimited alcohol packages, you can sample new drinks without fear of wasting your money.
Royal Caribbean ships offer a lot of drinks to choose from and sometimes you might be tempted to try a drink but worry you might not like it and feel obliged to finish it because you paid for it.
With the drink packages, there is no buyer remorse over drinks you do not like.  Place it to the side and order another! The cost is the same to you.
1. Money saver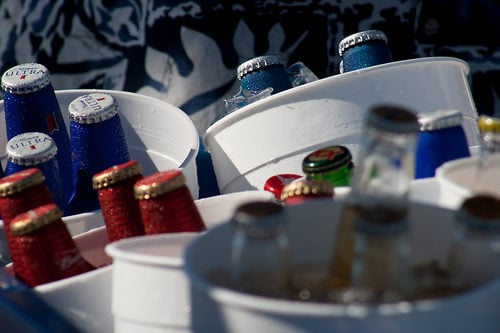 By far, the best reason Royal Caribbean's unlimited alcohol package is awesome is because it can save you money.
If you do your part to consume enough drinks each day of your cruise, you should be able to come out ahead with the amount of drinks you ordered versus how much those drinks would have cost you if you paid cash.
While the previous seven reasons are all perfectly good rationale for ordering an unlimited alcohol package, the basic point of the package is to ensure you are drinking enough to break even, if not come out ahead.
With the packages, guests can enjoy as many drinks as they like and (hopefully) come home with more money left in their pocket than if they had bought those drinks a la carte.
Do you think Royal Caribbean's unlimited alcohol package is awesome? Share your thoughts in the comments below!