In:
Royal Caribbean's unlimited drink packages have been available for a few years and are quite popular with guests who are intrigued by the idea of having most of their beverages included, rather than having to pay for each drink.  The beverage packages promise convenience and a fixed cost to ensure one less worry. 
The common question cruisers ponder is to whether the drink packages are worth the cost.  Of course, the answer depends on you and your family.  Take into consideration some pros and cons that might help you decided if you want to add a drink package on your next cruise.
Pros
Drink as much as you want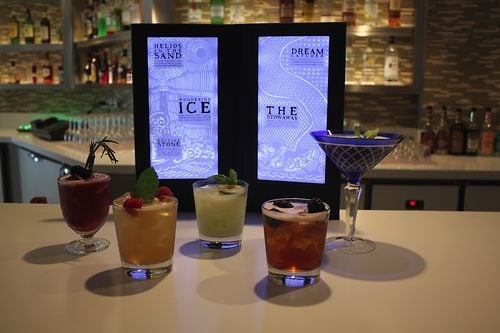 By far the best advantage of any drink package is you get to enjoy as many drinks that are included with the package, with no limit.  When people pay for drinks individually, often the cost of running up a large bill enters into their minds, but drink packages assuage that concern.
Royal Caribbean beverage packages have no daily limit, so guests can enjoy as much or little as they want every day of their cruise. The Deluxe Beverage Package and the Royal Refreshment package also offer a good variety of beverages that are included with the packages, which means added opportunity to mix up the sort of drinks that can be enjoyed.
One of the best reasons to get a drink package is that you can enjoy all the drinks available, including some new ones. You can order something and not be worried that you might not like it and have to "suffer" through it, simply because you paid for it.
Use almost anywhere onboard and onshore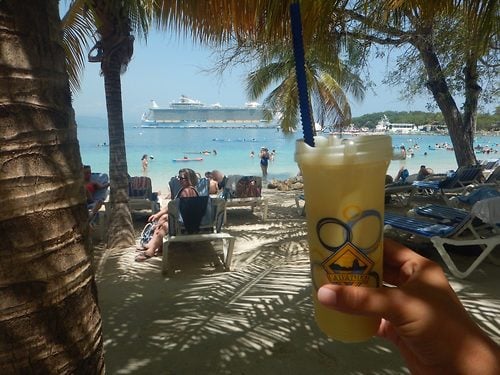 Royal Caribbean drink packages work pretty much everywhere onboard the ship and even in Royal Caribbean's private destinations of CocoCay and Labadee. This means whether you are in the dining room, hanging by the pool or at a specialty restaurant, you can enjoy the drink package benefits at any time.
There are a few exceptions to where you can use the drink packages, but most guests seem to find plenty of opportunity to take advantage of the benefits. 
The convenience of being able to get a drink virtually anywhere on your Royal Caribbean cruise means being able to enjoy a refreshment anytime you want.
Control costs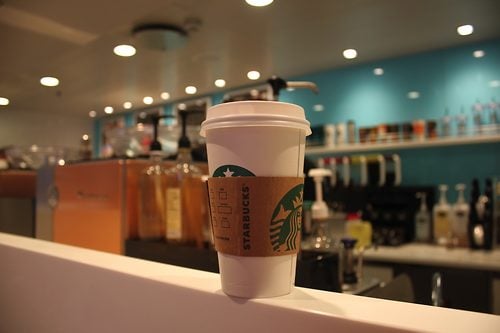 By purchasing a drink package, you are capping the maximum cost for drinks during your cruise.  
Most families like to be able to budget their vacations and not come home to a monster bill.  The drink package is an easy way to ensure the SeaPass account does not get out of hand.
Additionally, guests that pre-purchase their drink package prior to the cruise can take advantage of discounts and the opportunity to break up the total cost of the cruise. Royal Caribbean charges guests for the drink package at the time of purchase when booked before the cruise, which means guests can potentially pay off parts of their cruise experience on different billing cycles. 
If you can drink enough every day of your cruise, a Royal Caribbean drink package can definitely save you money. With the ever increasing cost of drinks, many guests have found the drink package to be a good value. Those that enjoy cocktails will find prices regularly $10-13 per drink, which makes a drink package investment much easier to "break even."
Souvenir cup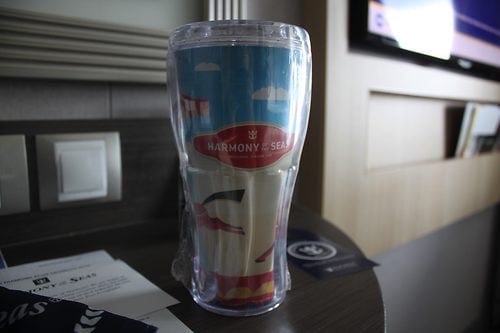 All unlimited drink packages come with a souvenir Coca-Cola cup that not only provides an easy way to get refills, but it can be taken home as a souvenir from the cruise. Souvenirs are rarely cheap, and having a good sized mug back home will provide another reminder of the vacation fun and potentially a new favorite cup at work or home.
Since the souvenir cups come with the drink package, there is no added cost to get one and the current mugs feature fun Royal Caribbean inspired designs that are sure to put a smile on your face each time you pull it out of the cabinet.
Cons
Drinking for the sake of drinking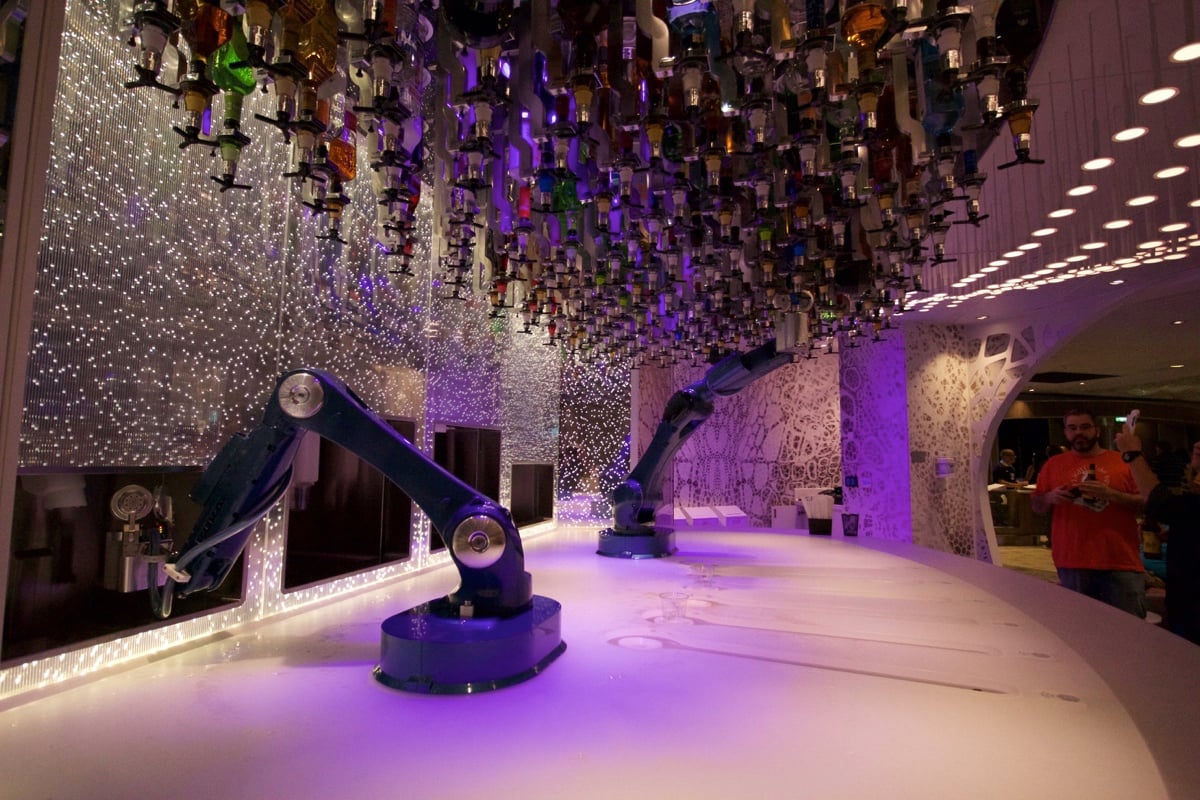 It is not uncommon to discover when you have a drink package, you start getting a drink just because you have the package and not because you really want one.  
Certainly on the first couple days of a cruise, the opportunity to enjoy plenty of cocktails is novel, but there might be a point where you are ordering drinks simply as a means of getting your package investment back.
The principle reason to purchase a drink package is that it will save you money over purchasing drinks individually.  Royal Caribbean provides a value proposition to the equation with the drink packages, but often guests find themselves having a drink just because they can, just to "break even." 
Anyone can drink 5-7 drinks in one day, but 5-7 drinks every day of the cruise could possibly get old.
Large up-front cost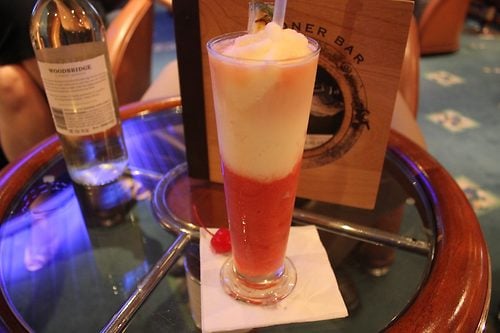 Royal Caribbean's drink packages are priced per person, and per day, so the longer your cruise, the more you will have to pay in advance for the drink package. Depending on the length of your cruise and the amount of people that want to get a drink package, that can be a lot of money to shell out.
Theoretically you will recoup that value over the course of the cruise vacation, but there is a risk of that not happening, and moreover, a big charge to start things off.  
Pre-purchasing the drink packages before your cruise can help take the sting out a bit, since they are charged at the time of purchase, but spending $400+ for an unlimited alcohol package per person on a 7-night cruise is never easy.
Still need to pay for drinks on land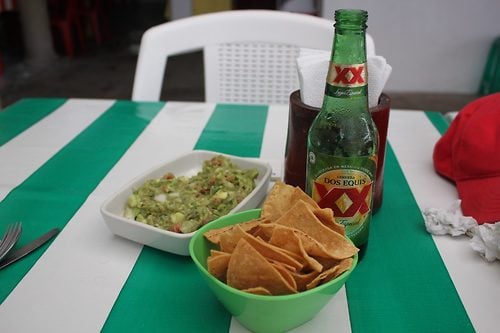 Your Royal Caribbean cruise will bring you to some amazing ports of call, but your drink packages will not work there. Outside of Labadee or CocoCay, your drink package benefits stop, which means when visiting these different cities and countries, you will still have to pay extra for drinks.
Moreover, drinks are often much cheaper to purchase while onshore than on a Royal Caribbean cruise.
Some guests prefer to drink very little onboard and then spend their money on drinks while on shore.  Certainly the itinerary you are on may dictate how practical this idea is, but drinking on land might be able to satisfy your drinking needs without the cost of a drink package.
Loyal cruisers receive complimentary drinks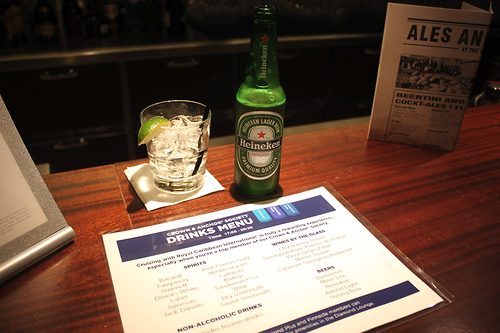 Believe it or not, Royal Caribbean does offer complimentary beverages on their cruise, including alcohol. Royal Caribbean includes quite a few non-alcoholic beverages with your cruise fare, and for members of Royal Caribbean's Crown and Anchor Society customer loyalty program, there are even complimentary alcohol each evening.
Crown and Anchor Society members that are Diamond or above, can enjoy complimentary beverages in the Diamond lounge onboard the ship, plus the added option of drink coupons to use each evening around the ship. Guests that have access to these beverages will have a subsidy of included alcoholic beverages, which may negate the value of purchasing a drink package. 
Conclusion
Overall, whether Royal Caribbean's drink packages make sense for you is a highly personal decision based on a lot of variables.  Depending on your priorities, there decision will greatly sway in one direction or another.  The drink packages absolutely can save you money and time, but it depends on the person and it would be misleading to recommend it for everyone.
Discounts on drink packages bring down the cost when purchased before a sailing begins, and they money off is enough to push some folks "over the fence" to make it a worthwhile investment. In fact, anyone considering a drink package should absolutely pre-purchase a package for the discounts that show up from time to time.  
Keep in mind if you are unsure about purchasing a drink package, you can always opt to purchase the drink package after your cruise begins. Royal Caribbean will prorate the package based on the remaining days of your cruise, which means you can take a couple of days to see how much you really want to drink before deciding to try the package out.
Your thoughts
What is your experience with the Royal Caribbean drink packages? Thinking about using it? Please to share your thoughts about Royal Caribbean's drink packages and how it works (or does not work) for you in the comments.  If you have comments, ask them there as well.