In:
Everyone loves a good beach day, but sometimes you want to branch out and, to borrow a phrase from a past Royal Caribbean marketing campaign, get out there. Royal Caribbean's private destination of Labadee is well-known for its amazing beaches and serenity, but for those that want a little more active fun, here are some suggestions for what to do on your next visit there.
Ride the longest zip line over water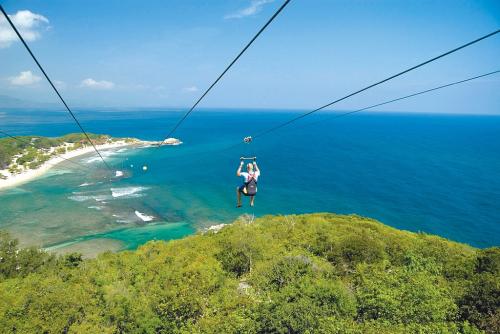 As soon as you step foot onto Labadee, you will likely notice the zip line cables extending down from the top of a nearby mountain, which seems to draw many guests who want to experience it for themselves.
The Dragon's Breath zip line takes you 500 feet above the beach as you reach speeds of 40-50 miles per hour. The zip line is 2,600 feet long and begins atop lookout mountain, and will take you above the ocean and land.
Arawak Aqua Park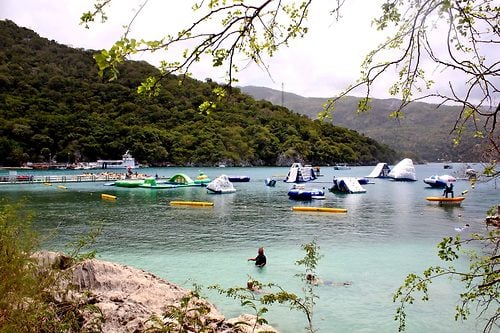 If your idea of a good time is jumping, falling and canon-balling into the ocean off giant inflatable objects, then Arawak Aqua Park is perfect for you.  While there is plenty of time spent in the water, unlike a day at the beach, this aqua park is all about expending a ton of energy in this fun marine playground.
Floating trampolines, pyramids and water slides await you as you jump, climb and splash to your heart's content. It is fun for kids and adults who want to keep cool while having a lot of fun while enjoying picture-perfect views of the turquoise sea around you.
Parasail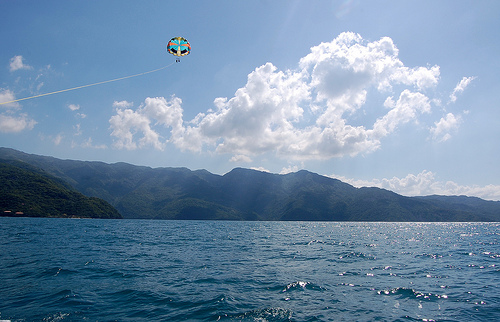 To get a full appreciation of Labadee's natural beauty, one needs to go about 400 feet in the air on an exciting parasailing adventure.
Going up in a parasail provides one of the best views of Labadee, your Royal Caribbean ship, and the surrounding area. Guests take a scenic journey to the parasailing area, where they fly in tandem high above Labadee.  Without a doubt, you will not find another view like this one.
Jet Ski
Anytime I think of jet skiing in Labadee, I am reminding of this classic Royal Caribbean television commercial.
Regardless of your nostalgia, a jet ski ride is the perfect way for anyone that wants to take a high-speed adventure through the waters of Labadee.  This is great for anyone that wants to indulge their sense of adventure and enjoy Labadee's natural beauty with the wind in their hair.
Deep sea fishing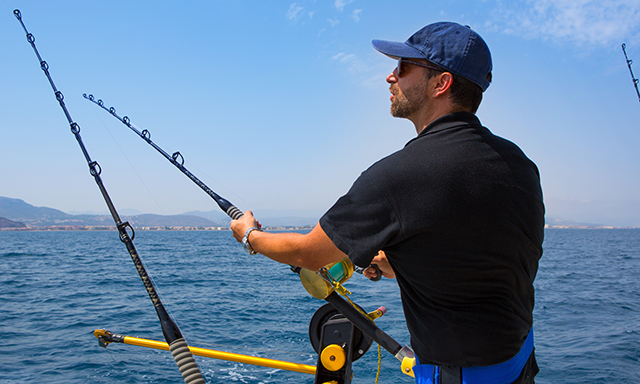 Did you know you can go fishing while in Labadee? Royal Caribbean provides a 3-hour fishing voyage off the coast of Labadee, where your Captain takes you in search of saltwater fish to catch.
Guests embark on a 25.5 foot boat for an opportunity to try to find and reel in various large fish, such as marlin, tuna, wahoo and mahi mahi. 
Alpine Coaster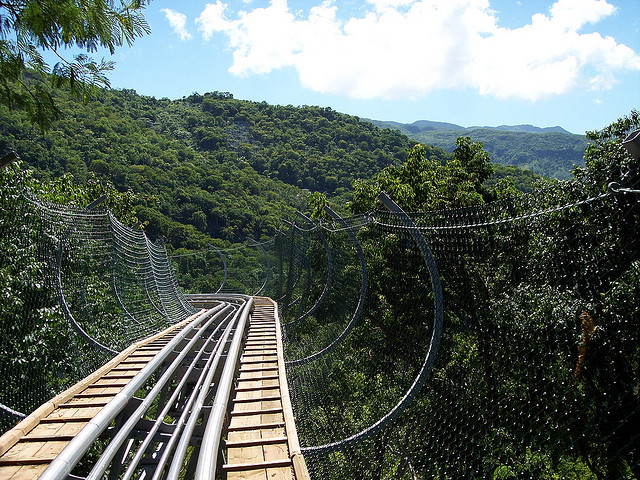 Located 680 feet up on Santa Maria's lookout mountain, you will find the Dragon's Tail roller coaster, which is an alpine coaster.  You may have seen these sort of rides at some ski resorts during the summer months. 
Essentially it is a single car vehicle that races down a track at 30 miles per hour and features 360-degree turns as well as dips, waves and curves, you can catch glimpses of the ocean.