In:
It looks like the name of Royal Caribbean's fourth Oasis class cruise ship may have been leaked by a partner company that works with the cruise line.
FlowRider touted the work it is doing with its largest client, Royal Caribbean, and repeatedly referred to the fourth Oasis class ship as Symphony of the Seas.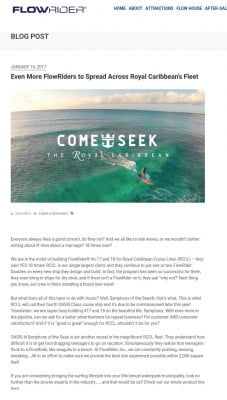 The blog post mentions the new ship in reference to the the fact it will have a FlowRider onboard, "But what does all of this have to do with music? Well, Symphony of the Seas®, that's what. This is what RCCL will call their fourth OASIS Class cruise ship and it's due to be commissioned later this year! Translation: we are super busy building #17 and 18 on the beautiful Ms. Symphony. With even more in the pipeline, can we ask for a better advertisement for repeat business? For customer AND consumer satisfaction? And if it is "good to great" enough for RCCL, shouldn't it be for you?"
Royal Caribbean has not officially announced the name of its fourth Oasis class ship yet.
Oasis 4 is under construction in STX France and will join Royal Caribbean's fleet in spring 2018.
Credit for spotting this news goes to Harmony of the Seas Facebook group first.