In:
At Royal Caribbean's private destination of Labadee, guests can reserve a cabana at Nellie's Beach to enjoy a secluded beach experience. The cabanas have become very popular with guests, and we had the chance to try the beach cabanas on a recent visit.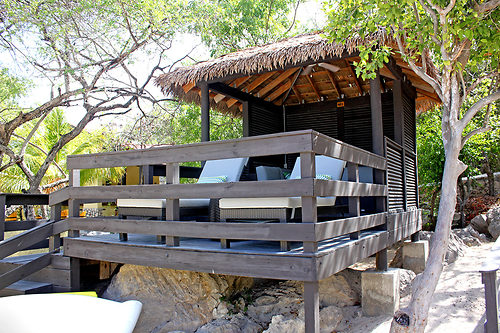 There are two types of cabanas available: over the water and beach cabanas. In the past, we have rented the over the water cabanas, but wanted to try the beach cabanas.
The beach cabanas are recessed at the rear of the beach, in a secluded area.  Beach cabanas cost $395 (for up to six guests).  Unlike the beach cabanas at the suite-only Barefoot Beach, the beach cabanas at Nellie's Beach are located in a private area, separated by a short wall.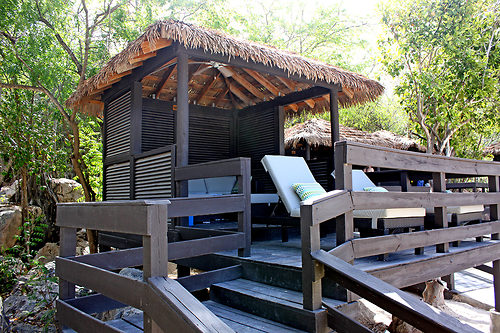 There are two sub-types of beach cabanas: regular and handicap accessible.  The handicap accessible cabanas feature a ramp instead of stairs that lead to the cabana.
All the Labadee cabanas are equipped with two lounge chairs and a large seating area inside the cabana that features a fan and electric outlets. Cabana guest also get to enjoy complimentary bottles of water (in a cooler), two floating beach mats, snorkeling gear and towels. A cabana attendant is also assigned to you, who can assist you with any requests you may have.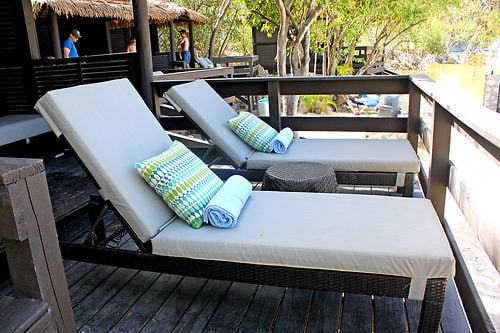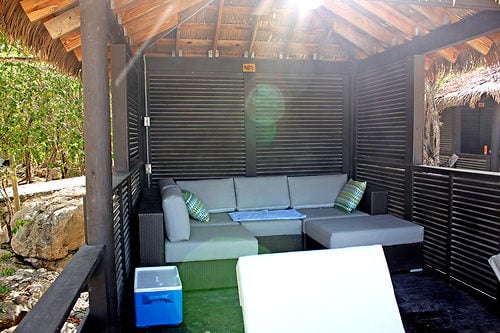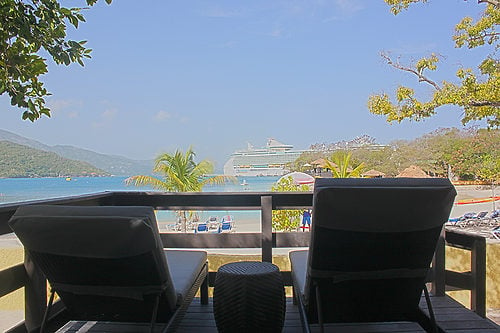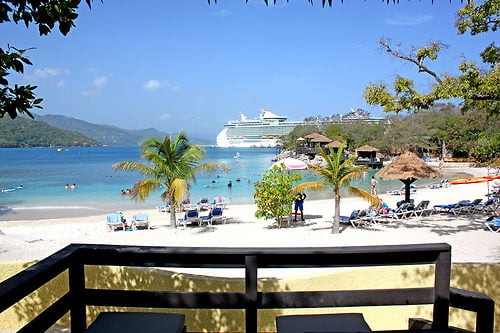 Part of the reason we booked the beach cabanas instead of the over the water cabanas is because the over the water cabanas have a private staircase leading to the water, which is a bit too steep for my young children to navigate. The beach cabanas lead to the ocean via the beach, which was very easy for the kids.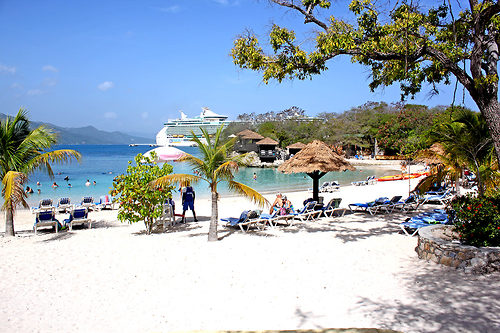 Cabana guests at Nellie's Beach also have access to private golf cart transportation. Simply indicate to your cabana attendant that you would like to go somewhere (back to the ship, to the buffet, shore excursions, etc) and a golf cart will be brought to your cabana for your comfort and then you will be driven to your destination.
In short, we really enjoyed the beach cabanas at Nellie's Beach.  The over the water cabanas offer arguably a better view, but the beach cabanas still provide privacy and come in $100 cheaper.  For families that want a private beach experience, the beach cabanas at Nellie's Beach are a great choice.