In:
If you are following directions from the blog, you are probably planning to fly in to the port city a day or so prior to your Royal Caribbean cruise…
… OR, maybe you flew in as a surprise to see your friends off on a cruise and you need a place to pout and cry in to your beverage of choice as your friends sail off without you on the Royal Caribbean Blog Group Cruise on the Freedom of the Seas…
Whatever the case may be, you may be interested in what there is to do and where to eat the day before your cruise is set to leave. I recently had the chance to spend some time near Port Canaveral and spent a couple days watching the ships. Here are a few ideas for things to do near the Royal Caribbean cruise terminal in Cape Canaveral.
Restaurants
Grills Seafood Deck & Tiki Bar
Located closest to the Royal Caribbean cruise terminal, Grills Seafood Deck & Tiki Bar boasts great food and drinks at an affordable price. Additionally, Grills serves as a fantastic breakfast location if you have some time to kill once you have disembarked your cruise.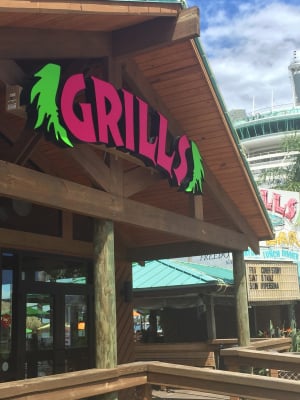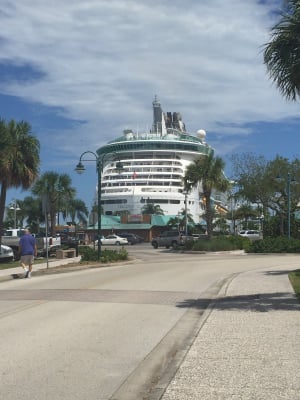 Grills also has a wonderful outdoor Tiki Bar which frequently features live music and a fantastic view of the Royal Caribbean ships sailing away.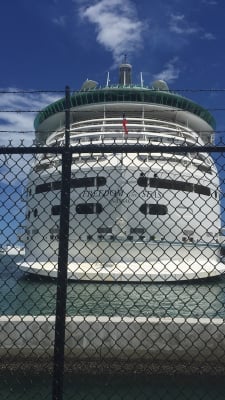 Fishlips Waterfront Bar and Grill
A short walk away from Grills is another great restaurant called Fishlips… another great location with an outdoor patio offering a great view of the ships sailing away from port.
Similar to Grills, Fishlips offers a variety of food and beverages to enjoy while relaxing along the water.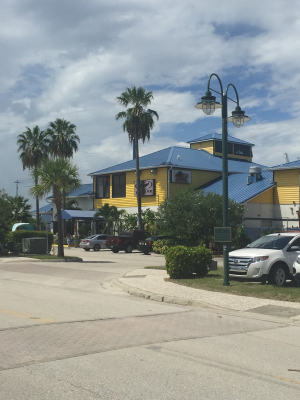 Fun fact – the most recent Royal Caribbean Blog meetup took place here prior to the Freedom of the Seas Group Cruise!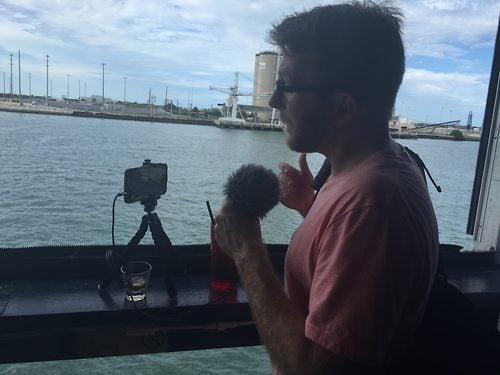 Nestled in between Grills and Fishlips is a fantastic seafood shop and restaurant called Seafood Atlantic. While the interior of the building is a shop that features locally caught fresh seafood, the outside is a fantastic restaurant serving up some of the local fare.
I have to say, this has been my personal favorite lunch spot in the port area… in my opinion, there is not much that beats raw oysters and local beer while watching the water on a sunny day.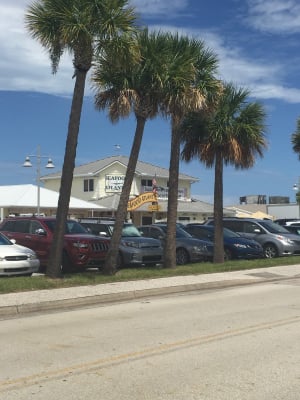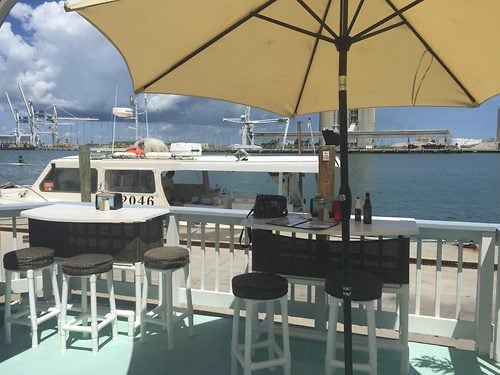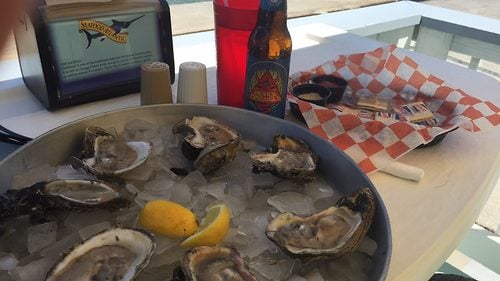 Attractions
Port Canaveral Exploration Tower
Overlooking the Port Canaveral area is a tall structure known as the Exploration Tower.
Seeing this landmark when you are approaching the port area has personally become a sign that you are about to embark on an incredible adventure. However, if you are looking for an educational day at Port (or, an incredible place to watch a rocket launch), this is a fantastic and nearby option for you.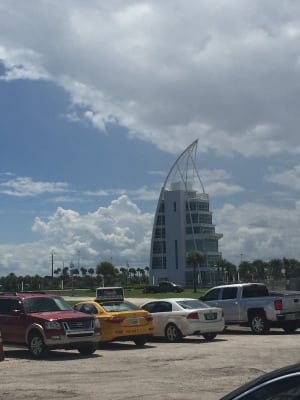 Located roughly 20 minutes from the Cruise Terminal in Cape Canaveral, Kennedy Space Center is a long loved and well known attraction for all things NASA and outer space and a fantastic spot to visit for all ages. Daily admission to the Visitor's Complex runs about $50.
Interested in just relaxing along the beach? While many hotels are located beach side, there are also public beaches available to you to relax and swim while getting ready to board your cruise.
Your thoughts
While these are only a few examples, the area surrounding Port Canaveral is a fantastic location to relax and unwind prior to your Royal Caribbean cruise. Please comment with your favorite places and things to do from your past adventures to an embarkation port!