In:
Well friends, it is day 5 already, these shorter cruises just go by so fast.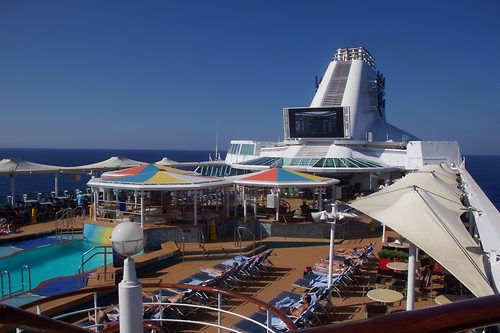 Today I planned to enjoy Empress of the Seas, but try to do something different activities. I woke up and saw that the Oasis of the Seas was actually sailing beside us, so I ran up to the top deck to check her out. We both traveled back home together for most of the day.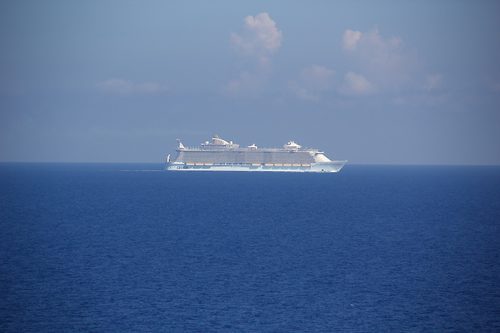 At 10AM they were doing Royal Caribbean trivia in the Schooner Bar, they had some pretty hard questions, I was surprised. I learned that Empress has the largest Schooner bar in the fleet, which I always thought it was Majesty.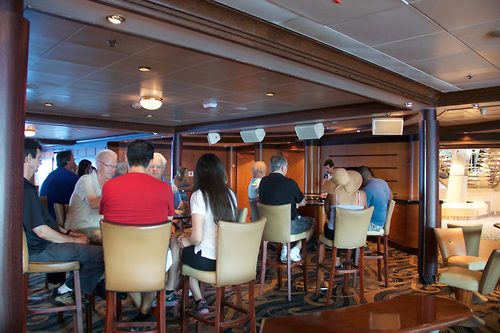 After the trivia game I had been invited to the Galley tour for being Diamond Plus.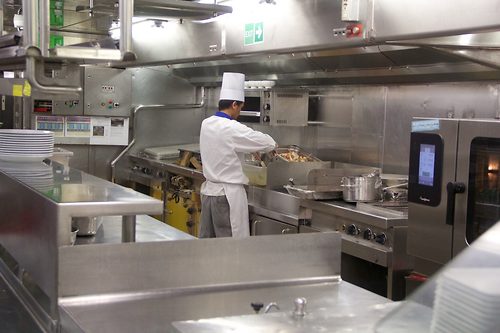 This was my first Galley tour on a cruise, so I was very excited. The Galley was actually quite smaller than I thought it would be, but everything was so clean.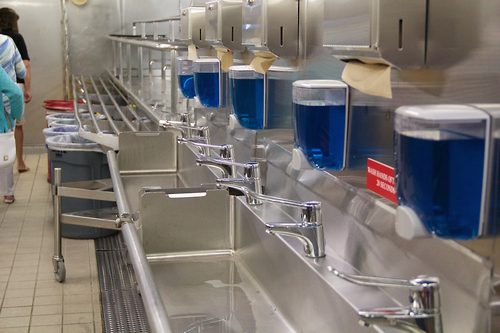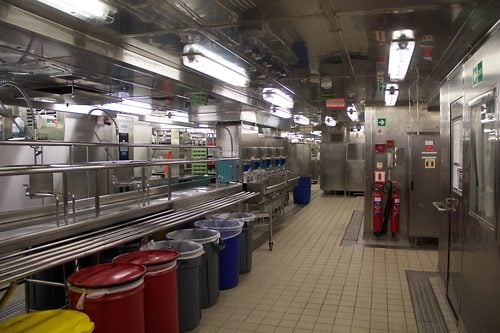 Royal Caribbean spent $20 million building this new galley during the Empress dry dock. In the tour I was able to see the Chops section and they were working on the shrimp cocktail for the evening so that was pretty neat to see. They did prepare a special lunch for those on the tour, but I decided to skip it and head to the pool deck. 
Afternoon on board 
The pool deck had really come to life today; I haven't seen it like this all cruise. Everyone was just enjoying themselves and their wasn't a cloud in the sky.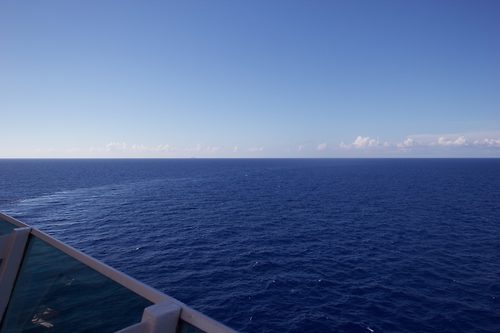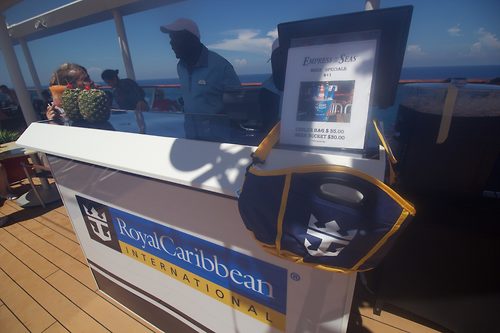 I watched the belly flop contest and it was quite entertaining. The assistant Cruise Director hosted the party and she did a nice job, she tried to create a dance party after the game.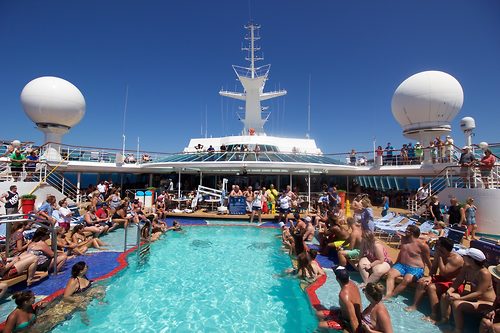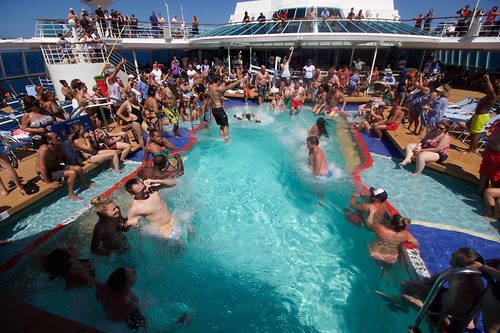 However, the ship had to turn around due to a floating man-made raft out in the ocean. This caused everyone to run over to the side of the ship to look over; thankfully no one was in the raft.
Great job by Royal Caribbean for turning the ship around to make sure it was clear. 
After we received the all clear from the raft, I decided to grab some lunch in the Windjammer. Today I went with chicken wings and ribs, almost like being in Coco Cay. I have never seen chicken wings on board before, so this was new for me.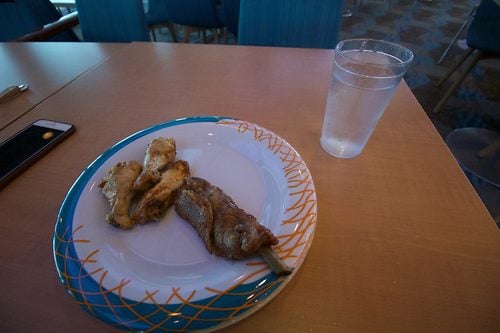 Once lunch was over I thought it was time to start packing up the cabin. This is never as much fun as packing up, but I like to do it early so I can enjoy my evening. 
Evening on board 
Tonight, I decided to go see the show, I know that's two shows this cruise! The show was outstanding! The theme was past, present, future and a Las Vegas themed show.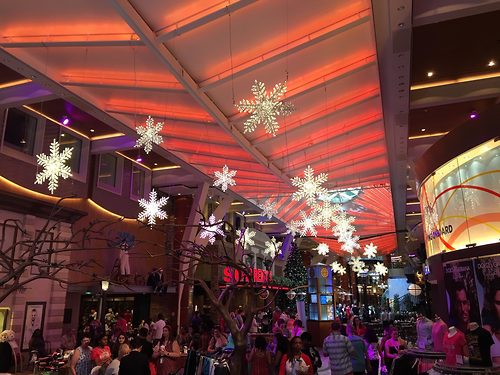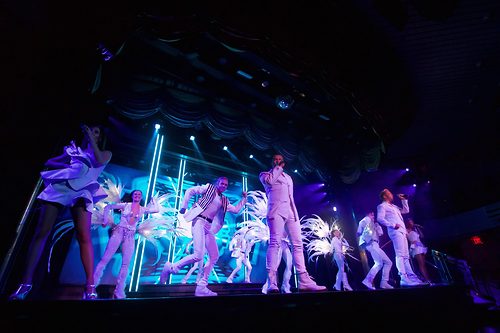 The show only last 35 minutes so it was a nice short activity before dinner. I'm very happy I went and highly recommend the shows on Empress.
For dinner, it was back to the Windjammer for a quick meal. Again the place was pretty empty but almost 8:30pm, so perhaps most people eat earlier. The options for dinner were a little different tonight; I went with pasta and fish.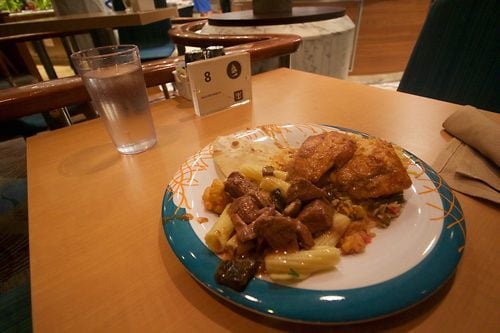 They had a large cake for desert that said, thank you for sailing with us, I passed on the cake.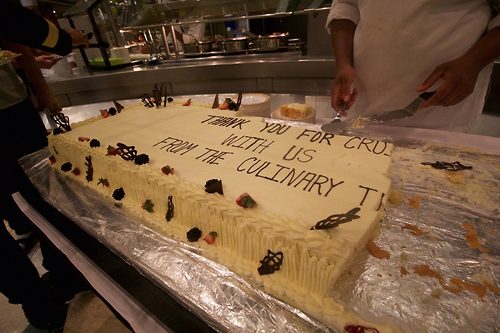 After dinner, I went to the Viking crown lounge and it was pretty full, everyone taking full advantage of their last evening. I just enjoyed one last drink before wrapping up my last day.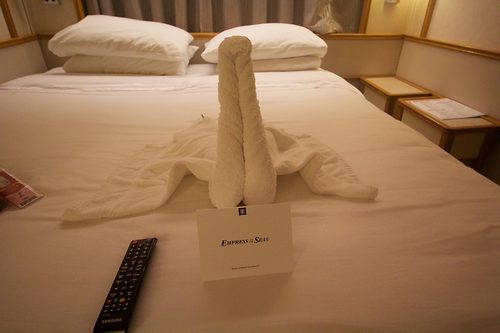 Wrap up 
The Empress of the Seas is a great value for those looking for a quick getaway. The ship on the inside feels very new in parts and older in others. She is a very relaxing ship, so if you enjoy a slow paced cruise this is for you. All the crewmembers get to know you, I think just about every one of them knew my name when they saw me. The cabins are small, so just be ready for that but not a deal breaker for me.
I was able to peek into an Owners Suite to take pictures.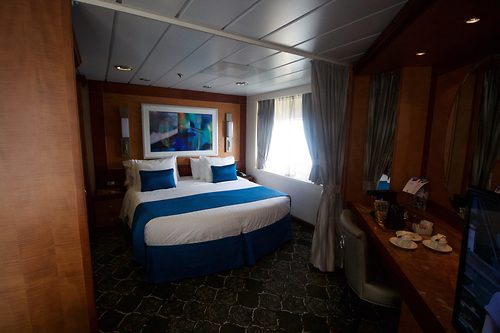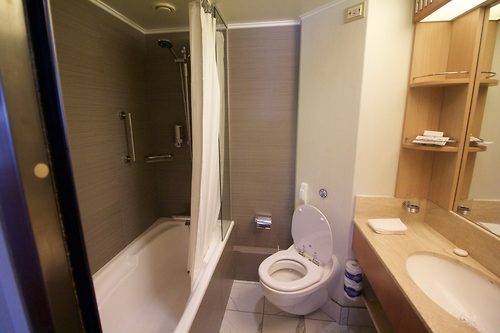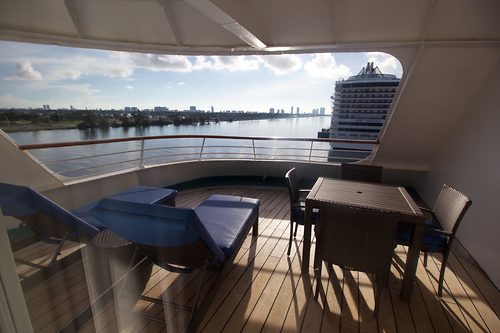 The Voom high speed Internet worked great, I never had any issues with it. From in my cabin to the pool deck it was fast Internet. The staff was very friendly; they are trying so hard to create a good experience for the guest. 
Thank you so much for following along this week, it was a really fun cruise! 
Until next time, I'll see you at sea!