In:
Royal Caribbean's Anthem of the Seas is a rather unique cruise ship, and offers some truly fun experiences that are certain to make memories for everyone in your group.
Royal Caribbean packed a lot into this ship, but we picked seven aspects of the cruise experience that we really love and think you will too! Anthem of the Seas offers quite a variety of activities, with thrills, impressive technology and more dining options than you would know what to do with.  
1. North Star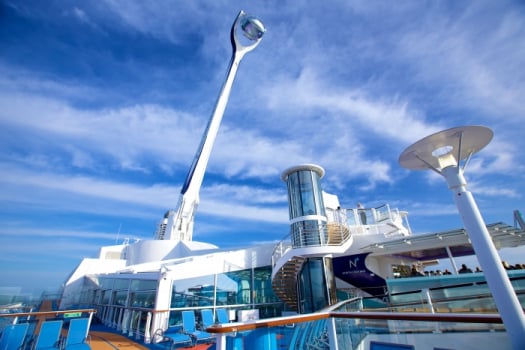 Before you even step foot onto Anthem of the Seas, you will see one of the more prominent features of the ship, North Star.
Royal Caribbean's North Star takes guests in an observation pod 300 feet above sea level for amazing views of the area around the ship. For the the first time ever, guests can get an amazing view around their cruise ship and take what is sure to become amazing photos of the scenery.
Whether at sea or in port, the views from North Star are stupendous and a one-of-a-kind experience.
2. We Will Rock You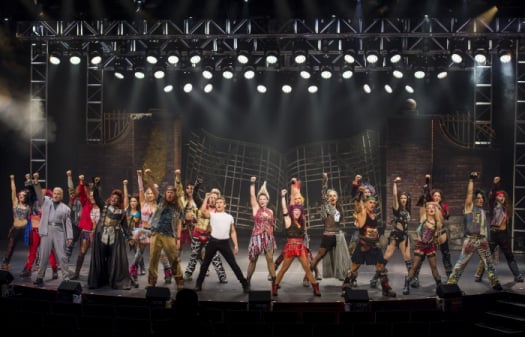 Did you know some Royal Caribbean ships offer full Broadway shows? On Anthem of the Seas, guests can enjoy the hit musical, "We Will Rock You."
Written by British-comedian Ben Elton, this hilarious award-winning and record-breaking phenomenon is built around 24 of the greatest hits of British rock legend, Queen. The best part about the show is it is included in your cruise fare!
3. Bionic Bar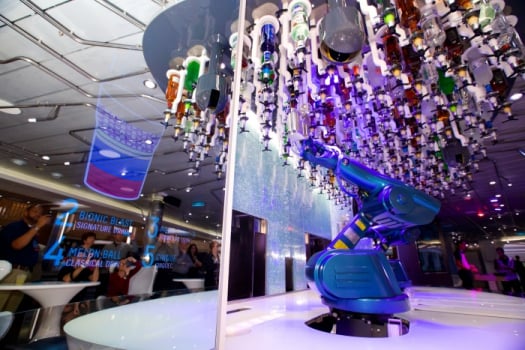 Regardless of if you actually get a drink here, the Bionic Bar is an experience to itself onboard Anthem of the Seas.  Two robot bartenders can make two drinks per minute, delivered in plastic cups via four conveyor belts.
Built by Makr Shakr, the idea is simple: guests place orders via tablets and then can watch the robot bartenders start mixing the cocktails. Bionic Bar combines two big trends, robotics and mixology.
The single armed robot will get the ice, mints and lemon and then squeeze and shake them to make your drink. Eventually, there wont be a limit on what the drinks the robots can make. The customization is what Royal Caribbean is aiming for.
4. Anything in Two70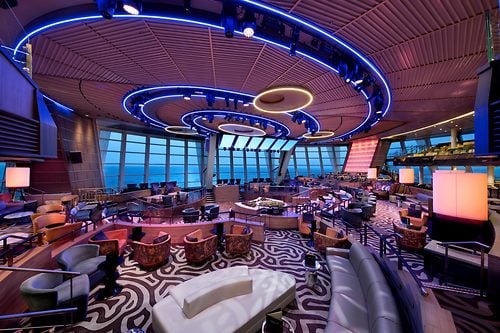 When we cruise on Quantum-class ships, we become self-diagnosed Two70 junkies.  Two70 is the large, multi-purpose space at the aft of the ship offering some of the best entertainment onboard Anthem of the Seas.
Two70, Royal Caribbean's transformative space onboard Anthem of the Seas fuses highly advanced robotic and projected technology with live performance, creating an unparalleled entertainment experience on land or sea.
As its name implies, Two70 offers a two hundred and seventy degree view from the aft of the ship. An expansive ocean view that is two decks high allows you to see an amazing view during the day. At night, Two70 transforms to offer a seamless video projection, robotics and human artistry.
5. WOWbands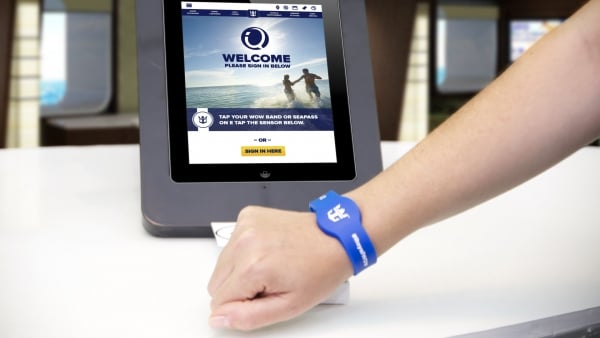 An undeniably cool innovation onboard Anthem of the Seas are the RFID bracelets known as WOW Bands.
WOW Bands give guests everything they have been accustomed to having in a SeaPass card, on their wrist.  This means getting access to staterooms, making purchases and checking in for entertainment has never been easier.
Guests can use their WOWband to enter their staterooms, purchase beverages, merchandise and anything else Royal Caribbean sells. Plus, WOWbands serve as an easy way to distinguish which muster station each guest is assigned to.
WOW Bands are an optional feature, but once you try the WOW Bands, you will likely be leaving your SeaPass card behind in your stateroom.  
6. Ripcord by iFly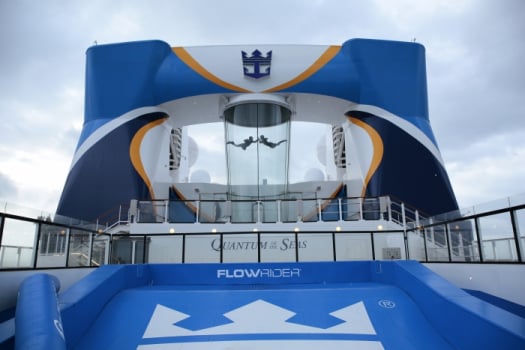 RipCord by iFly is a skydiving simulator that will be a first for cruise ships. Rather than descend from 10,000 feet in the sky, RipCord allows guests to get the sensation of skydiving without the incredible risk.
Guests put on a jumpsuit and goggles and then soar up to 23 feet in the air for a two-minute adrenaline rush.
7. Music Hall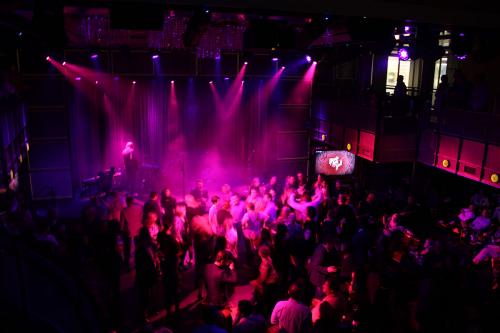 Spanning two decks, the Music Hall lives up to its name with bands, musicians and DJs playing music for all to enjoy.
If you want to jump into a crowd of people and put your hands into the air like you just don't care, then Music Hall is for you.
This hip spot features live music in the evenings to get things started and that gets a crowd in of itself.  But after the band is done, the DJ comes out and then Music Hall really comes alive.