In:
Royal Caribbean announced that Ovation of the Seas' Godmother will be internationally-acclaimed Chinese actress, Fan Bingbing.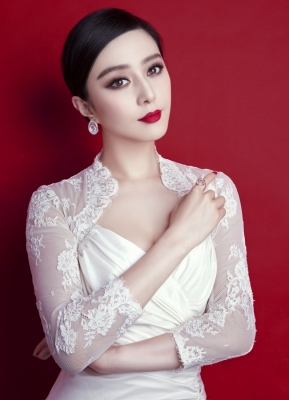 The announcement was made by Dr. Zinan Liu, President, Royal Caribbean International - China and North Asia Pacific, at a press conference at the Great Hall of People in Beijing.
Bingbing is the first Chinese celebrity selected to be the Godmother of an international cruise line and will officially name Ovation of the Seas at the ship's inaugural ceremony in Tianjin, China on June 24, 2016.
Being Godmother to a cruise ship is reserved for someone who figuratively presides over the ship and imparts good luck and divine protection over the vessel and all that sail aboard. Godmothers for Royal Caribbean ships have included, performer Gloria Estefan, actress Jane Seymour, comedian/actress Whoopi Goldberg and tennis champion Steffi Graf, to name a few.
  "We are delighted to welcome Fan Bingbing to the Royal Caribbean family as Ovation of the Seas' godmother," said Michael Bayley, President and CEO, Royal Caribbean International. "Bingbing is number one on the Forbes China 'Celebrity 100' list and has held that top position for three years making her one of the most influential Chinese stars and in the world. She has received awards from many international film festivals and is recognized as a fashion icon for her extraordinary style on the red carpet, at movie premieres and iconic fashion events. She is innovative, smart, ambitious, trendy and elegant, and that makes Bingbing the perfect person to be selected as the Godmother of our newest ship."
"My father was a singer in the art troupe of the Political Department of the Navy in China. My childhood was filled with the melodies of the sea and I often dreamed about sailing out to sea for an adventure," said Fan Bingbing at the press conference. "Now, thanks to this invitation from Royal Caribbean, my dreams will come true. I am really honored to be the first Godmother of Chinese nationality for such a prestigious international cruise line as Royal Caribbean International. And I like the name of Ovation of the Seas which in Chinese is interpreted as 'praising the world and welcoming guests from everywhere'. As Godmother of Ovation of the Seas, I would like to invite more international guests to cruise from China on Ovation of the Seas."
Ovation of the Seas, will sail its inaugural season from Tianjin after a one month mini season from Hong Kong before the ship repositions to its winter homeport in Australia in December 2016.