In:
Royal Caribbean announced today it will homeport Ovation of the Seas in Singapore in 2017 for one season.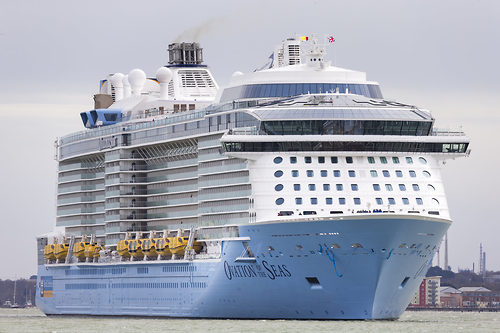 The announcement was made during Ovation of the Seas' maiden call in Singapore, where a plaque and key ceremony was held in the presence of over 200 government and industry partners, with Mr Lionel Yeo, Chief Executive of Singapore Tourism Board (STB), Mr Alexander Hungate, President and Chief Executive Officer of SATS, and Ovation of the Seas' Captain Flemming Nielsen. 
Over her 10 sailings from March to April 2017, Ovation of the Seas is expected to add some 42,000 additional guests to the Singapore cruising scene, and delivering millions through in-port spend. She will offer return trips ranging from 3 to 5 nights to Penang, Phuket, Bangkok (Laem Chabang), and a one-way cruise to Tianjin with calls at Ho Chi Minh City (Phu My) for an overnight, Hue/Danang (Chan May), Hong Kong and Seoul (Incheon).
Royal Caribbean's Senior Vice President, International, Mr Gavin Smith said, "We're thrilled to bring one of the world's most innovative cruise ships to Singapore and the region, and take cruise travel here to new heights.
"Joining Mariner of the Seas and Voyager of the Seas, the addition of Ovation of the Seas means we will have the largest cruise fleet deployment of any brand in Southeast Asia.
He said, "Our investment reaffirms our commitment to Singapore and the region, and the bright future we see for the region's cruising industry."
Mr Smith further shared with the deployment of Ovation of the Seas, plus the return of Voyager of the Seas in May and Mariner of the Seas in October, this will increase Royal Caribbean's capacity in 2017 in Southeast Asia by 30 per cent over 2016. 
Mr Yap Chin Siang, Assistant Chief Executive (Policy and Planning), Singapore Tourism Board, said: "The homeporting of the Ovation of the Seas is a testament to the appeal of cruising from Singapore. It is also very timely - the upcoming Visit ASEAN@50 celebrations in 2017 will highlight the best of Southeast Asia, and cruises offer the perfect way to experience the warm hospitality of the region.
"We also hope that this deployment will spur the region to enhance cruise infrastructure to accommodate more ships like the Ovation. As the lead co-ordinator for Cruise at ASEAN, Singapore will continue to work with our neighbours to develop our region into a preferred cruising destination."