First time cruisers: What you need to know about taking a Royal Caribbean cruise
In:
Whether you are new to cruising or just new to Royal Caribbean, there's some important things to know about taking a Royal Caribbean that can definitely improve your cruise experience.  
We're big fans of planning ahead for any cruise vacation and these tips will give you some good starting points to be prepared for your first cruise onboard Royal Caribbean.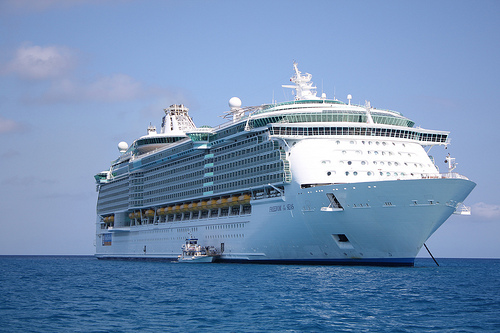 Be sure to check-in online
In years past, Royal Caribbean used to mail you your cruise documents with everything you needed to get onboard but since we are in the digital age, Royal Caribbean now has it all online and you'll want to fill it all out in advance.
Royal Caribbean's Online Check-In is a pretty simple tool to save you time at the pier and greatly simplify the entire check in process. 
You simply need to go to the Royal Caribbean web site to check in and complete the steps.  
At the end, you will have access to print out your SetSail Pass (your cruise boarding pass) as well as luggage tags.  
Remember, you must complete and print out your SetSail Pass 3 days prior to your sail date.
Use a travel agent
We're big fans of using travel agents in general to book our Royal Caribbean cruises but if you're new to the brand, having someone who knows Royal Caribbean really well and costs you nothing extra is a great bonus.
Royal Caribbean has 22 ships in its fleet and sails to destinations around the world, so it can be difficult to be aware of all the differences and changes going on.  A good travel agent will be able to guide you in the right direction based on the kind of cruise vacation you're looking for.
There's also lots of deals and discounts to be found and between that and the general questions you may have, a travel agent will help make your first Royal Caribbean cruise a big success.
Your stateroom won't be ready until 1pm
In most cases, your stateroom may not be ready for you to go into until 1pm.  We've seen situations where the time is earlier or later but it's usually in the early afternoon.
It's important to keep this time in mind because until you get into your stateroom, you will have to carry all the luggage you opted not to check with the porters.  
I've seen plenty of families camped out with there many bags in the stairwell waiting for their stateroom to be open.  What you ought to do is only take with you what is really necessary and that way you can stay mobile and explore the ship.
Read the Cruise Compass every day
Each day of your cruise, you will find in your stateroom Royal Caribbean's daily newspaper of events called the Cruise Compass.  Inside is a listing of all the events, sales and information you need to know.
The Cruise Compass is your best way to be aware of all the interesting things going on onboard your ship.  It also included a weather forecast so you can know what to expect when you step outside or on shore.
Essentially, you're reading the Cruise Compass so you don't miss out on an event that you may have wanted to check out.  Royal Caribbean offers so much onboard their ships, it can be difficult to know what's going on, so the Cruise Compass is a great tool.
You can also get extra copies of the Cruise Compass at Guest Relations if you need additional copies for the kids (or if you're a bad sharer.  We're not judging).
Sign your kids up for Adventure Ocean on your first day
One of the must-do's for your first day aboard your Royal Caribbean ship is any children who are eligible for Royal Caribbean's complimentary kids program, Adventure Ocean, should be registered at some point that day.
Adventure Ocean is a wonderful program for kids as young as 3 years old and as old as their late teens.  On embarkation day, Adventure Ocean isn't usually open but the staff will be there to give tours of the facility as well as register your kids.  
By registering on day one, you're assured they can jump right into the fun on day two and you don't have to waste time at that point.  Embarkation day is the right time to register kids for Adventure Ocean and it will set them up for a days of great experiences.
Make reservations for the specialty restaurants
No matter which Royal Caribbean cruise you will be on, there's a number of great specialty restaurants to choose from and if you opt to dine at one of them, be sure to make a reservation.
Specialty restaurants come with an additional surcharge, either in the form of a cover charge or a la carte pricing.  Regardless, they can be quite popular for dinner, especially at peak times.  
Whether you choose to make a reservation online before your cruise or onboard, you should make a reservation to avoid waiting for a table or being locked out of dinner.  
It's easiest to make a reservation online at Royal Caribbean's website but if you prefer to wait for the cruise, you can always book a reservation onboard by visiting the restaurant, Guest Relations or calling the dining reservations phone number in your stateroom.
Don't double tip (unless you want to)
If you order a beer or alcoholic beverage, Royal Caribbean will automatically add a gratuity to your bill, so unless you really loved the bartender or waiter, don't tip them twice.
Often guests don't really read the receipt and are so accustomed to adding a tip that they don't realize gratuity has been automatically applied to the bill. 
We're not advocating not rewarding very good service, rather, be aware of what you're really paying.
There will always be something to eat available at any time
Cruises in general have a reputation for offering a lot of food to eat and it's definitely the case on Royal Caribbean too.
Check your Cruise Compass, but there's always at least one venue open 24 hours in addition to room service which has its own menu items.   You don't have to worry if you get the late-night munchies onboard because there will always be somewhere to grab a bite.
If you are looking for an after-hours meal and opt for room service, keep in mind Royal Caribbean has a $3.95 surcharge on meals ordered between midnight and 5am.