In:
Just days after announcing its third Oasis-class cruise ship will be named Harmony of the Seas and feature water slides, Royal Caribbean is pulling back the covers even more on this new ship to reveal new details.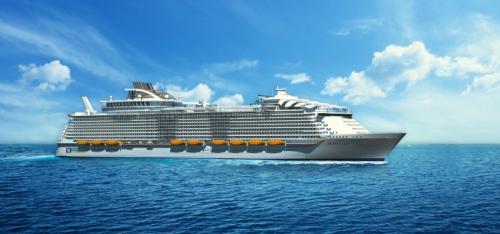 The waterslides coming to Harmony of the Seas will me multi-story waterslides that twist and turn over Central Park.  One of the slides will feature a champagne bowl that swirls guests around as they make their approach to the end of the ride.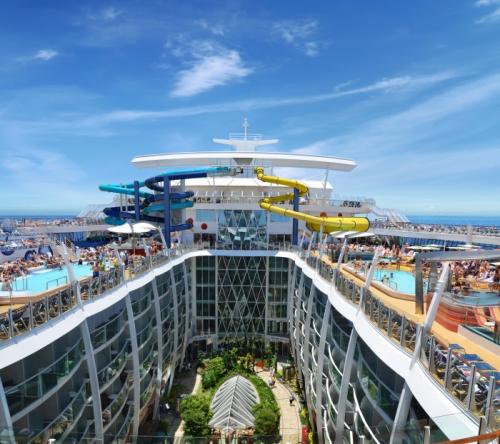 In addition, more venues were announced for Harmony of the Seas including a Bionic Bar on the Royal Promenade.  The Bionic Bar was first introduced on Quantum of the Seas and features robot bartenders serving up one-of-a-kind crafted cocktails.
Speaking of technology, Harmony of the Seas will also offer guests use of the new RFID bracelets known as WOWbands, another Quantum-class innovation.  There will also be the same high-speed internet access that the other Oasis-class ships have had via the new satellite internet technology provided by partner O3b.
With the internet speeds on Harmony of the Seas, guests will be able to stream video, Skype with friends and family back at home and share their cruise vacation on social media.
Onboard Harmony of the Seas you will find virtual balcony staterooms and suite guests will have access to a well-appointed suite lounge and a private suites-only restaurant called Coastal Kitchen, as well as an exclusive full-service Suite Sun Zone sun deck.  There will also be studio stateroom choices for single travelers.
In the Boardwalk neighborhood, you will find classic arcade games and a relocated Starbucks location.
Dynamic Dining and Dynamic Dining Classic will be the dining choices on Harmony of the Seas.  Guests can choose between the two Dynamic Dining choices.  Dynamic Dining's "Classic" option allows guests to rotate through each of the main complimentary restaurants at an early- or a late-seating time throughout their cruise with their dining group and the same assigned waiter each evening.
Royal Caribbean announced a few of the restaurants that will be onboard Harmony of the Seas
Harmony of the Seas will be Royal Caribbean's third new ship to launch throughout the next 18 months. Itineraries for Ovation of the Seas and Harmony of the Seas will be announced this coming March.