In:
In less than two months, Royal Caribbean's Harmony of the Seas will be arriving at her new home port of Port Everglades, Florida, and it will mark her debut in the United States.
Harmony of the Seas is not only the largest cruise ship in the world, but also marks a significant moment for many Royal Caribbean fans because this brand new cruise ship offers so many enticing options.
In anticipation of Harmony of the Seas' arrival, we are counting down the top reasons you ought to be excited to welcome Harmony of the Seas "home".
5. Slides!
For guests that enjoy thrills on their cruise, Harmony of the Seas offers some brand new slide experiences that are not only new to the Oasis-class of ships, but offer a lot of fun for the entire family.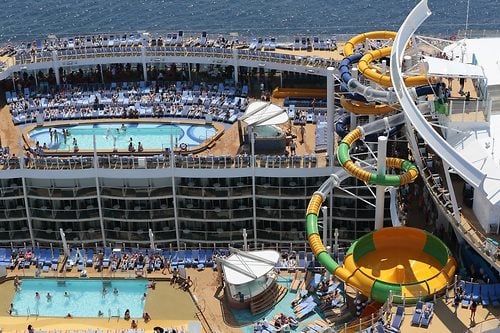 Harmony of the Seas features three water slides: Cyclone, Typhoon and Supercell. Cyclone and Typhoon racer slides twist and turn, while Supercell slide is a "champagne bowl" slide, which has clear sections so guests can see those riding the slide. Guests exit Supercell in the Beach Pool.
There is also a slide exclusive to Harmony of the Seas, known as The Ultimate Abyss.  This dry slide is 10 stories high and located on the aft of the ship, making it the tallest slide at sea.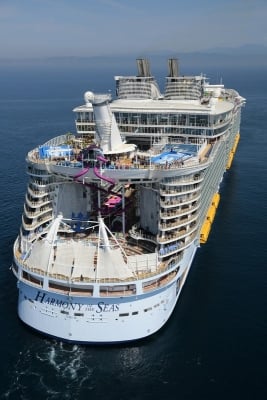 The Ultimate Abyss is more than 150 feet above sea level and offers side-by-side slides that send guests down 10 decks at a rate of 9 miles per hour. Once at the top of the slide on deck 16, you will be handed a black mat with an opening to place your feet. You then sit down, lean back, and while holding onto a strap, wait for the "Go" sign to turn green.  Screaming is optional.
4. New shows
Royal Caribbean has a reputation in the cruise industry for offering terrific shows on its ships, and Harmony of the Seas has an array of new productions that are must-see once onboard.
Harmony of the Seas features an all-new stage production that has been specially adapted by Royal Caribbean of Grease. The show, which features hit songs such as "Summer Nights," "Greased Lightnin'," "Look at Me, I'm Sandra Dee," "Born to Hand-Jive," "Beauty School Dropout," is available to see on Harmony of the Seas.
Royal Caribbean also created a number of original productions, including its own musical, "Columbus - The Musical".  This new show was created in the spirit of "Spamalot" and "Something Rotten" and tells the tale of Christopher's luckless distant cousin, Marvin, on a madcap voyage to the Caribbean.
Want more? Guests will find many more shows and events onboard Harmony of the Seas, including new original productions in the AquaTheater, ice skating rink and Royal Theater. And there is still more, including a 90's dance party on the Royal Promenade, escape room experience and the DreamWorks Experience.  In short, there is lots to see and do on Harmony of the Seas.
3. New specialty restaurants
Harmony of the Seas may be the third Oasis-class ship Royal Caribbean has built, but it has some brand new dining experiences that are not found on her sister ships.
Guests dining on Harmony of the Seas can sample the classic Italian creations of celebrity chef Jamie Oliver at Jamie's Italian, which offers rustic Italian dishes made from seasonal ingredients and tried and true recipes. 
If you want a little bit of adventure with dinner, Wonderland will capture your imagination (and your taste buds). Wonderland is an imaginative take on specialty dining, where the experience is just as important as the food offered. While Wonderland is on a few other Quantum-class ships, on Harmony of the Seas, this is the first two-story Wonderland restaurant in the fleet.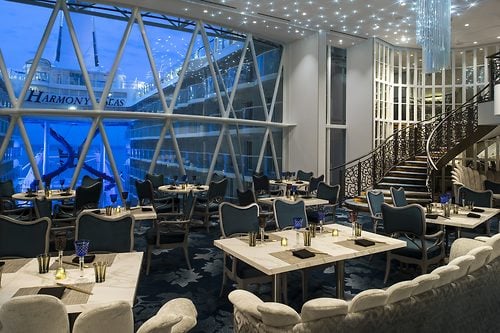 In addition to these two remarkable restaurants, Harmony of the Seas is filled with a vast array of complimentary and specialty dining choices.  Oasis-class ships were designed with dining in mind, and guests on Harmony of the Seas will find a smorgasbord of dining choices!
2. Reimagined aqua park for kids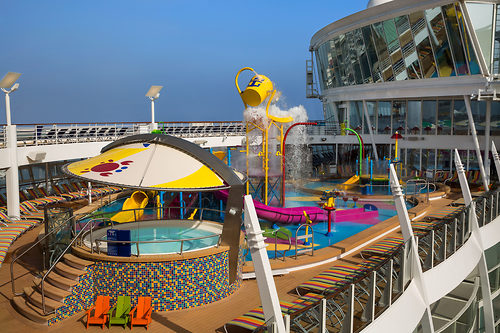 Families that love to spend lots of time by the pool are going to love the improved aqua park on Harmony of the Seas known as Splashaway Bay.  This bigger, better kids aqua park features slides, water cannons, waterfalls and more.
Royal Caribbean designed this area to be a new "aquatic adventure park," for kids and toddlers with sea creature water cannons, winding slides, a gigantic drench bucket and a multi-platform jungle-gym to keep everyone entertained for hours.
Splashaway Bay is another big difference between Harmony of the Seas and the previous Oasis-class ships, and offers an industry-leading spot onboard for families to have a lot of fun exploring (and getting soaked).
1. Biggest ship in the world
At the end of the day, Harmony of the Seas is going to be an exciting moment because she is the largest cruise ship in the world and that alone signifies a big change (no pun intended).
In addition to the key features highlighted in this post, there is lots more to see and do to the point you will have to return a few more times to be able to "do it all."
Royal Caribbean designed its Oasis-class ships to be a floating hub of dining, entertainment and activities, and Harmony of the Seas is included in that mold of amazing cruise ships.
What are you most excited about to experience on Harmony of the Seas? Share your thoughts in the comments!