Royal Caribbean will adopt new rotational dining program for Anthem of the Seas
In:
We've received reports that Royal Caribbean CEO Michael Bayley announced to a group of travel agents aboard Freedom of the Seas that the company's ambitious Dynamic Dining program will be augmented with a new rotational dining program.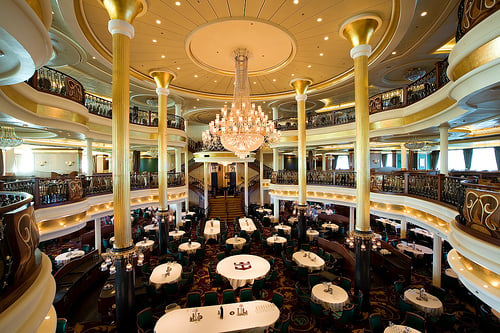 Under the new program, guests will dine at different complimentary restaurants each night of their cruise based on their rotational schedule.  At each restaurant, guests will have the same wait staff and table mates each evening.
The new rotational dining program will begin with Anthem of the Seas, but there is no indication yet if it will spread to Quantum of the Seas, Oasis of the Seas and/or Allure of the Seas.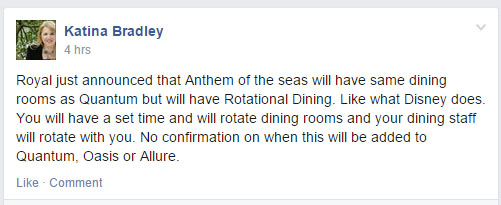 Back in March 2014, Royal Caribbean had previously announced its Quantum-class cruise ships would usher in a radically new dining program called Dynamic Dining, where there would be no main dining room and instead would offer a combination of complimentary and specialty restaurants for guests to choose from.  
Then in August 2014, Royal Caribbean announced Dynamic Dining would spread to Oasis of the Seas and Allure of the Seas.
When Quantum of the Seas launched in November 2014, there were a great deal of negative reports from cruisers that Dynamic Dining was troubled by long lones and poor service.  Then in December, Royal Caribbean postponed Dynamic Dining on Oasis of the Seas and Allure of the Seas indefinitely.
If the reports are true, it appears the flow of negative reviews online and to Royal Caribbean have forced the company to try something different from Dynamic Dining that is more like traditional dining.
UPDATE: Video of Royal Caribbean CEO Michael Bayley announcing the rotational dining option called "Classic".
Video by Gina Smythe