Embarkation on your Royal Caribbean cruise in San Juan, Puerto Rico
In:
Royal Caribbean offers cruises that begin in San Juan, Puerto Rico that offer some great Southern Caribbean itineraries to try.  If you're considering going on one of these cruises, here's what you need to know about embarkation day in San Juan.
It's not where you think it is
If you've ever taken a cruise that stops in San Juan for the day, you've likely been to the San Juan Cruise Port, but that's just for cruise ships that are in the city for the day.
Royal Caribbean cruises that originate in San Juan will dock at the Pan American Pier, which is across the channel from the San Juan Cruise Port.  It's adjacent to the Isla Grande Airport and is about a 5 minute taxi drive from Old San Juan.
As you're driving in, you should be able to see the ship docked since there isn't much around there.  As of the writing of this blog post, Jewel of the Seas and Adventure of the Seas are offering cruises out of San Juan.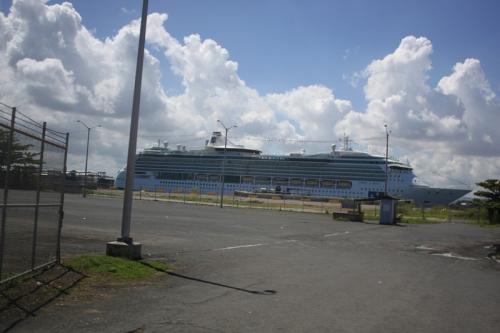 Getting checked in
Once you arrive at the pier, the check-in process is similar to other ports but we've also noticed a few differences too.
There will be porters at the pier to help take your luggage and load it onto the ship.  In addition, there is a special line to enter the building for Platinum and above Crown and Anchor Society members.  Everyone else will wait in a separate line.
We've gotten to the pier as early as 10:30am and we've generally heard passengers are let into the embarkation building around 11am.  One potential issue is the check-in building is not very large and the staff will only allow batches of passengers in at a time, so you may get stuck outside waiting to get in.  Given this is Puerto Rico, the temperature and humidity outside can be quite high.
Since most Royal Caribbean ships do not leave port until later in the evening (usually around 8pm), so getting to the port early in the morning is not as critical but lines outside the building are possible.  The good news is, often the lines outside are infrequent.
Embarkation
Once inside the building, you will find lines for Crown and Anchor Society members and lines for everyone else.  
You will be subjected to a security check that consists of an x-ray machine and metal detector.  Once through there, you will enter your line and get checked in.
We should also note there is a duty-free liquor store inside the check-in area, which is a great place to pick up a few bottles of wine to bring onboard your cruise. Remember, Royal Caribbean allows up to two bottles of wine per stateroom to bring onboard.
After check-in, it's just a short walk onto your Royal Caribbean cruise!
Have you embarked in San Juan?
Did you have a chance to take a Royal Caribbean cruise out of San Juan?  Share your tips and suggestions for embarkation day in San Juan in our comments below!