In:
Understandably, many guests are concerned about their upcoming Royal Caribbean cruises that leave out of San Juan, Puerto Rico, or just apprehensive about booking a cruise departing from there. The damage caused by recent hurricanes can still be felt across the island.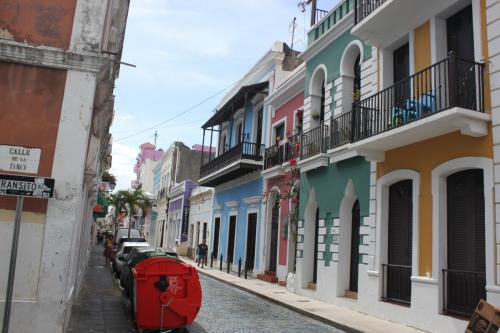 Royal Caribbean has released a new set of frequently asked questions to address the current state of affairs in San Juan, and what guests can expect.
This information was up to date as of October 30, 2017.
What is the current status of Puerto Rico, more specifically the city of San Juan?
Rebuilding is underway! The Puerto Rico Tourism Company has collaborated with government agencies and the private sector to provide relief following the damage caused by recent hurricanes. The safety of all visitors and residents remains a top priority as the island takes steps towards a full recovery. Airports, hotels, and cruise infrastructures are operational and are on a steady path to rebuilding an even stronger Puerto Rico.
Is the port of San Juan open and fully functional?
San Juan Harbor is open and has resumed homeporting operations.
Have airports in Puerto Rico returned to normal flight patterns?
Luis Munoz Marin International Airport in San Juan is fully operational with scheduled domestic and international flights. Other airports in surrounding areas are operational with limited service.
Have hotels reopened? Is there availability?
At this time, approximately 69% of hotels are operational and accepting reservations. Availability varies by hotel and can change at any time.
Has electrical power been restored across the island?
Roughly 70% of Puerto Rico remains without power. 
Are services available to safely transfer cruisers to-and-from the airport?
Though transportation services remain somewhat limited, ongoing clean-up efforts and increased availability of fuel are improving the outlook. Currently, 83% of gas stations on the island are functioning. To assist in this arena, those Royal Caribbean guests arriving and departing San Juan on the embarkation and debarkation days of their cruise vacation are eligible to receive complimentary transfers from the airport to the pier and vice versa. This service will remain complimentary for Jewel of the Seas and Adventure of the Seas guests traveling through December 31, 2017. Specific flight parameters apply.
Have cell towers and telecommunication services been restored across the island? 
Nearly 70% of the island's cell phone towers and telecommunication services are working in full capacity.
What attractions and/or tours are available for cruise guests to participate in?
The following tourist locations have been restored:
Old San Juan / Old City shops
Some restaurants & bars
City has been cleaned but some debris and damaged buildings will be visible in New San Juan
Plaza Las Americas (Mall of San Juan)
Biking, Segway, & Walking tours
Food tours
Yoga on the Green
What humanitarian efforts are available should cruise guests wish to assist?
Guests can opt to participate in relief assistance through monetary contributions or through the donation of much-needed, essential supplies. For many of these recovering islands, tourism plays an instrumental role in their overall economic status, impacting local jobs and livelihood. Now more than ever, these impacted islands need you!