In: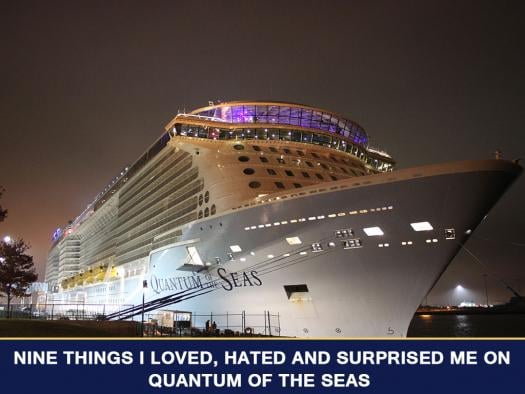 I'm just back from a quick 2-night pre-inaugural cruise on Royal Caribbean's newest ship, Quantum of the Seas and I wanted to share what really stood out to me on this cruise.
Like all cruise experiences, we go in with certain expectations and we find some things were better than we thought, some not as good and others completely surprise us.  Here's a quick few that stood out just a few hours after leaving this amazing new ship
What I liked
Royal Esplanade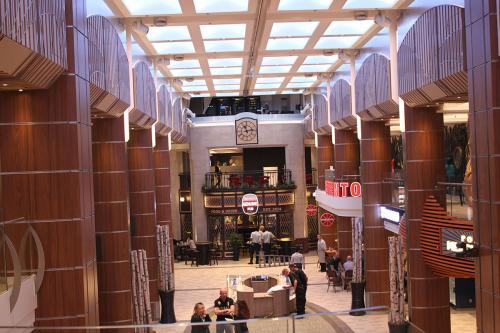 The center of activity and where I was consistently drawn to was the Royal Esplanade.  It just seemed to be the place to be at any given time of day.
Perhaps the colder weather forced more people inside that would have otherwise been on the pool deck, but the combination of food, drinks, shopping and entertainment really made the Royal Esplanade into a hub of activity.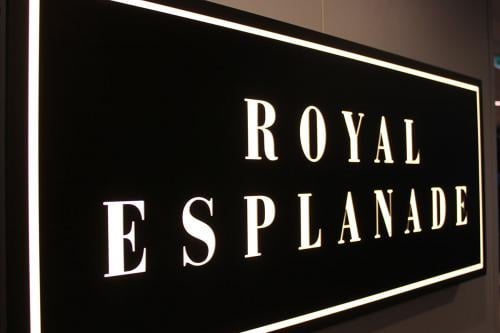 The Royal Esplanade benefits from is its design and feels more like a neighborhood than its Royal Promenade cousin.  Rather than ceilings three decks tall, this whole area felt a lot warmer.
The Via area on the Royal Esplanade is also a big hit and I really liked the serenity of the area. Calming music, a dozen giant high definition TVs (the same exact TVs as in the virtual balconies) and beautiful art really made this area flow.  I don't think it was a coincidence why Vintages was always full here.
SeaPlex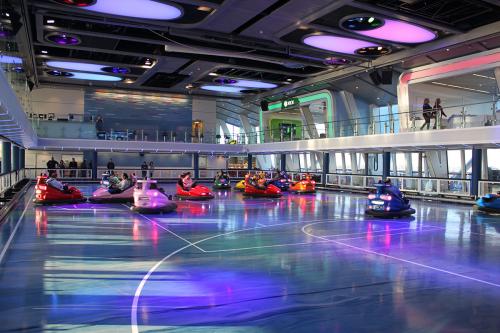 I almost put this in the surprise category but I think SeaPlex was always a big push by Royal Caribbean so I'll include it here.  I'll be honest, the sports deck was never an area I spent a lot of time at before.  But SeaPlex changes all of that.
What I love about SeaPlex is it combines a lot of options in one space without feeling like it's being squeezed in.  Remember the ice skating rinks on other ships? They were great but tiny and the basketball courts on other ships were always in the hardest to find areas.  
In SeaPlex, you have a sprawling part of the ship on Deck 12 that seems to have everything. Bumper cars, roller skating, Xbox, air hockey, table tennis, iFly and more.  I always found lots of people here and it really made a big impact.  On a week-long cruise, I could see many visits here to check it all out.  Heck, I never even saw the circus school, basketball court (deployed, that is) or challenged any kids half my age to air hockey.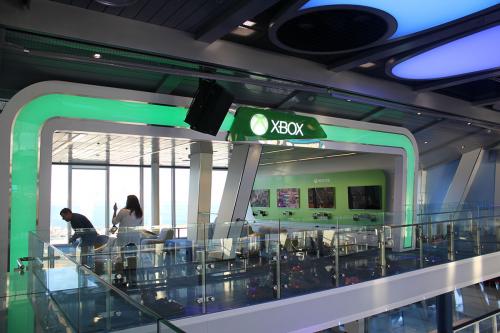 And the other big win of SeaPlex? Xbox. Seriously.  This isn't a console they tossed in a corner like it was with the Nintendo Wiis. A dedicated gaming area with uplink to Xbox Live on beautiful TVs.  The only thing missing was Mountain Dew Code Red and Funyuns.  
North Star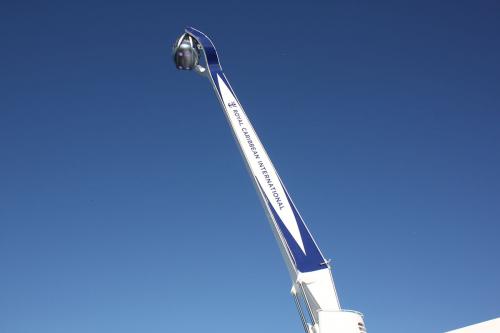 I never really thought North Star would be as fun and impressive as it was when I tried it.  The views are amazing and it's the way to see where you are.  I think I would force myself to get back to the ship earlier than normal in a port so I could see the island from that perspective.
The view never ceases to be "old hat" when you're in that observation pod.  Everyone in there always was quoting Royal Caribbean's marketing slogan of "Wow" and after experiencing it myself, I have to think why didn't they do this sooner?
In a bit of trivia, Royal Caribbean chairman Richard Fain said prior to the North Star idea, the company considered a blimp that was tethered to the ship.  I like the observation pod idea a whole lot more.
WOWbands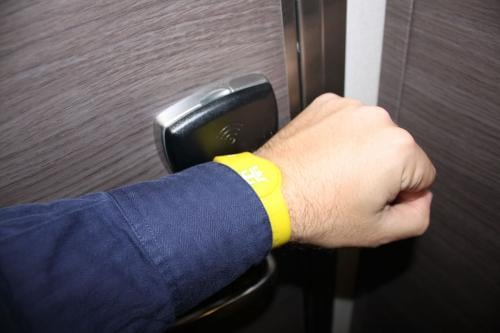 I had such high hopes for the WOWbands and it hit that mark easily.  From announcing they would be complimentary to every way I used them, they made the cruise easier.
At its core, what made the WOWbands so great were they just worked.  And they worked easily.  No fuss and everything from the shops to the restaurants to guest relations were able to use them.  After perhaps 3 hours I put my SeaPass card back in the stateroom for good.
Two70 visuals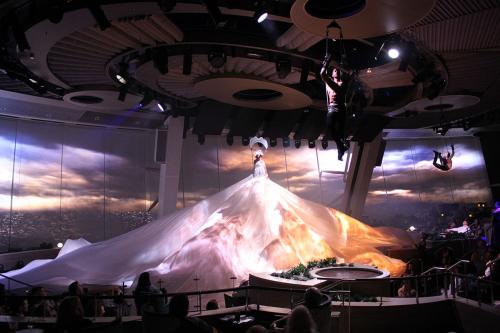 I don't care how into performance art you are or are not, but there's no denying the visual element presented in Two70 is stunning.  When you see what they can do with the back screens and the roboscreens, it's something to marvel at.
Having seen Starwater performed here as well as photos of what they did for the christening event, the technology behind Two70 is really quite impressive.  
The video projections and roboscreens offer visuals that are many times more advanced than the high-definition television you have at home and it shows.  There's so much potential with what they can do with these screens that I kept waiting to see what would they try next anytime a show was on.
What I didn't like
Wi-Fi not working all the time
Royal Caribbean promised super fast internet onboard thanks to new satellite technology and that worked exactly as promised. I used Facetime with my family multiple times and saw others streaming HBO go and Netflix.  However, the problem was getting to the connection.
The issue was the Wi-Fi networking that delivers the satellite connection to your devices.  In some areas, it worked really well (Royal Esplanade, Two70) but other places you would see a good connection but never be able to connect to anything.  
I believe this is just a "working out the bugs" kind of thing and by the time Quantum is in service regularly in a month or two, it will all be fine.  But not being able to use the Wi-Fi at all in my stateroom was annoying.
SeaPass cards to keep the lights on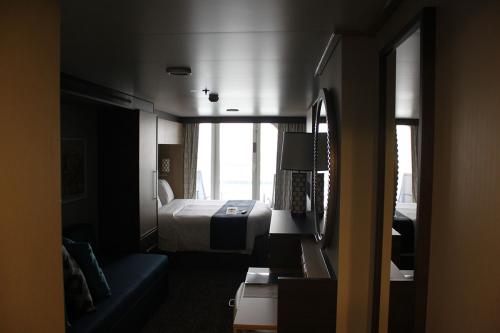 I know we should all do our part to be more environmentally friendly but this little change was more annoying than anything.  When you're in your stateroom, you cannot turn the lights or air conditioning on unless you place your SeaPass card in a little slot near the door.
After a day, everyone figured out you could put any card in there and all it did was annoy people.  
Like I said, I know why they did it and it makes sense on paper but it didn't fly with me from a real-world perspective.
What surprised me
Music Hall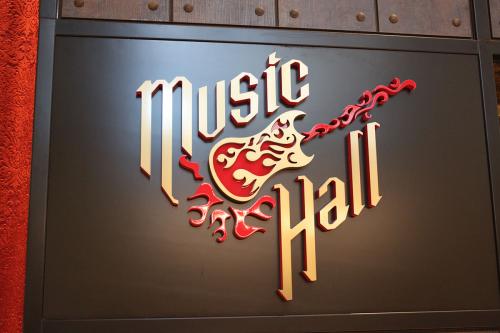 When you read about Music Hall on Royal Caribbean's promotional material, it sounds like a nice little area where bands will play.  Sounds cute, right?  The reality is this area was always the place to be every night.
First and foremost, the tribute bands found in Music Hall were phenomenal.  We had a Journey and Led Zeppelin tribute band onboard and they absolutely sounded like the real thing.  
After the bands were done playing, the DJ came on and it became a dance party.  I never saw so many people dancing and into the whole experience like I did in Music Hall.  I was really impressed by what I saw.
How small the ship felt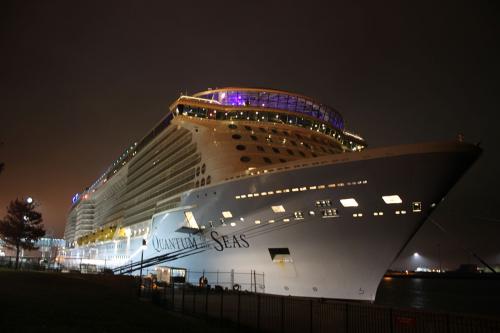 Quantum of the Seas is the second largest class of cruise ship Royal Caribbean has made and yet walking around the ship, it never really felt like "a big ship".
I noticed pretty quickly as I was making my around the ship that it did not feel like I was trekking through the Ardennes to get somewhere.  Rather, wherever I was, it was relatively simple and quick to get to where I wanted.
In fact, navigating the ship was also very simple.  Royal Caribbean added digital signage all around the ship to help guests find their way around the ship but the truth is after an hour or two, I had a pretty good sense of where everything was. 
When you can produce a cruise ship that is 11 times longer than a blue whale, it says something when people can easily get around.