In: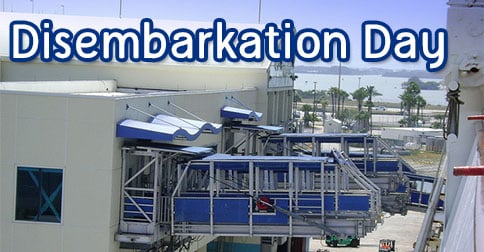 Getting off your Royal Caribbean cruise to go home is without a doubt the saddest day of your vacation. No one likes it and even thinking about it is downright depressing but it's busy day so we wanted to discuss what you need to know about getting off your cruise to go home.
Bring your luggage or let someone else do it?
The first thing you have to decide is if you want to have Royal Caribbean bring your luggage off the ship and onto shore for you or if you want to bring your luggage yourself.
Those that take their luggage on their own can get off the ship anytime they want once the ship has cleared customs.  This allows for the speediest exit from the trip and for those that want or need to get going early, this is the best solution.
Of course, taking your own luggage means you have to physically bring it from your stateroom, through the ship and onto shore.  That's a lot of lugging, which may be too physically demanding for many.  Luckily, Royal Caribbean offers a complimentary service where they will pick up your luggage the night before your ship returns and deliver the luggage to shore for you.
Part of this decision is if you can physically handle taking the luggage yourself but the other part is what your plans are.  If you have an early flight or a long drive, or just have plans and want to disembark early, taking your own luggage is the best option.  If you have a little more time or want to enjoy a few mour hours onboard the ship, then let Royal Caribbean take your luggage.
Numbers
Royal Caribbean gives every cruiser luggage tags with a number at the end of the cruise in sequential order.  The number corresponds to what time your luggage will be ready for you to  get off the ship.  
These numbers are supposed to be based on your plans for after the cruise, meaning those with early flights will get lower numbers while locals may get higher numbers.
Don't worry if your number seems high because you can always go to Guest Relations and get a lower number if you need it.  If you need to be one of the first groups off the ship, ask to speak to a manager because it's been our experience "the squeaky wheel gets the oil", if you know what I mean.
The night before
The night before your cruise is when you will have to start packing and getting ready in earnest. If you elect to have Royal Caribbean take your luggage, you need to have your luggage packed and in the hallway outside of your stateroom by a certain time (usually 11pm).
Royal Caribbean crew members will take your luggage and have it ready for disembarkation so all you have to do is bring a small bag with things you cannot pack and go to the luggage pick up area once on shore.
It's very important to remember to leave things you will need not just that night but the morning after.  Clothes, shoes, toothbrushes, glasses and other useful things are important to have for that final morning so make sure not to pack it.  Royal Caribbean crew can tell you stories about many guests who forgot to leave clothes for the next day and ended up disembarking in their pajamas. Don't be those people!
Disembarkation day
Once your cruise ship docks, things will get going early.  
Breakfast will be available in select locations, like the Windjammer and the Main Dining Room.  Once you pack up the last of your things, bring all of your belongings to breakfast and enjoy a meal before being directed to your waiting station.
Each group number (the number from your luggage) has a special waiting area so you can sit down and relax.  
Once customs clears your ship, Royal Caribbean will begin calling numbers, with groups spaced out evenly to (try to) avoid congestion. If you are taking your own luggage off the ship, you can disembark anytime you want.
The last people will need to leave by about 9am or so.  It's important to note that breakfast service usually ends early, so check your Cruise Compass the night before to know what will be available.
Once you leave the ship, you will scan your SeaPass card one final time before going to the port luggage area to get your luggage from an area for each number.  You can optionally use a porter to haul your luggage for you (the service is free but a tip is expected).
I always recommend a porter for making things easier on yourself (you're still on vacation!) and porters often get special customs lines for them that move faster.