Your opinion: How well did Royal Caribbean handle Adventure of the Seas and Navigator of the Seas incidents this weekend?
In:
Over the weekend, Royal Caribbean had two of its ships impacted by two very different issues and we want to know what your opinion of how Royal Caribbean handled these incidents.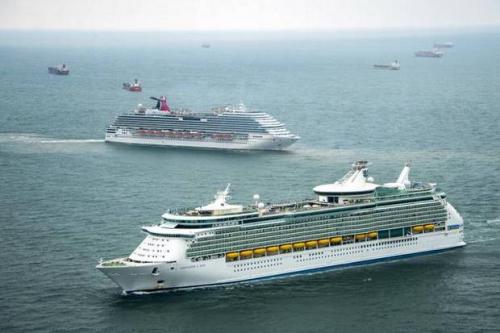 Photo by Houston Chronicle
First was Adventure of the Seas, who had a propulsion problem where in the middle of her Southern Caribbean itinerary the ship encountered oil loss from one of her fixipod units that forced its shutdown.  The result was she had to skip a couple of ports and travel at a slower speed.  Adventure of the Seas made it back to port yesterday in San Juan, albeit delayed.
The other incident was Navigator of the Seas was delayed a number of hours from docking in Galveston due to an oil spill in the harbor.  The incident affected other cruise ships as well and Navigator of the Seas was not able to dock in Galveston and let off its passengers and take on the new passengers until late Sunday.
In both cases, Royal Caribbean is being accused by some of poor communications by the cruise line to its passengers in terms of keeping them updated.  Some say Royal Caribbean did not effectively keep passengers onboard and on shore updated with what was happening and what the future may hold.  On the other hand, others point out many of the variables were out of the company's hands and when they did know something, they conveyed it.
We want to know what your opinion is of how Royal Caribbean handled both situations.  Comment in this post if you think they handled it well or not and why!