Royal Caribbean becomes first autism-friendly cruise line
In:
Royal Caribbean has become the first cruise line to be certified as "autism-friendly" by Autism on the Seas.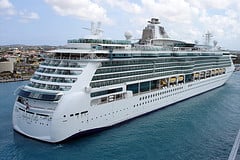 USA Today is reporting the certification means Royal Caribbean will take specific measures to help its guests with autistic families enjoy their cruise.
Royal Caribbean's entire fleet now has Bronze Level certification, which means it will provide sensory-related toys, autism-friendly modification to youth activities (where appropriate), autism-friendly movies, priority boarding and dietary offerings (including gluten-free and dairy-free).
One tool is a personalized story book folder called a social story that will help explain to autistic children what to expect on a cruise. It covers everything from finding the stateroom to the muster drill, which can be crowded and chaotic. This can help children adapt to the unfamiliar surroundings of a cruise.
Another addition will be autism-friendly movies, which will be offered on any trip with at least five autistic passengers. These films, based on accommodations offered by some land-based theaters, will feature family-friendly films. The lights will not be completely turned off, the sound will be lower and it will be acceptable for guests to talk or walk around during the films..
Royal Caribbean plans to reach silver level certification for each of its ships by the end of the year, which will ensure that all youth staff have received basic awareness training in autism and other developmental disabilities. There are also higher-standard gold and platinum levels.
The certification standards examine several areas, including staff training, youth programs, pre-vacation planning and services, dining and dietary, disability accommodations, guest satisfaction and feedback, and willingness to work with Autism at Sea staff.