In:
Exploring the beautiful island of Barbados is no easy task so on a recent cruise to the island on Royal Caribbean's Jewel of the Seas we wanted a tour to see the highlights of what the island offers. For this reason, we tried Tyrone Griffith tour.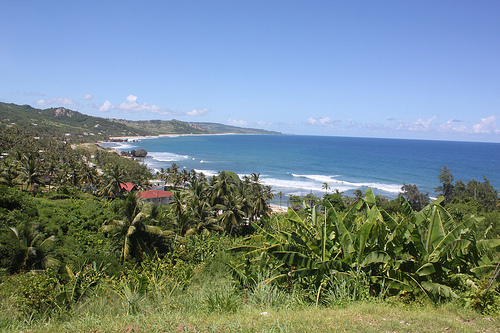 Description
Tyrone Griffith is a man that runs a small bus tour of the island of Barbados.  He's one of those guys that has generated a small following on the internet thanks to a number of favorable reviews from recent cruisers.  Essentially, it's the 21st century equivalent of word-of-mouth advertising.
We were suggested the tour by someone in our Cruise Critic mix n mingle group (a collection of Cruise Critic members on the same cruise that all decided to meet up) and the premise of the island tour is a 3-4 tour of Barbados.  
The tour originally cost $35 per person but due to our group size (about a dozen people), the price was reduced to $25 per adult (kids were free!).  The tour includes opportunities to see or stop at 
Kensington Oval (cricket stadium)
Mount Gay Rum Distillery
Holetown (site of the first settlers)
Oldest church on the island
Cherry Tree Hill
Morgan Lewis Windmill
Bathsheba
St. John's Parish Church
Gun Hill Signal Church
Optional beach stop at Carlisle Bay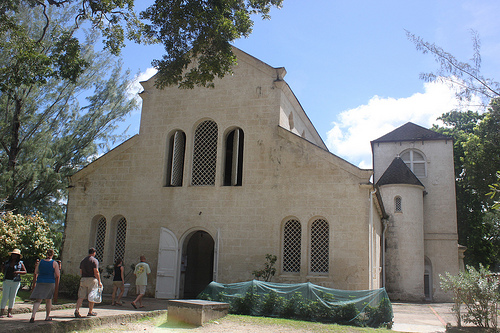 Like all group tours I've ever done, the tour offers roundtrip bus service to and from the cruise port.  The buses are enclosed, air conditioned vehicles and offer beer, water and rum punch at no additional cost.
Comments
Given what the tour offers and the price, it sounded like a great value.  Most tours we found to be much more expensive and renting a car or getting a private tour would have easily exceeded the $25 per person cost Tyrone Griffith's tour offered so we gave it a try.
We met our group and the tour right at 9am in the cruise terminal area.  Given this was a tour of people we had never met before, it's always a little awkward at first getting to know everyone but after an hour or so we were all joking.
After a small "paper work" issue (nothing worth reporting here), we all hopped into our van for the tour.  We took this tour in September and it was quite hot and humid.  The van was air conditioned but quite frankly, the air conditioning was weak and while it was better than no air conditioning, it was not exactly cold.  Speaking of the van, we were really packed in and crowded.  Technically the van had space for all of us but sitting in the last row, it felt very crowded and I would not describe it as comfortable.
Another issue was the beer, water and rum punch was not immediately available when the tour began.  We did eventually get what was promised, but it took an hour or so before that happened which bothered me.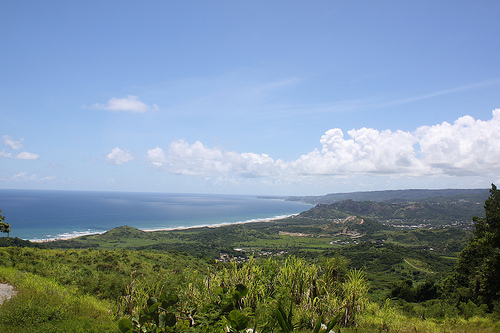 As for the actual tour, we did see everything that was listed.  We did not stop at every place, with us driving by some places and stopping at others.  Frankly that's fine with me as stopping at every place would have taken far too long.  The tour driver was sure to announce things and describe them as we passed by and was able to answer the questions we had for him.
We stopped a number of places but the highlight of them was actually a golf course because hidden among the tees were a group of green monkeys that we were able to feed.  These are wild monkeys but it was something none of us had ever done before and it was a very cool experience.  Our driver brought bananas with him and give them to us to feed the monkeys, who were more than happy to take the food right out of our hands.  Amazing.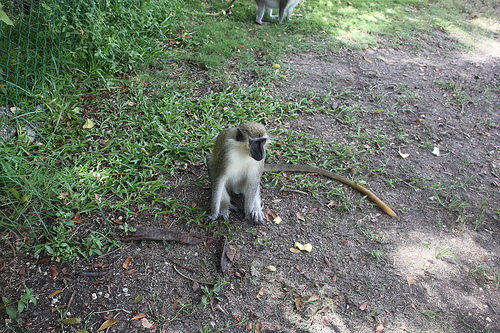 Barbados is a beautiful island and many of the other stops offered really terrific views and scenery.  By the end of the tour, it was almost like, "oh look, another beautiful view."  
At the conclusion of the tour, the driver gives everyone the option of being dropped off at a local beach or being brought back to the ship.  Beach goers will get a pre-arranged pickup time to be brought back to the ship as well.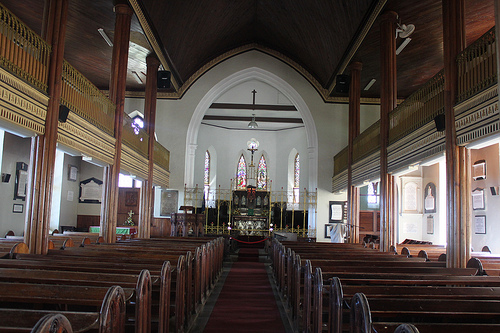 Like all group bus tours, it's a different touring dynamic than when you tour somewhere on your own and that's something you have to be prepared for.  You move at the pace of the slowest person in your group and not all stops are going to interest everyone equally.  But if you go with a "go with the flow" mentality, it can be a good experience.
Overall, Tyrone Griffith tour was a fun experience that had some great views.  We managed to make friends with a few of the people on the ship, which was an added bonus.  It's really hard to go wrong with the price despite some of the issues the tour suffered from, including the beverages not being available immediately, the weak air conditioning and crowded bus.
Email: [email protected]
Phone number: (246) 233-3168