Couple recounts story of how they helped overboard sailors on Royal Caribbean cruise
In:
Last week Royal Caribbean's Jewel of the Seas was involved in a rescue of three Americans who were in the ocean for 10 hours and a couple from Massachusetts was onboard and shared their story.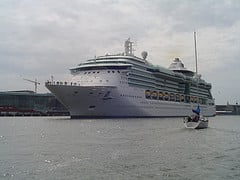 Roy and Kendra Nagy were awoken from their balcony cabin at 4am by cries for help coming from the ocean.  They alerted the crew to what they heard and the ship's Captain Tore Oslen stopped the ship, issued an alarm throughout the entire ship that someone was overboard, and sent out a boat to search the water. 
"They shined a spotlight in the water, and we could see a person waving his arms frantically, so we were thrilled that somebody was going to be rescued," Nagy said. "They were without food, water and floating without lifejackets for hours, so they were in real tough shape."
You can read the whole story at Nashoba Publishing.