In:
Speaking at the Florida Caribbean Cruise Association (FCCA) conference in Cartagena, Colombia, Royal Caribbean CEO Adam Goldstein and Chairman Richard Fain commented on the future of the cruise line in a number of directions.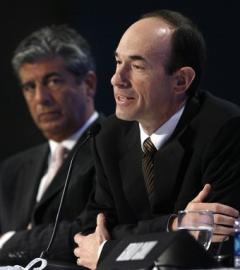 Minuto30 covered the conference where Goldstein spoke about which parts of the world Royal Caribbean will focus its efforts in the coming years and mentioned they will strengthen its presence in the Caribbean, its natural destination, but is dedicated to recognizing "business opportunities everywhere."
"There are other regions like Asia-Pacific, also emerge as potential cruise," Goldstein added, stressing that these routes are also near the American public, who "will remain the largest source of world cruises".
Later Richard Fain addressed one of the thorniest issues surrounding this industry: safety.  He said that cruise ship safety is "essential" along with respect for the environment.