In:
Next year, Royal Caribbean will offer cruises out of the capital of Norway, Oslo, once again with 4 stops planned on Legend of the Seas.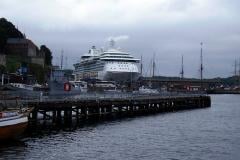 Royal Caribbean CEO Adam Goldstein commented on why Royal Caribbean is returning, "Norway is a wonderful country and an amazing destination, as people from all over the world want to visit. We have offered cruises often to Oslo in the past, and look forward to being here again."
Goldstein also pointed out cruises out of Oslo have the ability to sail to other ports in Norway, Sweden, Estonia, St. Petersburg and so on. In addition, ord are very special.
Royal Caribbean cruises from Norway will also have stops in Stavanger, Geiranger and Aalesund. There will be a 14-night transatlantic cruise that ends up in the United States
Part of the reason why Royal Caribbean may be offering Northern European cruises once more is because of the Euro crisis in Southern Europe.  In addition, Norway's popularity among tourists is on the rise from 1.9 million in 2011 to 2.5 million last year. This year it is expected that there will be 3 million passengers, according Visit Norway.