Royal Caribbean will use Oceans TV to provide Chinese movies
In:
Royal Caribbean has reached an agreement to have UK based Oceans TV provide in-cabin entertainment for use onboard Voyager of the Seas while she is in China.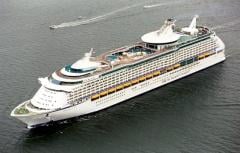 Voyager of the Seas will now offer in all of its staterooms popular Chinese movies, including the highest grossing domestic Chinese movie of all time, Lost in Thailand.
In addition to movies, Oceans TV supplies cruise lines with satellite TV channels, live TV events, international movies, promotional videos, safety films and portable entertainment systems such as the iPad.
This is the first time Oceans TV has licensed movies to the cruise industry.