Royal Caribbean will increase total cruise passenger numbers for New Zealand
In:
Royal Caribbean's plans for New Zealand this summer will be in contrast to the rest of the cruise industry because it will bring more passengers to the country this year.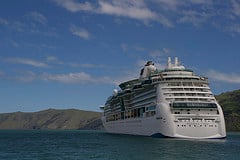 Royal Caribbean estimates it will carry somewhere between 80-85,000 passengers, up from around 60,000 passengers last season.
The increase for Royal Caribbean is opposite the trend for the rest of the cruise industry, which is projecting a dip in passengers to New Zealand from 211,000 last year to just 200,000 this year.
Royal Caribbean commercial director for Australia and New Zealand, Adam Armstrong, said the increase can be attributed to a longer season for megaship Voyager of the Seas as well as sister-brand Celebrity Cruises' Celebrity Solstice.
Armonstrong also indicated that New Zealand is becoming a more popular cruise destination internationally and more ships were becoming available after cruising around Asia during the northern summer.
"More ships are being based in this part of the world, particularly in Asia. We benefit from that because of the seasonality - our ships migrate by following the sun," Armstrong said.
"It needs to keep doing what it's doing. What New Zealand has been good at is handling larger ships and that's what other ports elsewhere haven't been able to keep pace with, you're very fortunate to have deep-water ports for cargo that can be adapted for cruise ships."