Royal Caribbean kicks off fleet-wide celebration of 50 millionth guest
In:
Royal Caribbean welcomed its 50 millionth guest onboard its cruise ships, which in turn will kick off a year-long celebration honoring the cruise line's guests, business partners, employees and crew.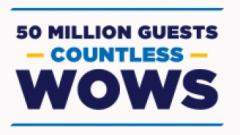 To celebrate, Royal Caribbean will offer a New Year's Eve-style party, on each of Royal Caribbean's ships guests will find shipboard festivities. The onboard events will mark the start of a year-long campaign where consumers are encouraged to share their favorite WOW moments with Royal Caribbean over the years by posting photos, videos and memorable stories on Facebook, Twitter and Instagram with the hashtag #RoyalWOW.
Royal Caribbean CEO Adam Goldstein commented on the milestone, "For more than 45 years, Royal Caribbean's guiding principle has been to deliver the WOW to our guests, providing them with experiences, services and amenities that can only be found on Royal Caribbean.  The men and women on our ships who deliver these WOW moments are what inspire our loyal guests to return to sail with us again and again."