Royal Caribbean Classic: Honey Stung Chicken
In:
When it comes to classic Royal Caribbean food, the honey stung chicken has developed a bit of a cult following to it thanks to many fans who have come back from their Royal Caribbean cruises speaking of its wonders.  So what is it and why is it so good?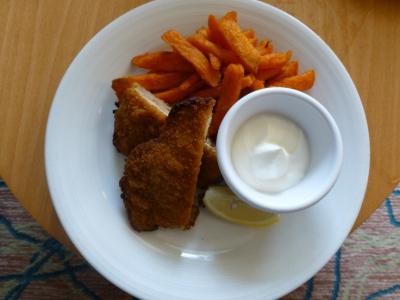 At its core, honey stung chicken is a breaded chicken cutlet that is served in the Windjammer.  Over the years more and more cruises started talking about it so its legend continues to grow.  
Honey stung chicken is served in the Windjammer but the catch is it's only served on embarkation day.  So if you don't get it on that first day you board your Royal Caribbean cruise, then you are out of luck until your next cruise.  We have heard of instances where honey stung chicken is sometimes available via room service as well.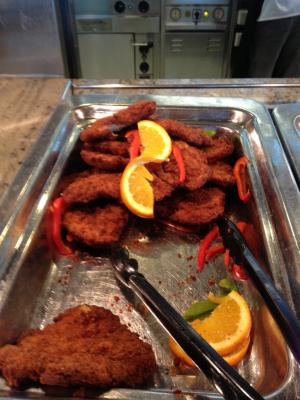 Frankly, its popularity is hard to pin-point but we think because it's only served on embarkation day, it gets rave reviews because people associate it with the start of their cruise and let's face it, everyone is the happiest on the day their cruise vacation they have been looking forward to is finally starting.  
Of course, that's not to take away from what the food is: a tasty piece of boneless fried chicken that is always a good choice when going down the buffet line.
Honey Stung Chicken Recipe
3- 4 boneless chicken breasts
1/2 cup honey
2 Tbs raspberry or cider vinegar
2/3 cup flour
2 Tbs fine dry bread crumbs
2

tsp

ground cayenne pepper
2 eggs
1/4 cup buttermilk
1 cup vegetable oil
Salt and freshly ground black pepper
Vegetable oil for frying
Preparation
Cut the tenders from the breast, and pound the breasts to flattens slightly. Stir the honey and vinegar together and pour over the chicken. Marinate for 2 hour to 4 hours in refrigerator, stirring occasionally.
In a bowl, combine flour, bread crumbs, and cayenne pepper; set aside.
In another bowl, whisk together the eggs and buttermilk.
In a large heavy skillet, heat the oil over medium high heat to 300°, (higher temperatures could burn honey). Turn oven on to 200.
Remove the chicken from the marinade and drain on paper towels. Dip the chicken in beaten egg mixture, season with salt and pepper, and dredge in the flour mixture, coating thoroughly. .
Add the chicken pieces two or three at a time. Don't overcrowd the pan. Fry on each side until golden brown. Remove to a rack on a sheet pan, lined with paper towels. Hold in the oven, while you fry the rest of the pieces. 
So are you a fan of honey stung chicken?  Have you tried it and is it a tradition to order it on embarkation day?