In:
Royal Caribbean CEO Adam Goldstein posted a new question and answer post on his blog and not surprisingly, many questions were about Quantum of the Seas.  We haven't heard much in the way of new details about this brand new class of cruise ships, but today we got a few more tidbits.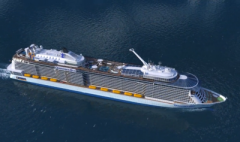 One guest asked Goldstein what was the the biggest motivating factor behind Quantum of the Seas.  
Goldstein responded, "With every new ship class our focus is on providing an enriched guest experience. In addition to that, the Quantum class of ships gave us an opportunity to introduce major advancements in ship design. Our internal teams have worked hard to integrate many diverse experiences into a comfortable and exciting cruise vacation. The newbuild design process has been a fundamental building block of our culture as I discussed in a blog article earlier this year."
Another question was posed about if the Schooner Bar will exist on Quantum of the Seas.  Fans of this fun bar will be happy to know Goldstein confirmed that the Schooner Bar will indeed be onboard Quantum of the Seas.