Royal Caribbean offering CruiseFly service on Singapore sailings
In:
Royal Caribbean has launched CruiseFly service to its cruises that disembark in Singapore.   CruiseFly is the region's first sea-to-air baggage transfer service that allows guests an early check-in for flights departing within the same day of the ship's arrival into Singapore.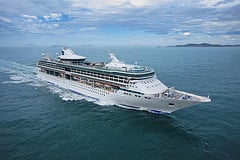 Passengers can book CruiseFly online or before the cruise ship arrives in Singapore.  Once signed up, guests can check-in, check their luggage and collect boarding passes without having to do it all at the airport.  CruiseFly is available on Singapore Airlines, Silk Air, Air China, China Eastern Airlines, China Southern Airlines and Jet Airways. It is valid on all flights departing post 2:30 pm from Changi Airport, on the day of the ships arrival to Singapore and can be purchased for USD 28.00 per person carrying up to two pieces of baggage and USD 9.00 for each additional piece of luggage.
Ratna Chadha, Chief Executive, TIRUN Travel Marketing, India Representative of Royal Caribbean Cruises Ltd., said, "This is an exemplary service designed to provide an effortless travel experience to our guests. The early flight check-in not only eliminates baggage related stress but also provides for a couple of extra hours to explore more activities and attractions in Singapore."