In:
Royal Caribbean recently announced new tighter restrictions for cruises from Singapore due to a heightened alert in the country due to Covid-19.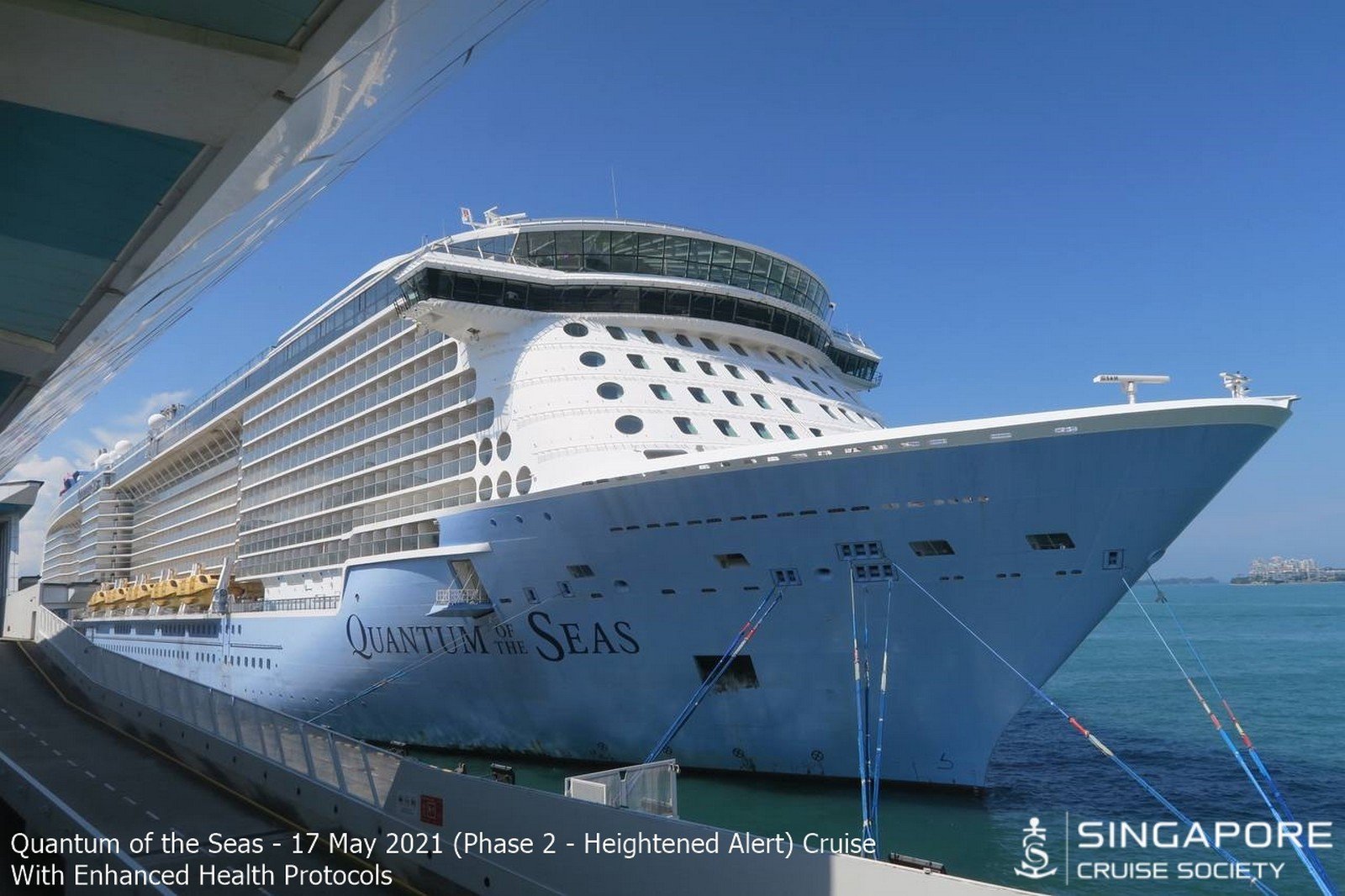 The changes made to the onboard experience aboard Quantum of the Seas include less passengers onboard, as well as expanded social distancing and even changes to dining.
Many are curious what the experience is like, and if it still feels like a cruise vacation.
Our friends at the Singapore Cruise Society boarded Quantum of the Seas on Monday to share a sense of what things are like.
What changes have been made?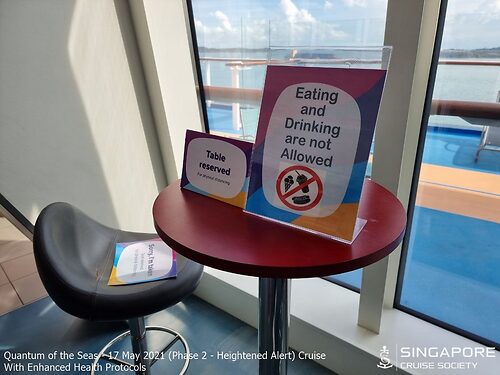 In a nutshell, Singapore has added stricter measures due to an increase in the spread of COVID-19.
The measures are in place between May 16 - June 13, and are meant to limit the spread of the virus.
On Quantum of the Seas, Royal Caribbean made changes to meet new government requirements:
Quantum of the Seas is set to sail at 25% occupancy capacity
Group sizes will be limited to two guests per cabin
Guest occupancy in public venues will be reduced accordingly, allowing for at least 16 square meters per guest, while theaters will be limited to 50 attendees for each show
Heightened limits will apply to all pools and hot tubs and also at SeaPlex
New takeaway options at dining establishments, and guests will also enjoy a wide range of choices for room service
These restrictions are temporary and all will return to normal once the government lifts the heightened alert status.
A look at the changes
There are about 500 passengers on this sailing to reflect the lower capacity.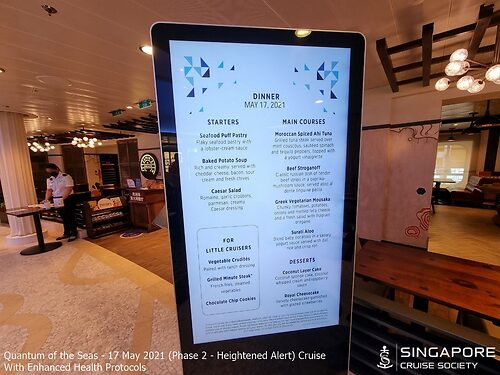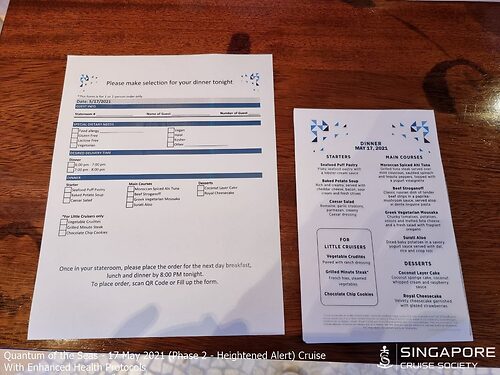 Your menu you can use to order dinner.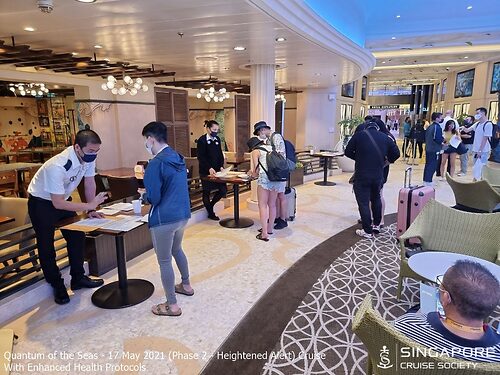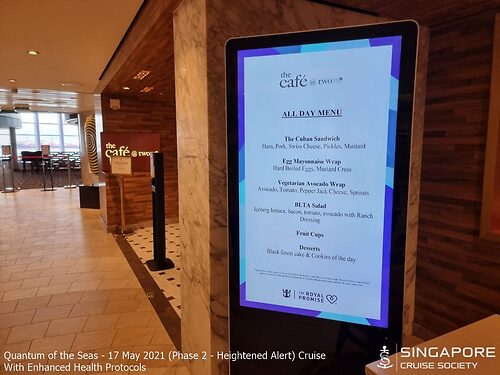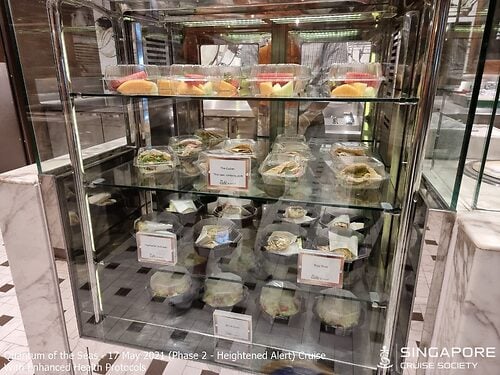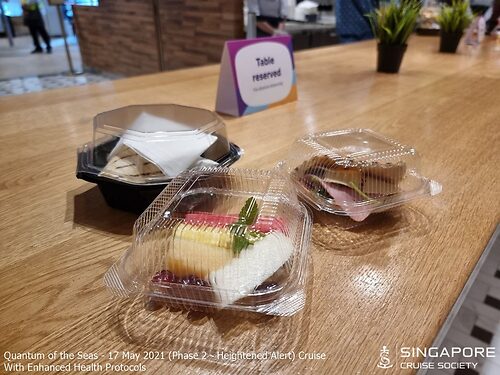 Grab and go menu items at Cafe@Two70.
Tables are not available to eat at while in Cafe@Two70. Instead, guests take the food elsewhere to eat.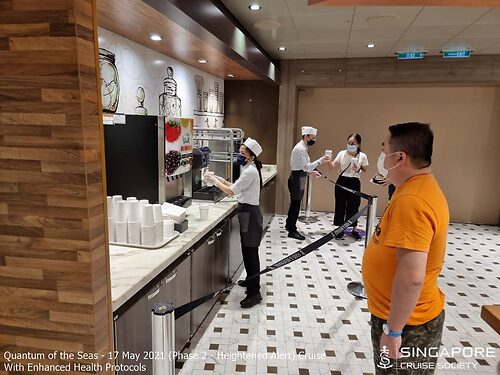 No self service beverages.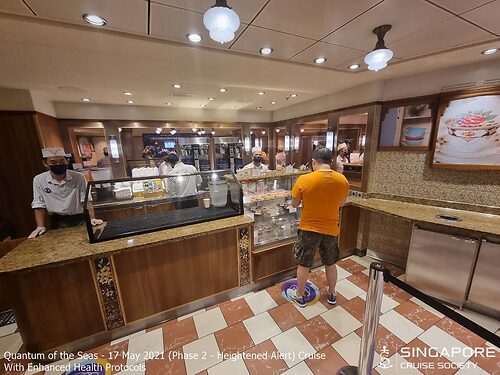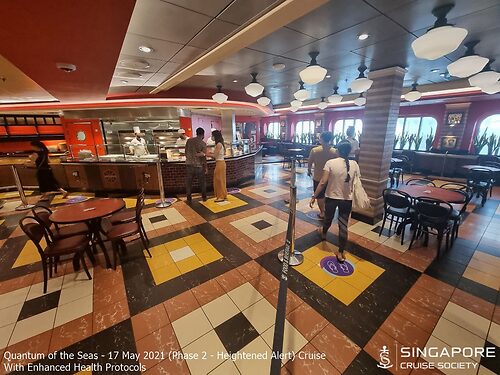 Social distancing at Cafe Promenade and Sorrentos.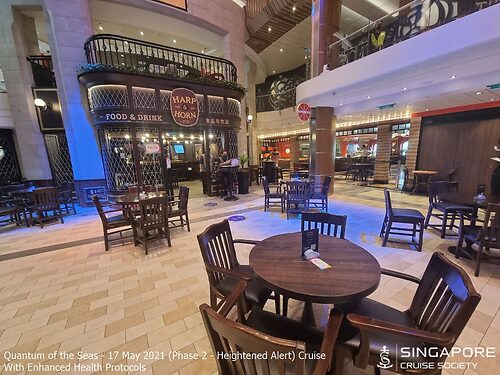 Tables are available to sit at with up to 2 people per table, but guests cannot eat food or drink at the table.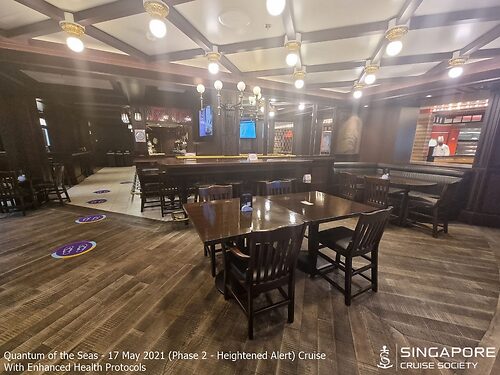 Harp and Horn remains open for take outs. All Beverage Package and Dining Package were cancelled and refunded to guests.
Guests can sit and wait for their drinks to be prepared, but cannot drink in the bar.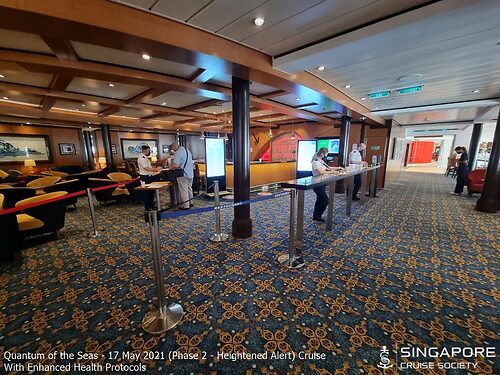 Other bars have been re-purposed since they cannot be used as a sit down bar at this time.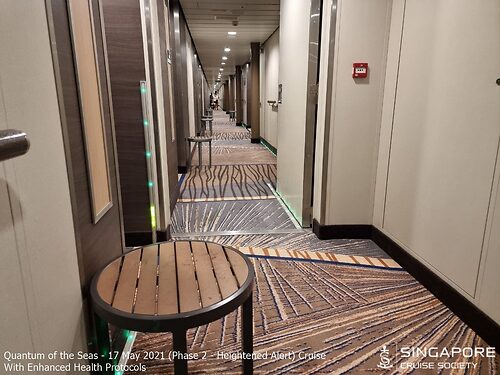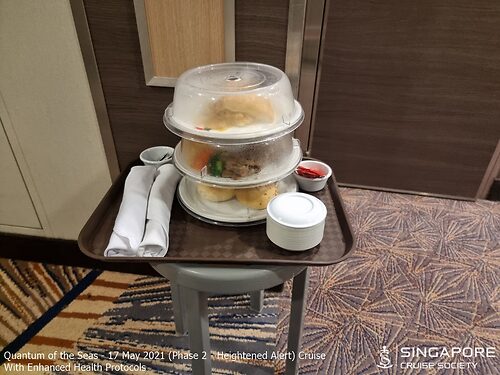 Tables have been set up outside of staterooms for guests to leave plates and food they are done with, as well as pick up room service delivery.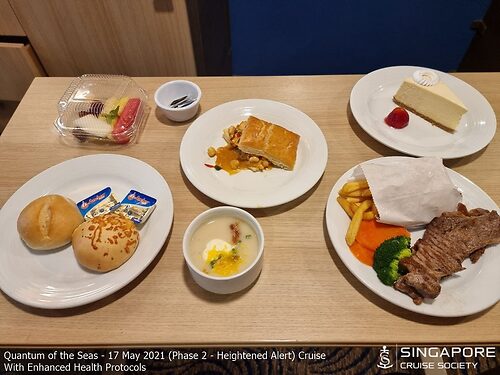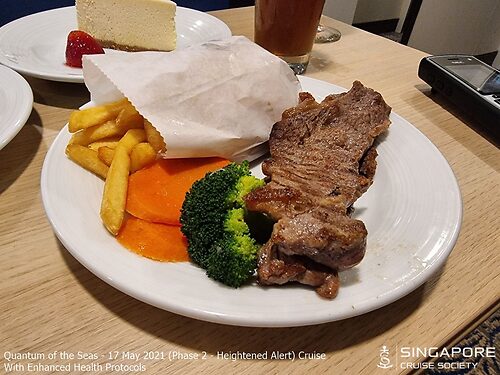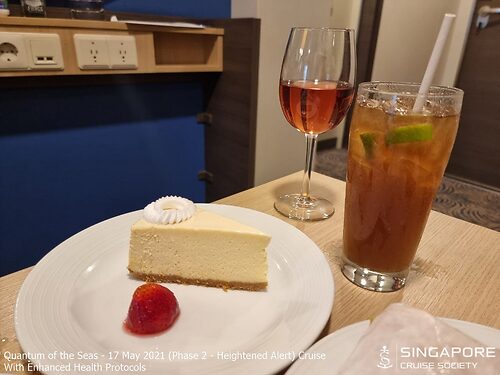 Dinner is served via room service, including beverages.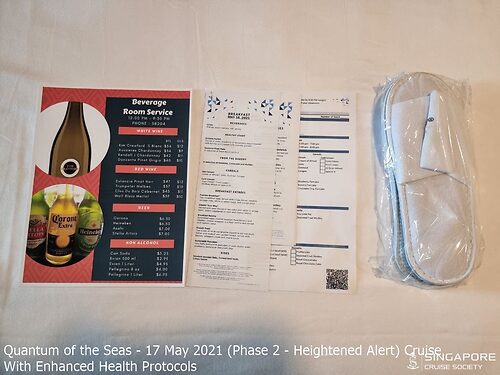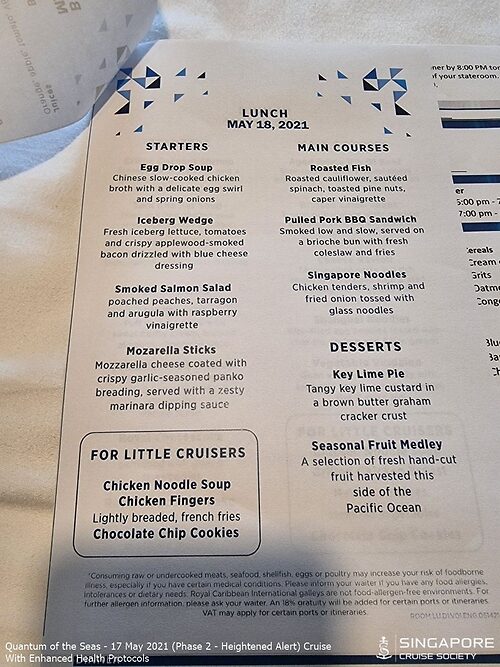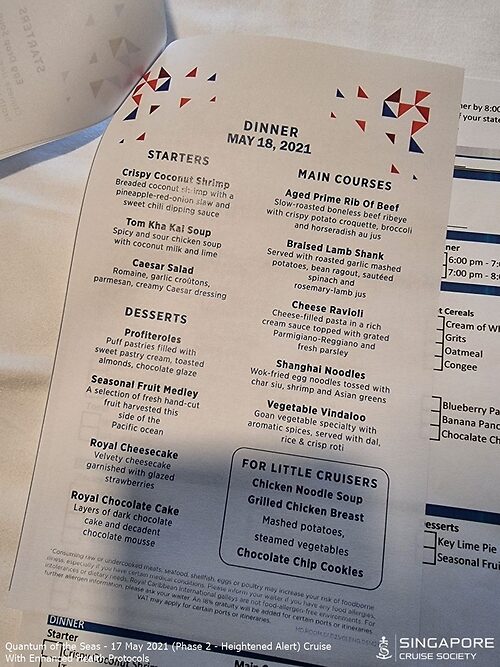 Guests must preorder their meals for the next day by 8pm.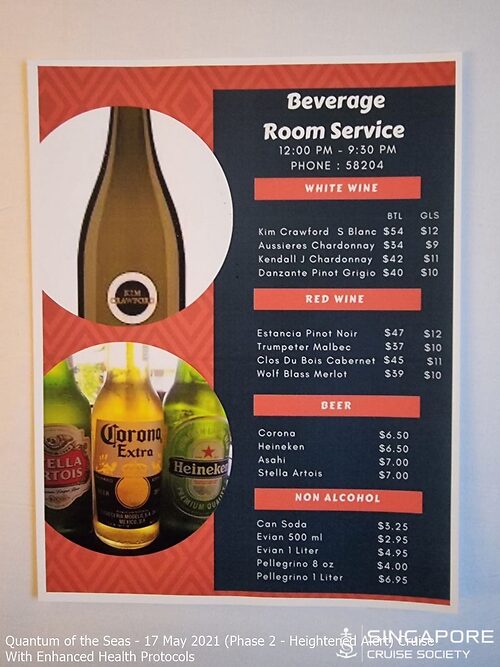 Beverage ordering list.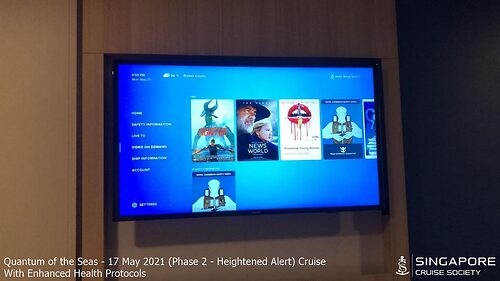 In-room movies are available to watch for free.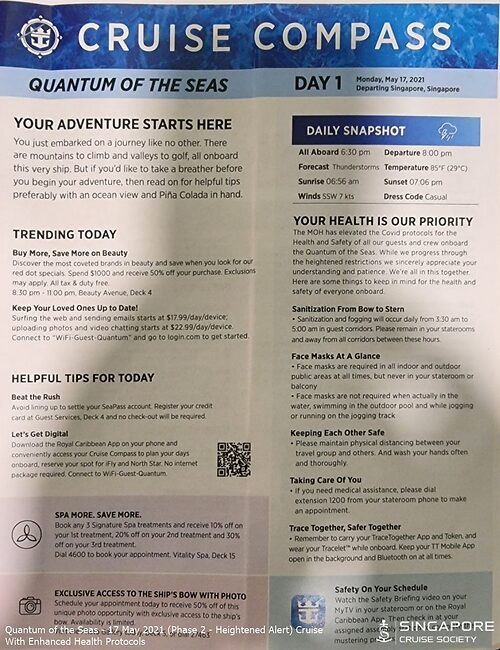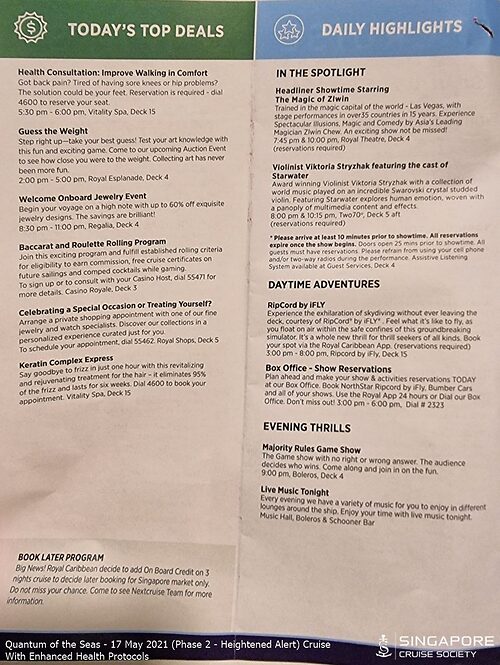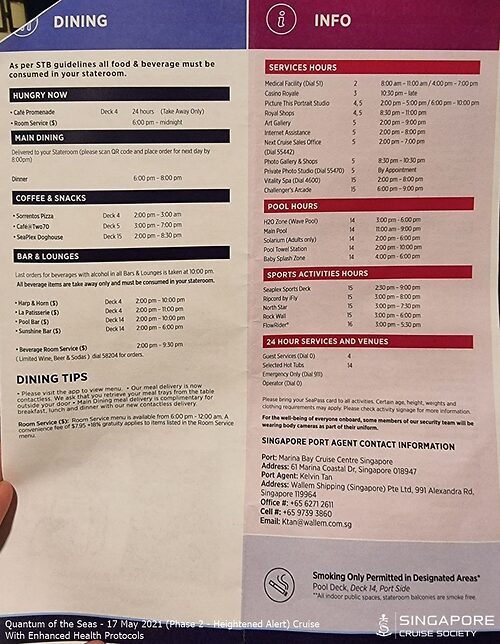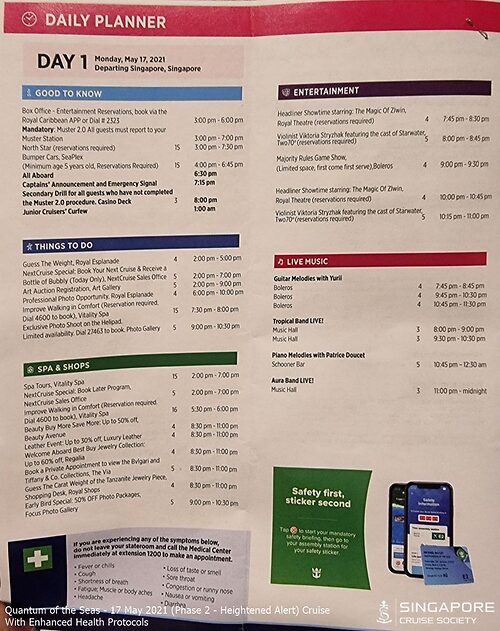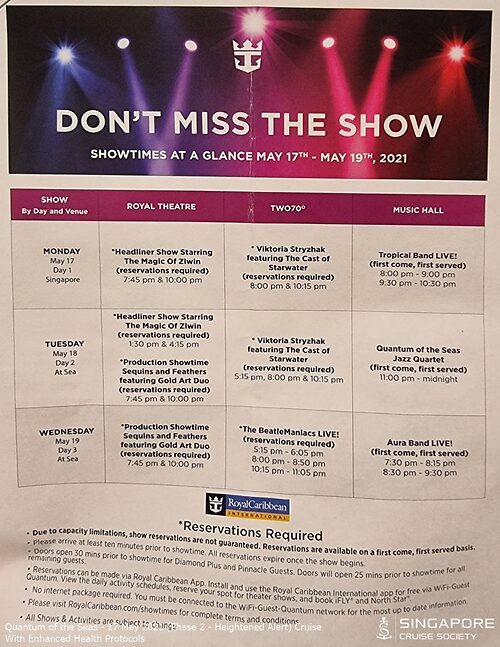 Cruise Compass and entertainment for the first day onboard.
Singapore Cruise Society is the leading cruising blog and community in Southeast Asia.
First started in 2014, Singapore Cruise Society has documented significant cruise happenings in Singapore. Since then, we have grown to be one of Asia's largest cruise-
centric blog and community, providing everything from cruise vacation experiences to the latest development in the cruise travel industry. Follow them on Facebook and Instagram.