Freedom of the Seas Live Blog - Day Seven
In:
The last day of any cruise is bittersweet but I wanted to make sure I got a lot out of it today so I could go home feeling like I tried a few new things. Today is another sea day and the weather today is less than cruise like; Cloudy, windy with a cold rain.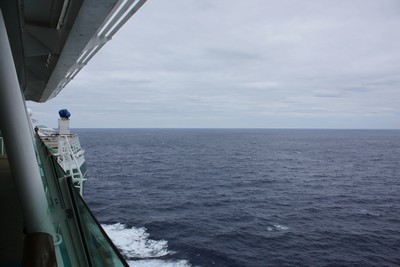 With bad weather like this, most of the activities we're going to do are limited to the indoors. Starting with breakfast, we headed up to the Windjammer for our traditional breakfast start. Breakfast seems to have the least variety in terms of the day-to-day menu at Windjammer. Aside from what's offered in the Jade section, very little else changes.
Following breakfast we headed down to Deck 6 to see the Loyalty Officer to get our NextCruise certificates. In my opinion, the NextCruise certificates are the best value for booking a Royal Caribbean cruise and it's really the only way I book new cruises. As expected, all of the officers were busy with appointments so we simply filled out the NextCruise certificate form and dropped it off to ensure we'd be all set.
Next up I had an interview with the Spa manager on Freedom of the Seas. I'll be posting the full interview in an upcoming blog post, but it was an insightful look at how the spa works and which services are the most popular.
My wife suggested we try the Make-A-Wish Foundation "Walk for Wishes" event. This is a charity event on all Royal Caribbean cruises where you can donate $10 per person and get a Walk for Wishes t-shirt, followed by a group walk around the pool deck. It was quick and fun and all for a great cause.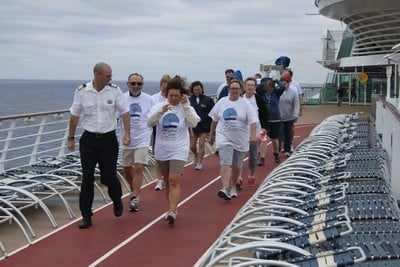 For lunch we wanted to try Johnny Rockets, which is a 50's style burger restaurant that may be available near you. Before I describe my experience here, let me say that I've never been a fan of Johnny Rockets on the Royal Caribbean ships because they usually have mediocre food and long waits.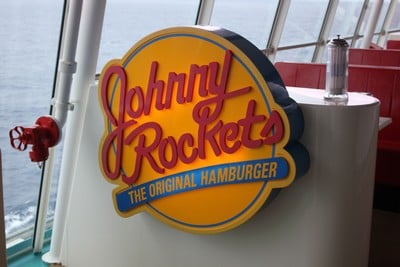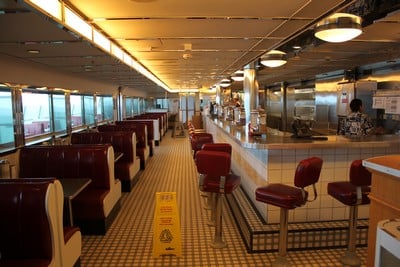 This time we arrived about five or ten minutes before Johnny Rockets opened to avoid a long wait. The good news was we were the second group in line. The bad news was the first group was about 20 people or so. We were seated promptly and ordered up. Once again, I'll save my formal review of Johnny Rockets for a future blog post but let's just say my experience here was pretty much the same of every other time I've eaten at Johnny Rockets. None of the food really "rocked my world", with the best part of the meal being the milkshake, but that actually costs extra on top of the $4.95 cover charge. I feel confident in my recommendation of skipping Johnny Rockets until further notice.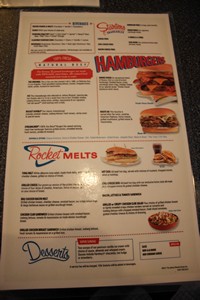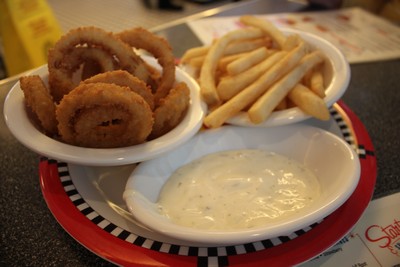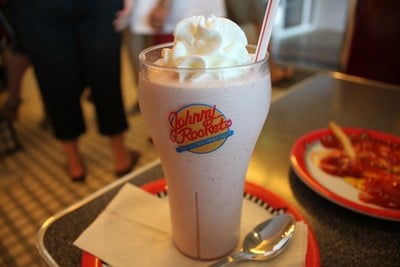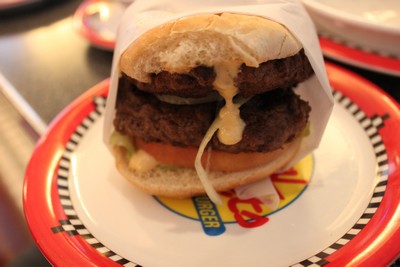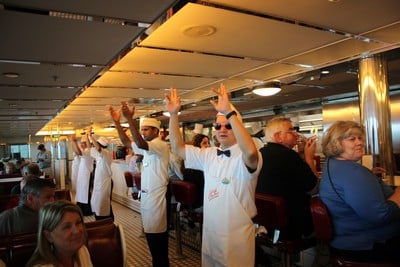 With the poor weather outside, a lot of the activities moved to the Royal Promenade. On our way back to our cabin I saw a cooking demonstration, a ice sculpture being made, towel folding demonstration and a buffet of food choices all along the Promenade. Needless to say it was crowded but it was interesting to see it all. Most of these demos could be seen in probably a minute or two but in aggregate, there's enough going on here to spend a little while.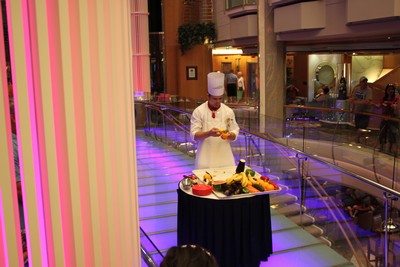 With the poor weather, it made sense for us all to take a nap again and relax. We also needed to start packing so we got everything in order in our stateroom and packed up our stuff. It's the one thing no one ever enjoys about their cruise but all good things must come to an end, right?
Before dinner we wanted to see the Dreamworks parade because the other showing was on day one and was quite late. We got a spot on the Royal Promenade for the showing about 30 minutes early and I have to say the process is a little less than organized. We just picked a spot and hoped it wasn't in the way. In fact, the crew didn't set up barriers until a few minutes before the show.
The parade setup is a little odd in that the procession does not begin at one end and go to the other. Rather, half the parade starts at one end and the other half of the parade at the other end and it all just goes back and forth. So as a result you have to keep an eye on what's happening on either side of you.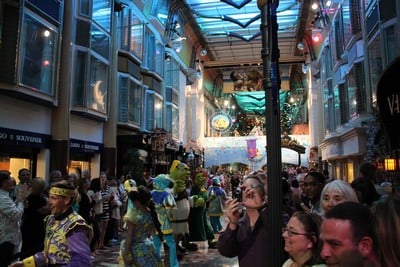 As for the parade itself, it was okay. My daughter enjoyed it as did most of the other kids but I don't think it comes close to comparing to the gold-standard of character parades that you find at a place like Walt Disney World. Considering the individual character meets have very short lines usually, I'd recommend seeing the characters there and bypass the parade if your goal is to see the characters.
Tonight's dinner was back in the main dining room and say what you will about the main dining room, I really enjoy eating here. I like how the servers know how we like everything and we lucked out with some very good table-mates. To me, this is as integral a part of the cruise experience as the pool.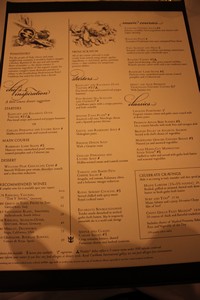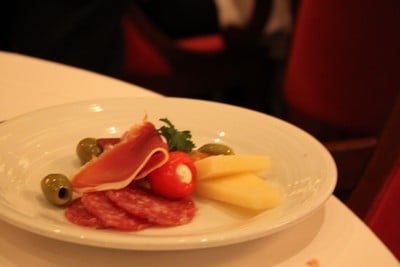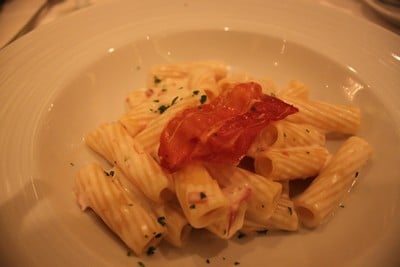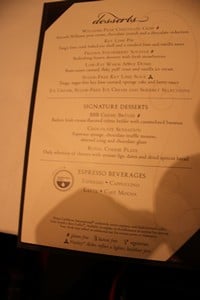 Overall, this was a great cruise for me and my family. In the last 5 years or so, cruising has emerged our favorite way to travel and this week's cruise reaffirmed that passion. Royal Caribbean is always changing but the good news is it still has, to borrow one of their marketing terms, that "WOW factor". For me, I don't necessarily see WOW in individual instances, but rather it's when I look back on all the great memories from our trip I can't help but think to myself, "Wow, that was fun!".
We've made memories on this cruise that I think our family will talk about for many, many years to come. Credit for that goes to the crew for constantly looking for ways to improve our vacation and it shows. I also believe that part of what makes a great vacation is proper planning ahead of time, which I think sites like this help in some small part to accomplish.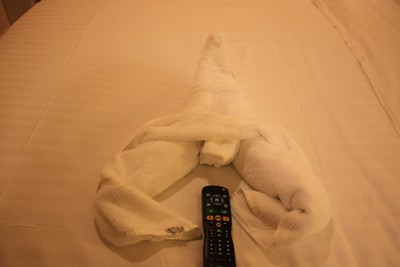 I'd like to thank everyone who has been reading these blog posts and sharing their thoughts and questions with me. It's been a great way to share in the cruise experience and I've enjoyed documenting as much of it as I could. You've all been great virtual cruise mates and I hope we can do this again some time!
Disclosure: Royal Caribbean provided this cruise for evaluation and review purposes. The opinions are completely my own based on my experience.