Freedom of the Seas Live Blog - Day Five
In:
Today's cruise itinerary was a stop at the island of St Martin, which is split between the French and Dutch. Our ships docks in Phillipsburg, which is on the Dutch side but the French side is a quick car ride.
We set our alarm for 7am to get ready to go right when we docked. In reality, by the time we got everyone ready, dressed and on our way to breakfast, we were behind schedule but it was fine. We contemplated ordering breakfast to our room from room service (it's free) but opted not to because the menu was fairly limited.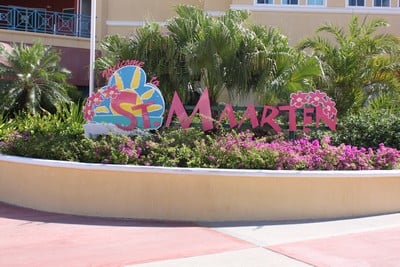 Following our "breakfast of champions", we finally made our way to the gangway and off the ship. This was my second time in St Martin and my wife and daughter's first time. We had absolutely no plan for the island. We figured we would see where the day took us and improvise on the spot.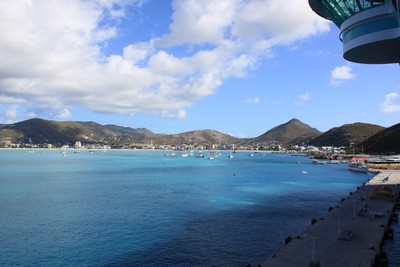 We decided to walk from the pier area to downtown Phillipsburg. It's a walkable distance but truthfully we could have benefited from a taxi. At any rate, once we got downtown my daughter started crying, which quickly turned into a full blown temper tantrum. We think she was just tired since we woke her up this morning but there wasn't much we could do to stop her from crying. So we decided to forego shopping and go to a beach where she could play in the water and hopefully cheer up.
We walked a little to find some taxi drivers but most drivers were uninterested in just two people. They wanted to fill their vans and maximize the fare so we got frustrated. We were about to just go to the beach in Phillipsburg when another taxi driver offered to take us. We told him we wanted to go Orient Beach on the French side of the island and he offered to take us for $20 total. Great. We piled into his van and off we went. The driver, Leo, was a nice man who said he was about to turn 50 and talked a lot on the way.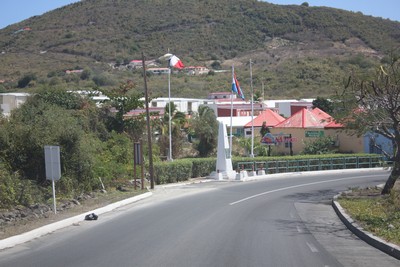 After crossing over the French side, I saw a sign for "Le Galion". I had remembered that name from random internet searches because it was the name of a beach in St Martin that was famous for its quiet cove that is perfect for little kids. I told Leo to go to Le Galion instead and he nicely offfered to drive us there and let us scout things out before deciding if we really wanted to go there or not.
We pulled up to the beach and I took a quick look around and it definitely looked nice enough so we arranged for Leo to come get us 2 hours from then.
Let me tell you, this is the perfect beach for families with young children who cannot swim or are not strong swimmers. It's basically a cove with a great beach that has tiny waves that is perfect for my 2 year old daughter who cannot swim but loves to be in the water.
There were beach chairs and umbrella already set up so we picked one and it cost us $15 for their use. There's also a small restaurant and bar on the beach that offers food and drinks as well as free Wi-Fi.
My daughter loved her time here and I'm fairly certain was in the water for the entire 2 hours. There's 2 docks in the water, once pretty close to land for the not-so-strong swimmers and a dock further out for the bigger kids. Nothing else in the way of toys but it's beautiful and perfect for kids. I will mention this beach is clothing optional. 98% of people here wore regular swim wear but there were probably 4 or 5 women who were sunbathing topless. I really didn't think it was a big deal and they all were together at one end of the beach so it was a moot point.
After our 2 hours (which flew by), Leo came and told us to take our time getting ready. We got all of our stuff together and got back in the car. I asked him to take us somewhere to eat for lunch where the locals go. He recommended a Guyanese restaurant back on the Dutch side where he and lots of others like to go. It sounded good to us so off we went.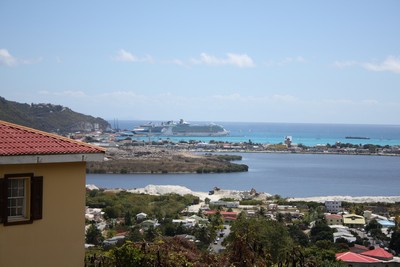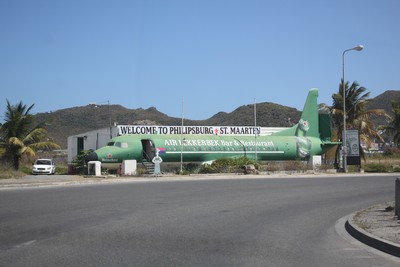 We arrived at the small restaurant and Leo took us inside and talked to the owner. Leo and the owner showed us all the food available and we picked out a few things that sounded good. None of it was anything I've had before but it smelled wonderfully. We tried a little of everything including their specialty which is called roti. Roti is like a burrito of slow cooked meat, potatoes and sauce. It was delicious as was all the food we tried.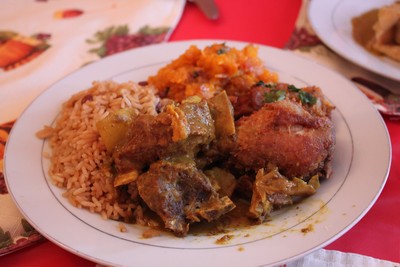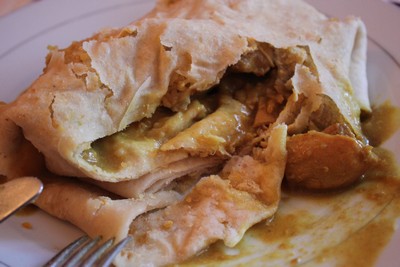 The roti
It was the perfect local food adventure that I relish in trying when I travel. After lunch our daughter was already falling asleep and we decided we had to go back to the ship for her to nap. It was only about 1pm but we had no choice really. Leo dropped us back at the pier. In total he charged us $20 to go to Le Galion and then $25 to go from Le Galion to lunch and back to the pier. I gave him a healthy gratuity above that for his time and help. He was a great help and worth every penny.
After getting back on the ship, we basically just relaxed in our cabin until dinner. We were pretty tired from getting up early and swimming so we just took it easy. The ship left St Martin and we got ready for dinner.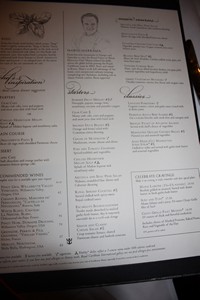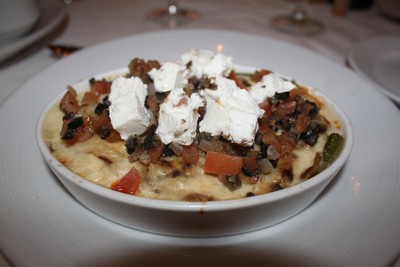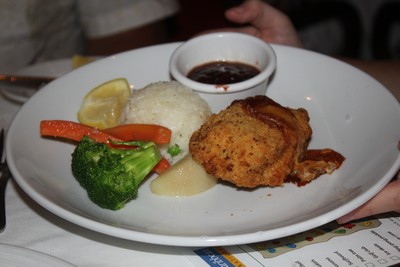 Quick story about dessert, there's always a special flavor of ice cream and tonight was coffee ice cream and I LOVE coffee ice cream, so I told my waiter to bring me as much coffee ice cream as he can.  He actually went to the chef to ask how much he could get me and the magic answer is 6 scoops.  Best dessert ever!
During dinner, my daughter fell asleep on my wife so we let her take a power nap and then dropped her off at the nursery for us to enjoy a little time together. Don't get excited, we're boring people.
We first went to an event for Crown and Anchor Society members that are Platinum or Emerald status. It was hosted by the ship's Captain and Hotel Manager and they shared some humorous stories and anecdotes. It was fun and quick and there were free alcoholic beverages served so it was worth our time.
Next we walked the Royal Promenade to see what was happening and for my wife to scope out the sales. We didn't buy anything but just enjoyed the walk. After we went up to the Windjammer to check out their spread. Didn't eat anything but I always enjoy just seeing what they offer.
We finally did commit to doing something when we decided to play a round of mini-golf on the Sports Deck. It's a 9-hole course and with the movement of the ship and wind, it was certainly an entertaining round of golf. That being said, we had a good time and while I wouldn't say the mini golf is a reason to book a Royal Caribbean cruise, it's great having it available to do onboard and I love having plenty to choose from.
We were all feeling pretty tired after our long day so we decided to call it a night.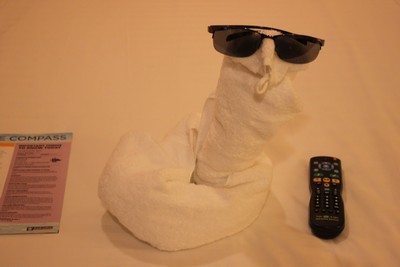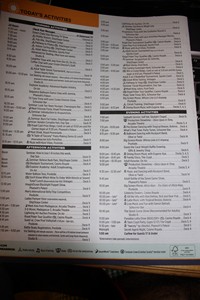 Tomorrow is a sea day and we've got a few things planned but our day is fairly wide open. Tune in tomorrow to see what we end up doing!
Thanks for all the great comments and be sure to post any questions in the comments below!