In:
Royal Caribbean has announced that it will add Coca-Cola's Freestyle Machines aboard its ships.  These self-serve beverage dispensers will offer passengers 125 flavors of various Coke products in one machine.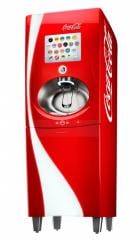 The machines were customized for Royal Caribbean to allow for health code modifications in a marine environment as well as the addition of RFID (Radio Frequency Identification) for use with the Royal Caribbean soda packages.
The new Freestyle Machines were installed aboard Majesty of the Seas in June and several other ships (all based in the United States) will receive their machines later this year.  Following that, the machines will be rolled out well into 2013 aboard other ships.
Royal Caribbean Director of Fleet Beverage Operations, Bob Midyette, described the new machine, "It was beyond sexy, it was über cool. Using medical micro dosing technology, flavor cartridges just slightly larger than those of the standard ink jet printer opened a world of flavors never available before (Orange Coke, anyone? or Peach Fanta Zero?). It was like going from an IBM series 700 mainframe to an iPhone 4, skipping everything in-between."
The agreement between Royal Caribbean and Coke is part of a multi-year effort by Royal Caribbean to bring some of Coke's newest advancements to Royal Caribbean's ships and therefore, Royal Caribbean will become the first cruise line to deploy the Freestyle machines.