In:
Royal Caribbean representatives along with representatives from Norwegian Cruise Line met with port officials from Almuñécar, Spain as a possibility for shore excursions on future cruises.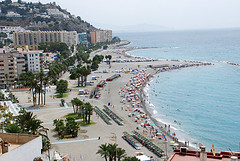 The port cities of Motril and Malaga, Spain were also on hand as these cities were looking for ways to bring back Royal Caribbean after they announced the company would cease port calls to Malaga next year.  
This visit is part of the campaign to promote the Port of Motril as a destination for cruise ships where other cruise lines are already operating with some regularity.
The visit began with a welcome by the Municipal Tourism Coordinator, Rafael Caballero, at the headquarters of the Tourist Board of Almuñecar. In addition to delivering information about the town municipality, Caballero informed the group of the availability of a guided service to show some of the most prominent monuments and archaeological sites.
For municipal representative, Rafael Caballero, the visit of two large cruise line representatives "is very important to Almuñécar so can be assumed in the projection of our community be included in brochures and possible destination of tourists arriving to the port as we have had the opportunity to meet, "he said.