In:
July first marks the one year anniversary of Royal Caribbean adding a subsidiary in France.  For months, Royal Caribbean has been marketing to support sales and now they are seeing those efforts taking shape with the first cruises to French ports.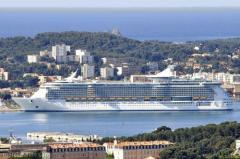 On June 3rd, Liberty of the Seas made her inaugural visit to Marseilles and Toulon harbor.  Liberty of the Seas is the largest ship operating in Europe and this summer will offer 21 cruises from France.
On July 5th, another Royal Caribbean ship, Brilliance of the Seas, will make its first stop at Le Havre and head for the Norwegian fjords.  Following her will be the recently refurbished Grandeur of the Seas, which will begin with a stop in Marseilles.
Frederic Martinez, CEO of Royal Caribbean Cruises France, is happy with the progress the company has made, "We are very happy because ships arrive, they can be seen and tested by customers."
Overall, this year, the company will offer 27 cruises from French ports for a target of 30 to 35,000 passengers. This is less than the expected 40 to 45,000 customers at the launch of the French subsidiary, but Royal Caribbean was forced to reduce the estimates because of a difficult environment and the impact of the Costa Concordia disaster.
"We had one year in the form of a challenge because of the events he was forced to cash. Our growth has remained strong because we are still small, we have established a subsidiary in France there are less than a year, compared to the previous situation, our offer is much stronger because of departures from French ports. Nevertheless, we still felt a slowdown from February to early April. Also noteworthy is that the economic context is not famous. The crisis in the euro area can be felt in all European markets and, like others, the French are watching their budget. But now the market is very strong, although it has been boosted with blows of promotions, which is good for customers but not so good for owners, whose margins are reduced. This also causes a visibility problem because many customers wait until the last minute to book, hoping to get a better price, "says Frederic Martinez.
Royal Caribbean's boss in France believes, that the very aggressive pricing policy practiced in recent months by different companies, which forces Royal Caribbean's hand, should not last: "It's a real issue. We had an exceptional year and it was therefore necessary to sustain demand by offering very attractive. But we must not repeat this indefinitely and make reference price. Because this approach is not economically viable, at least maintaining a high level of quality, what we want. "