Royal Caribbean begins three day WOW sale
In:
Today marks the beginning of Royal Caribbean's WOW Sale, where Royal Caribbean offers some of its best offers to book a cruise.  This WOW sale touts savings of up to $200 per cabin.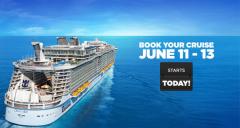 For the sale, booking your cruise during this sale will get onboard credits depending on the length of your cruise.
$50 for 3-5 night cruises
$100 for 6-9 night cruises
$200 for 10+ night cruises
In addition to the onboard credit offer, customers can also book their cabin for 50% of the normal deposit price.
This WOW sale is valid on all Royal Caribbean cruises departing on or after August 15, 2012 except for cruises in China, Australia and New Zealand.  Sale ends on June 13, 2012.
Will you be booking a cruise because of this sale?