Explorer of the Seas delayed by one day due to medical emergency
In:
Royal Caribbean's Explorer of the Seas will return to Bayonne, New Jersey one day late due to an onboard medical emergency.  Royal Caribbean expects Explorer of the Seas to return on Saturday, January 28 now after a passenger required medical attention.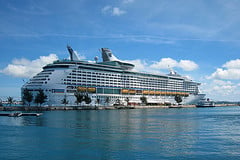 Royal Caribbean spokeswoman Cynthia Martinez issued this statement, "The guest was initially treated in our medical facility, but required additional and urgent medical attention that could only be provided in a hospital," read the statement. Explorer, which is equipped with a helipad, has re-charted a course for San Juan, Puerto Rico, the closest port of call. A helicopter will meet the ship when it gets within 70 miles of San Juan. Estimated time is 5:35 p.m. local time."
"We will be assisting both the guests currently onboard and those boarding on Saturday, but do not have details at this time," said Martinez. "We wanted to put the notice on our website and on social media as soon as possible, to let affected guests know in advance." Additional information on the revised itinerary will be provided to passengers on Saturday at embarkation.
Passengers that were expecting to depart on Explorer of the Seas' next cruise on Friday are now asked to not arrive at port until 2pm on Saturday.