In:
After an avalanche of negative comments concerning Royal Caribbean's decision last week to strand over 100 of its passengers in San Juan without any compensation, Royal Caribbean has decided to offer those who didn't make the ship a compensation package.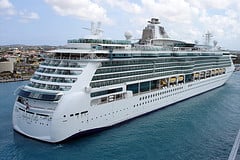 The incident occurred when Hurricane Irene threatened San Juan, Puerto Rico where Royal Caribbean's Serenade of the Seas was docked.  Port officials needed to have the ship leave early, so Serenade was forced to leave a few hours early and subsequently left 145 passengers and refused to offer them any compensation.
Royal Caribbean spokeswoman Cynthia Martinez confirmed that a compensation package was indeed being offered but declined to provide specifics.
The aftermath of the incident spilled over when people heard of what happened and were upset over Royal Caribbean's indifference to the plight of those left behind.  Despite earlier saying the cruise giant would not offer anything (they claimed they were within their rights to do what they did), Royal Caribbean is hoping to reverse the negative perception that has taken hold in the court of public opinion.
UPDATE: Here is a statement from Royal Caribbean:
 "As a gesture of goodwill, and in recognition of the time they missed on board Serenade of the Seas, Royal Caribbean provided each guest who was not able to arrive to the ship before it departed San Juan but met the ship later, with a future cruise certificate for 30% of the cruise fare paid for their sailing.

"We are in the process of contacting those guests who were not able to sail with us at all to inform them of their compensation, and would prefer that the impacted guests learn of the amount directly from the line before it is disclosed publicly.
"We are compensating these passengers because we understand that this was an unusual situation, and we want to provide our guests with another opportunity to sail with Royal Caribbean International in the near future."