In:
We first told you about passengers who missed their Royal Caribbean cruise earlier this week when Royal Caribbean was forced to depart San Juan, Puerto Rico earlier than scheduled due to the impending threat of Hurricane Irene.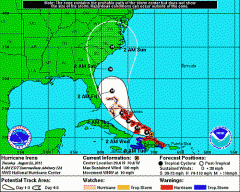 Today, Royal Caribbean has denied any responsibility for leaving 145 passengers at port to get Serenade of the Seas of the way of the storm three hours early.  Royal Caribbean contends that port officials began to limit harbor traffic at 12:30 pm on Sunday, forcing the ship to depart early.
Of the passengers left behind, 15 had purchased their airfare through Royal Caribbean and were subsequently given a hotel stay for two nights and flown to Aruba to join the cruise on the rest of its voyage.  The other 130 passengers, however, were on their own.  The reasoning, according to Royal Caribbean is, "Independent guests were advised of hotel availability in the area, but the expense was on them given that it was a weather-related event."
Furthermore, Royal Caribbean says there was simply no way of contacting the passengers in time to alert them to the change, "There was no way to notify our guests of this change in departure time. We apologize for any inconvenience this may have caused our guests, but this decision was made by the Port of San Juan to ensure the safe transit of all guests and crew through the port."
It turns out Royal Caribbean isn't alone in this.  Another 300 passengers missed their Carnival Cruise when Hurricane Irene prompted the Carnival Victory to leave port four hours early.