In:
Phil Reimer of Canada.com recently took a cruise aboard Royal Caribbean's Liberty of the Seas on a Mediterranean itinerary and wrote about his experience onboard. The cruise was out of Barcelona, Spain and visited ports in France and Italy.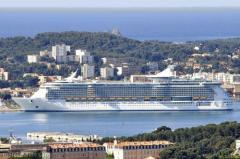 Reimer shared his advice for those visiting Toulon, France and what he enjoyed, "The best place to start in this city of 200,000 is at the La Rotonde fountain, next to a tourist office and with a choice of five roads in the roundabout. If you pick Le Cours Mirabeau, you will quickly run into Les Deux Garcons, a brasserie that dates back to 1792, where Cezanne was a regular and luminaries like Pablo Picasso, Edith Piaf and - I was told - Ernest Hemingway hung out."
In Villefranche, Reimer enjoyed the variety of offerings to be found here, "From this port on the Cote d'Azur, better-known places like Cannes, Nice, Antibes, and Monte Carlo are all within reach. The train and bus stations are 15 minutes from the ship. The bus cost one euro, and in 20 minutes, I was in the heart of Nice."
Once Liberty made her way to Italy, the port of Livorno offered Pisa and Florence and Reimer tried to do both but regreted that decision, "I chose to visit both, but hindsight tells me going straight to Florence would have been a better idea, given the limited time."
For their stop in Rome, Reimer shared his plan for how he tackled this famous city, "From cruise ships, you walk 15 minutes from the Civitavecchia port gate and take the regular train to Rome for nine euros (return). You can get off at Rome's Saint Pietro station and visit the Vatican City to start your tour, or you can stay on to Romo Termini, the main station. The ``hop-on, hop- off'' buses take you right from there to watch your history lessons come to life - and to enjoy."