Royal Caribbean names Gianni Rotondo new General Manager of Italy
In:
Royal Caribbean has selected Gianni Rotondo to lead Royal Caribbean's Italy office and be in charge of the development of the Italian market. Lina Mazzucco held the position with Royal Caribbean Italy since 2005, and will pass the baton to Gianni Rotondo, who has joined Royal Caribbean three months ago.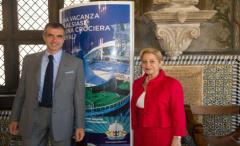 "After 6 years of activity in this great company I decided it was time to leave to pursue other routes. I carry with me all the experiences and challenges, the people with whom I have worked in recent years and the rewards, including one of all: to have ten times the number of Italian guests on our ship," says Lina Mazzucco "hope Gianni professional satisfaction and the same passion. "
With over 30 years of experience in the travel and a degree in Law, Round arrives from Atahotels Royal Spa, an independent Italian chain of hotels, where occupying the role of commercial director. Before that, he was general manager of the Northern European markets in London and Alitalia CEO of lastminute.com Italy, and CEO of Easy Market Spa.
"The Italian market has experienced strong growth in demand from consumers Italians, for all the brands of Royal Caribbean Cruises Ltd and Royal Caribbean International in particular." Said Michael Bayley, executive vice president, international, Royal Caribbean Cruises Ltd. "We have great confidence in the new general manager. Gianni has all the personal qualities and professional and managerial skills that we need to pursue our growth strategy in Italy."
"It 'an important time for growth of the Italian market," says Gianni Rotondo, " and European company, which will expand its activities in 2012 with 23 new ports in seven countries. This result is undoubtedly the result of passion and commitment with which Lina Mazzucco has guided the company in recent years. Following the precious example of Lina, who preceded me in this challenge, I will do my best to give further impetus to the company and increase brand value. "
The Genoa office of Royal Caribbean has about 30 employees, including sales, marketing and business operations, management of the 3 brands: Royal Caribbean International, Celebrity Cruises and Azamara Cruises Club.
Mariner of the Seas in March has arrived for the first time in the Mediterranean to Civitavecchia, where he remained until the end of October, offering 7-night cruises calling at Cannes, Ajaccio, Barcelona and Palma de Mallorca.